Last year, it was Kevin Shattenkirk. This year, it is Mike Green.
Every year, when the trade deadline approaches, several teams are eager to land a power-play quarterback with no long-term commitment.
Green fits that bill perfectly and is probably a better all-around defenceman than Shattenkirk, so there will be no shortage of interest in this rental.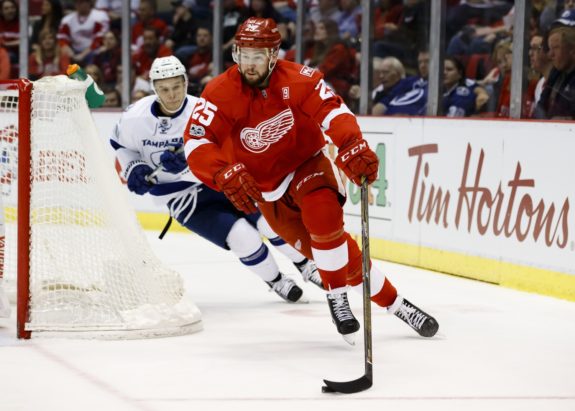 With the Detroit Red Wings fading from the playoff race — eight points back of a wild-card berth with 30 games remaining in their regular season — and Green a pending unrestricted free agent on July 1, Ken Holland will almost certainly be shopping his top blueliner between now and the Feb. 26 deadline.
So, let the bidding war begin!
There could be upwards of a dozen teams kicking tires on Green, but here are three potential suitors that stand out from the pack for various reasons.
1) Washington Capitals
Green's former team could sure use a guy like him. Washington went all-in on Shattenkirk last season and obviously it didn't work out, but the Capitals would already know what they are getting in Green. He'd be more of a sure thing and he'd know the city, the rink and several of his old teammates too, so that familiarity could help Green hit the ground running in his return to D.C.
https://twitter.com/0nns732ljl_677/status/960901809073160193
Not that there is anything wrong with John Carlson, Matt Niskanen and Dmitry Orlov as power-play options, but the Capitals are still green on the back end with youngsters Christian Djoos and Madison Bowey trying to stay afloat as the season progresses into deeper waters.
Washington may as well go for it again since this could be Carlson's final season in the fold as another pending UFA. Alex Ovechkin, Nicklas Backstrom and Braden Holtby aren't getting any younger either, but the Capitals are topping the Metropolitan Division again and Green might be able to finally put them over the top. That would be quite the triumphant return.
As for what the Red Wings will want in return, a budding defenceman makes sense as a starting point. Assuming Djoos and Bowey aren't available, Lucas Johansen, Connor Hobbs and Jonas Siegenthaler represent the next wave for Washington. Dmitri Zaitsev and Tobias Geisser are lesser prospects at that position.
Holland would be wise to ask about Jakub Vrana — remember, a different Washington regime traded Filip Forsberg for Martin Erat at the deadline, so it never hurts to ask — but that is likely a non-starter despite Vrana's recent struggles to produce offence and stay in the lineup.
The Capitals do have a few underrated forward prospects that are showing promise in Riley Barber, Shane Gersich and Garrett Pilon, plus Chandler Stephenson, who is just starting to establish himself at the NHL level.
Washington can also dangle seven picks for the 2018 draft, a list that includes its own first-rounder, Florida's second-rounder and two third-rounders.
If Brian MacLellan wants to bring back Green, he should be able to entice Holland.
2) Vegas Golden Knights
George McPhee knows Green as well as anyone, having drafted him in the first round in 2004 and watched him develop into a premier defender over the next decade with Washington. Green twice topped 70 points with the Capitals and scored 31 goals in just 68 games back in 2008-09. The next season, in 2009-10, he set a career-high with 76 points in 75 games.
Green hasn't reached 50 points in the seven-plus seasons since and has most recently been limited to 35- and 36-point campaigns with Detroit, though he did score 14 goals last year.
This season, Green has netted five goals and 26 points through 52 games — on pace for eight goals and 41 points over 82 games. That was enough to represent the Red Wings at the All-Star Game.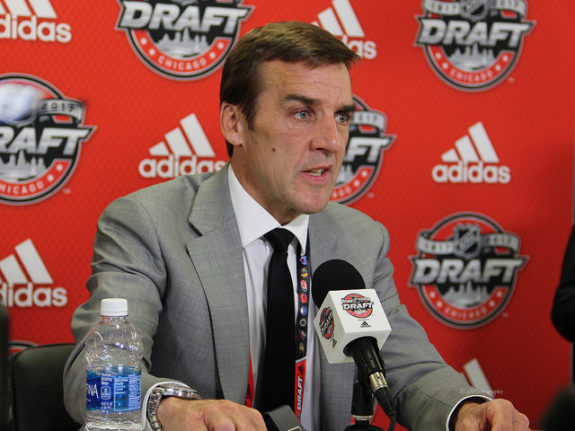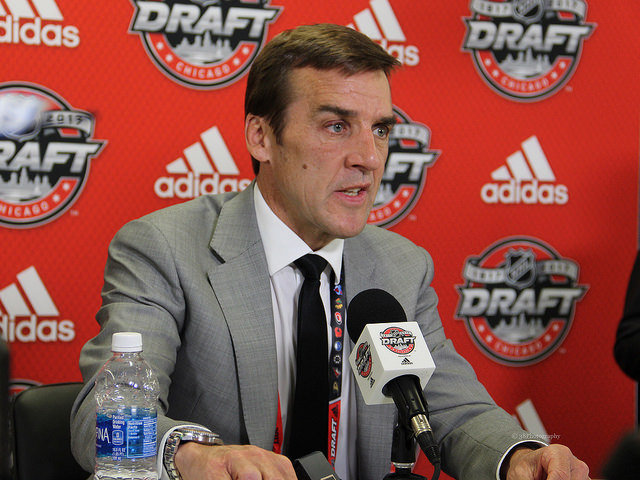 The Golden Knights weren't expected to be buyers in their inaugural season but, lo and behold, they are leading the Pacific Division and the entire Western Conference past the All-Star break. So McPhee clearly has a contender on his hands — as improbable as that may still seem — and Vegas owner Bill Foley might want to expedite their team-building plan in hopes that this regular-season success can carry over to the playoffs.
If that's the case, Green is the kind of guy that McPhee could target and gravitate towards based on their history together. Vegas has been getting good defence by committee, but the Golden Knights are lacking that big-shot presence on the power play. No disrespect to Colin Miller, Nate Schmidt, Shea Theodore and Brad Hunt, but Green would be a significant upgrade for the here and now.
Vegas Golden Knights GM George McPhee is at Little Caesars Arena for tonight's Flyers / Red Wings game.

— Brad Galli (@BradGalli) January 24, 2018
Improving the present would mean sacrificing some future, but Detroit wouldn't be getting Theodore out of Vegas in exchange for Green. It's safe to say that Erik Brannstrom — one of the Golden Knights' three first-rounders from 2017 who could blossom into the next Erik Karlsson — won't be part of the package either.
Nic Hague, an early second-rounder who could have upside similar to Colton Parayko, might be the key piece. Hague has 57 points, including 26 goals, in 49 games with the OHL's Mississauga Steelheads this season. That's an impressive stat-line for a 6-foot-6 defenceman.
Vegas could throw in Griffin Reinhart, who cleared waivers this season but might be worth a look for Detroit. Dylan Coghlan, a junior teammate of Red Wings' first-rounder Michael Rasmussen, and Jake Bischoff, a 23-year-old college standout learning the ropes as a rookie pro in the AHL, would be other options on defence.
Forward prospects Cody Glass and Nick Suzuki, the other two first-rounders from 2017, probably wouldn't enter the conversation, but Vegas is loaded with future draft picks. Again, the Golden Knights may be reluctant to part with this year's first- or second-round selections — even as late as they will be — but they already own three seconds and three thirds for 2019, plus three more seconds for 2020.
If Detroit is embracing a rebuild, a pick-heavy package from Vegas is a possibility for Green.
3) Toronto Maple Leafs
Mike Babcock has obvious ties to Detroit and to Holland, and Toronto has an obvious need for another defenceman with Green's skill-set.
Jake Gardiner has been relatively productive in running the Leafs' power play, but Green would bring more of a dynamic dimension. He'd be a nice complement to Toronto's top four with Gardiner, Morgan Rielly and Nikita Zaitsev, allowing Ron Hainsey and Roman Polak to form a shutdown pairing and focus on penalty killing.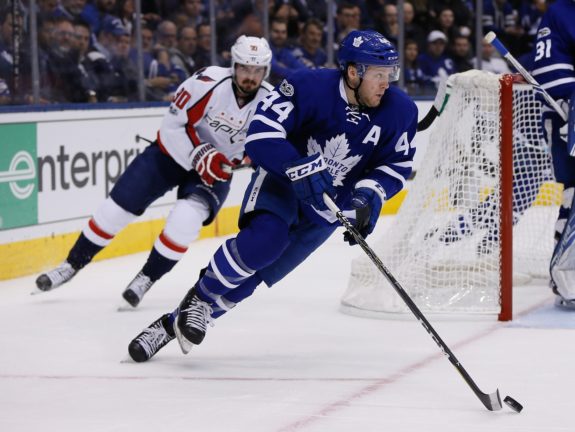 The Leafs have been thrilled with young Travis Dermott during his 12-game call-up, but that may be doubling as a showcase to land Green. Dermott could be going the other way, with Detroit no doubt scouting him closely in his first NHL stint.
If that's the plan, Toronto might not need to add much with the way Dermott has been shining so far — maybe a second-round pick, of which the Leafs have two for 2018 — but Lou Lamoriello will definitely try to get a deal done without losing Dermott.
Would the Leafs rather give up Andrew Nielsen and their first-round pick in 2018 than Dermott and a second? Would Detroit still be interested? Would Holland be willing or wanting to do Babcock a favour of sorts by sending Green to Toronto?
More questions than answers on that front, but the Leafs have one of the league's deepest prospect pools and could put together a quality package sans Dermott. Timothy Liljegren and Carl Grundstrom, two talented Swedes, would also be topping Holland's wish list, along with a Finn in Kasperi Kapanen.
Less desirable options could include Nielsen, J.D. Greenway and Eemeli Rasanen on defence, plus Andreas Johnsson, Dmytro Timashov, Kerby Rychel, Jeremy Bracco, Adam Brooks and Yegor Korshkov as forward prospects.
That's not to mention fringe NHLers such as Connor Carrick, Justin Holl, Martin Marincin, Andreas Borgman and Calle Rosen as blueliners, or Josh Leivo, Nikita Soshnikov, Miro Aaltonen and Frederik Gauthier as forwards.
Toss in a draft pick here or there and the Leafs could be one of the frontrunners.
---
Well, what do you think — where will Green be going? Washington, Vegas, Toronto or somewhere else?
Larry Fisher is a senior writer and head scout for The Hockey Writers, having been an at-large contributor for THW since August 2014. Fisher covers both the NHL and the WHL, specializing in prospects and NHL draft content, including his annual mock drafts that date back to 2012. Fisher has also been a beat writer for the WHL's Kelowna Rockets since 2008, formerly working as a sports reporter/editor for The Daily Courier in Kelowna, British Columbia, Canada from 2008-2019. Follow him on Twitter: @LarryFisher_KDC.