Josh Leivo has done everything that's been asked of him by the Toronto Maple Leafs. There's a logjam of wingers in front of him so he's had to wait for an injury to get into the lineup. He's done conditioning stints in the AHL while spending weeks sitting in the press box. And when he's finally gotten into the lineup, he's played well considering he was slotted into a weak fourth line that had minimal ice-time.
Leivo even re-signed with the Leafs even after going through the same thing last season. But now with Kasperi Kapanen getting into the lineup ahead of Leivo, even after all he's done, it must be incredibly frustrating to still be sidelined. So after all that, Leivo deserves to be traded.
Leivo's Trade Request
Leivo has waited far too long to get regular ice-time and one of the reasons was Matt Martin. Love him or hate him, Martin has played quite well this season but he just doesn't have the skill to justify being a regular in the lineup. Coach Mike Babcock has defended Martin's role and spot in the lineup since last season and had only scratched him once before this recent change to the lineup.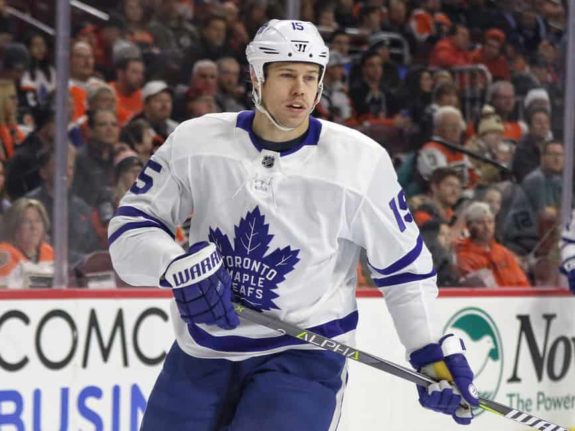 But Babcock quickly changed his mind on Martin's place on this team it seems, as Martin has now been scratched for six games, and the Leafs have won five of those. The issue for Leivo is that if Babcock finally changes his mind on Martin being in the lineup, then Leivo should be the first to get a shot at being a regular.
Unfortunately for Leivo, there's Kapanen to contend with. Kapanen has been by far the better player between the two and has helped to give the Leafs a solid fourth line. The other thing that Kapanen brings to the team is his penalty kill ability, which is something that Babcock gives priority over as opposed to players that don't kill penalties like Leivo.
Leivo asked if he'd do an AHL conditioning stint, unsurprisingly said no considering he's done that before to no avail at the next level: "I've played enough in the AHL; I want to play in the NHL now."

— Kristen Shilton (@kristen_shilton) February 5, 2018
So, with his only spot on the team (besides an injury or trade opening a spot) being taken, it gives no reason for Leivo to stick around just to be sidelined.
Leafs Options for Leivo
Leivo asking for a trade because of his lack of ice-time is quite similar to the situation the Leafs had with both Peter Holland and Frank Corrado. Both of those players were eventually traded so it's fair to say that Lou Lamoriello can make something work for Leivo, but with how little he's played – only 13 games last season and just 12 games this season – we can't expect that they'd get much in return for him.
So now, the issue becomes whether the Leafs will make room in the lineup for him or trade him away for, presumably, a middle round draft pick at best. Now, in terms of trading Leivo, it won't be worth it for the Leafs. They've kept him around and even re-signed him because they see potential in him, so it would be a total waste to then just trade him for a late draft pick.
But if they are just going to continue to keep him out of the lineup in case of that eventual injury, then they might as well trade him for something. At this point, the Leafs are wasting their own and Leivo's time by putting him through this mess and are actively hurting his future NHL chances and potential contract earnings.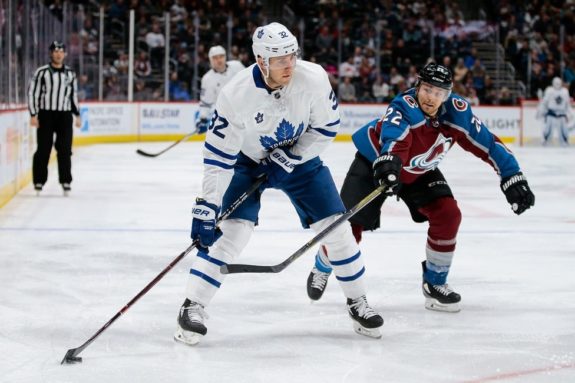 Leivo has said that he'd prefer to stay with the Leafs if he can start playing as opposed to being traded, so with how little the Leafs would get in return, it would make the most sense to just change the lines again to accommodate Leivo.
If the Leafs moved Leo Komarov to center on the fourth line and then swapped out Dominic Moore for Leivo, it would be the ideal line and scenario. Babcock hasn't been keen on Moore all season as he's been scratched multiple times, even with Frederik Gauthier being called up to fill that spot.
But if the Leafs can't make that one change to the lineup, then Leivo should be traded. Leivo deserves a chance to play regularly in the NHL after how patient he's been and how well he's played in that limited time. He may become a decent contributor on the third line or maybe he's just a depth player, but no one will know until he gets to play more than 12 games a season, and Leivo's earned that right to find out.
Toronto Maple Leafs contributor for The Hockey Writers.
I've been a fan of the Toronto Maple Leafs since I was a kid and have always had an interest in writing. At The Hockey Writers, I get to enjoy both of my passions as well as writing about small convoluted details in player contracts and stats.