As we approach the NHL Trade Deadline, Edmonton Oilers forward Patrick Maroon's future has been a hot topic. Should the Oilers trade him before the deadline or should they keep him for the long-term? It's been heavily discussed across the Edmonton blogosphere.
Back in January, we covered the rumor that it was "highly unlikely" Maroon would be back for next season. Well, something might've changed.
Pierre LeBrun of The Athletic broke the news that the Oilers might be trying to sign Maroon to an extension before the February 26 trade deadline. The Oilers have several unrestricted free agents (UFA's) this summer, but none would fetch a higher return than the 29-year-old Maroon.
LeBrun states that the two sides spoke during the All-Star break and something could happen before the deadline.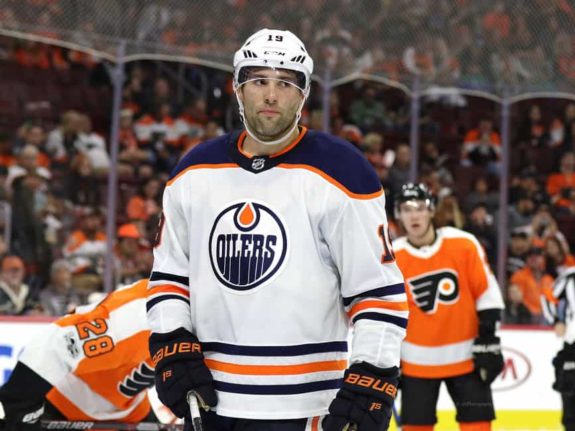 He's coming off an expiring three-year deal worth $6 million and is due for a raise. How significant, time will tell. Right now the Oilers are reaping the benefits of getting considerable production on the cheap.
In 146 games as an Oiler, Maroon has 48 goals and 82 points. This season he has 13 goals and 26 points in 49 games. So will Edmonton re-sign the Big Rig, and if so, how much will he cost?
MAIN ROSTER FREE AGENTS THIS SUMMER

Player
FA
Age
Cap Hit
GP
G
A
PTS
Ryan Strome (C/RW)

RFA

24

$2.50M

51

7

15

22

Mark Letestu (C)

UFA

33

$1.80M

50

8

9

17

Patrick Maroon (LW)

UFA

29

$1.50M

49

13

13

26

Brandon Davidson (D)

RFA

26

$1.42M

14

2

1

3

Matt Benning (D)

RFA

23

$925K

47

4

8

12

Anton Slepyshev (RW)

RFA

23

$925K

22

1

3

4

Drake Caggiula (LW)

RFA

23

$925K

39

7

5

12

Darnell Nurse (D)

RFA

23

$863K

51

6

12

18

Iiro Pakarinen (RW)

RFA

26

$725K

21

1

1

2

Yohann Auvitu (D)

UFA

28

$700K

21

2

3

5
Re-Signing Maroon Is a Valuable Option for Oilers
For all we know, this could just be some posturing between the two sides. Edmonton might just be seeing if the asking price is astronomically out of this world or just too rich for them. If it is, then they know they have a firm position to trade him.
If both sides are in the same ballpark, then a deal can be made. It shouldn't cost the Oilers more than $4 million to re-sign Maroon. That's the consensus around the Oilers blogosphere. Edmonton has $60.9 million committed to 13 players heading into next season.
The salary cap is expected to increase to around $78-$82 million for 2018-19. That means the Oilers should have at least $17.1 million to flesh out the rest of the roster.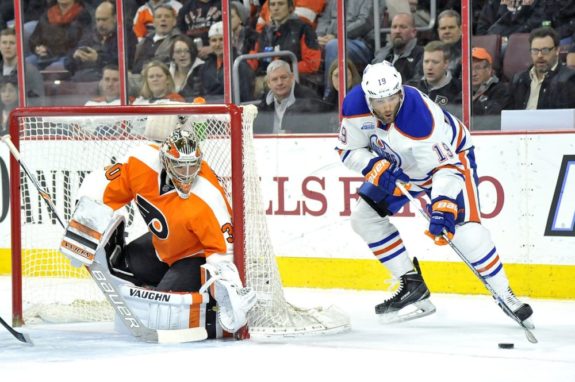 The guys that'll get sizable increases are Darnell Nurse, Mark Letestu (if re-signed) and Maroon. The likes of Ryan Strome, Drake Caggiula, Brandon Davidson and Anton Slepyshev should get minor bumps, but nothing that tips the scales.
Add all that together, and that's seven more guys signed for around $15 million (see table below). It's affordable, but expect some maneuvering to happen among the guys like Strome, Caggiula, Slepyshev.
PROJECTED OILERS ROSTER 2018-19

Goalies ($5.23M)
Defense ($23.34M)
Defense

Cam Talbot ($4.1M)

Oscar Klefbom ($4.1M)

Adam Larsson ($4.1M)

Al Montoya ($1.0M)

Andrej Sekera ($5.5M)

Kris Russell ($4.0M)

Darnell Nurse ($3.0M)*

Matt Benning ($1.5M)*

Brandon Davidson ($1.0M)*

Left Wing ($12.175M)
Center (29.5M)
Right Wing ($6.25)

Patrick Maroon ($4.0M)

Connor McDavid ($12.5M)

Jesse Puljujarvi ($925K)

Milan Lucic ($6.0M)

Leon Draisaitl ($8.5M)

Kailer Yamamoto ($925K)

Drake Caggiula ($1.5M)*

Ryan Nugent-Hopkins ($6.0M)

Ryan Strome ($2.5M)*

Jujhar Khaira ($675K)

Mark Letestu ($2.5M)*

Zack Kassian ($1.9M)
* Notes approximated salaries.
If the roster stays the same (which it shouldn't), the projected cap should be around $76.5 million before Edmonton adds a 13th forward. If the salary cap only rises to $78 next season, that puts the Oilers right up against the cap.
Unless Edmonton shuffles around some bodies to shore up its depth by moving a Strome, Caggiula or Slepyshev, it all but counts them out of free agency this summer.
Trade & Free Agent Options for the Oilers
With the way the numbers look, and without some crafty moves with the roster depth, it's either Maroon or someone else. One guy of interest is Mike Hoffman. Hoffman has a more proven track record than Maroon and has three straight 20-goal seasons.
This year he's on pace for 22 goals during a down year in which he's shooting below his career shooting percentage (11.0%), and still leading the Ottawa Senators in shots (169). However, a pure goal scorer like Hoffman carries a $5.187 million cap hit through 2019-20.
Related – Facing Off: Weighing In on Oilers' Ongoing Misery
The New York Rangers asked Rick Nash for his 18-team no-trade list and received it on February 4. New York is apparently willing to retain 50% of Nash's current $7.8 million cap hit. He's a UFA this summer, and currently has 15 goals and 25 points in 53 games.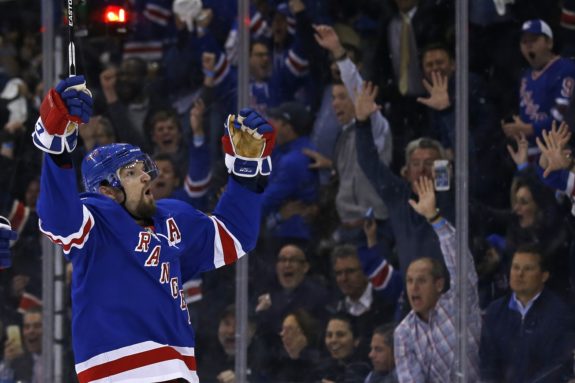 He's on pace to finish the year with 23 goals — Nash's offensive numbers have been in steady decline over the past few seasons. That said he's leading the Rangers in shots (165) and is tied for second in goals (15). He'd be third on the Oilers behind Connor McDavid (21) and Ryan Nugent-Hopkins (16).
A guy like Michael Grabner has been hot and cold throughout his career. Case in point; this season he has 21 goals, but is shooting well above his career shooting percentage at 18.3%. He could finish with 33 goals this season.
If he goes back to shooting at 13% (career-average) while producing the same number of shots so far this season (115), he'd have 15 goals. That's only two goals more than Maroon. Who do you take?
What Do the Oilers Do at the Trade Deadline?
For what it's worth, several teams had scouts at the Oilers game versus the Tampa Bay Lightning the other night. Maybe there's an option with one of those teams? Other names could be James Neal, Evander Kane, Thomas Vanek and Max Pacioretty.
Still it's hard to imagine the Oilers being able to part with the pieces necessary to grab some of those guys like Neal, Pacioretty or even Kane. Vanek could be a rental this year, but we're looking at long-term solutions.
#NYRangers, #BlueJackets, #RedWings, #MapleLeafs, #Jets, #Flyers, #Mnwild, Isles, Vegas (2) slated to have reps at #TBLightning game in EDM

— Joe Smith (@JoeSmithTB) February 6, 2018
Like it or not, Maroon might be the cheapest and most valuable option for the Oilers. He turns 30 in April, and if the Oilers can get him signed to a three-year deal, they'll likely squeeze him for whatever production they can before the inevitable fall off for power forwards that generally hits around age 32.
What do you think? Leave your thoughts in the comments below!
Edmonton Oilers regular contributor providing insight on all things Oilers including club history, prospect profiles, trade breakdowns, and everything else in between. Check back regularly for new and exciting content. Follow on Twitter @SanderTHW.