So is it Fallin' for Dahlin? Or should it be Stallin' for Dahlin?
The Fall for Hall didn't work — Todd McLellan and Peter Chiarelli didn't give Taylor Hall enough time to work with Connor McDavid — but now Swedish defender Rasmus Dahlin is the new wunderkind.
Nothing really rhymes with Andrei Svechnikov — I did "LOL" at F—k Right Off for Svechnikov on Facebook — but the Edmonton Oilers are probably scared of high-scoring Russians from the OHL after their Fail for Nail (Yakupov).
I can't even remember the catchphrase associated with floundering for Ryan Nugent-Hopkins, but I'm sure it was a gooder too. Or was it simply Lose for Nuge? That rings a bell.
Regardless, the Oilers are back in the league's lottery mix where they have spent the majority of the last decade since making dubious history by drafting Hall, Nugent-Hopkins and Yakupov first overall in consecutive years from 2010 to 2012.
That was then and this is now. Enough living in the past, right?
Fine, let's focus on the Oilers' present for this edition of Facing Off.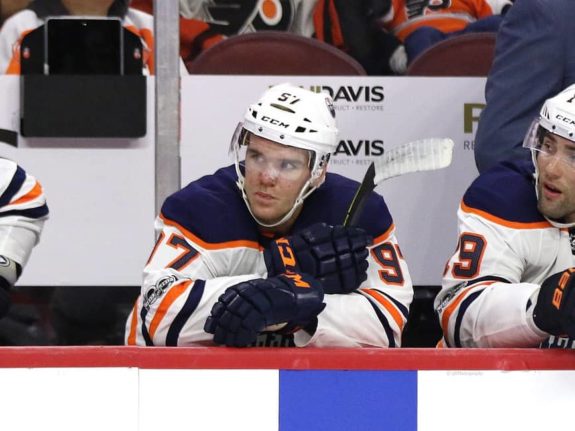 That, for lack of a better word, pathetic loss to Buffalo — a 5-0 blanking by the second-to-last Sabres on Tuesday — was the final nail in this season's coffin.
Any glimmer of post-season hope inspired by Edmonton's modest three-game winning streak — paling in comparison to recent runs by rival Calgary and upstart Colorado — went out the window with yet another shutout defeat at home.
The playoff ship has now all-but-mathematically sailed on the Oilers and they will, once again, be playing for pride after the All-Star break. Barring a double-digit winning streak sooner than later, but nobody is anticipating that from this squad.
So where did it all go wrong for a team considered a Stanley Cup contender entering this season after ending a decade-long playoff drought last spring?
And where do the Oilers go from here?
More questions than answers, no doubt, but here are some rambling thoughts about all things Edmonton ahead of Thursday's Battle of Alberta and the NHL trade deadline.
1) Latest, Not Greatest Line Combinations
After getting whipped, humbled and flat-out embarrassed by Buffalo, McLellan rolled out the following forward lines at Wednesday's practice in an attempt to regroup for Calgary:
Drake Caggiula-Connor McDavid-Anton Slepyshev
Patrick Maroon-Ryan Strome-Zack Kassian
Mike Cammalleri-Leon Draisaitl-Iiro Pakarinen
Milan Lucic/Jujhar Khaira-Mark Letestu-Jesse Puljujarvi
No, that's not an April Fool's joke. You can't make this stuff up, but that's awful. McLellan must be out of good ideas if he's planning to saddle his studs, McDavid and Draisaitl, with those duds.
The odds of those line combinations producing an even-strength goal against the Flames are somewhere between slim to none, and I'm leaning towards the latter. Highly unlikely they last past the first period.
At least the power play . . .
2) Special Teams Not So Special
No, the Oilers can't count on their power play to bail them out if those lines accomplish next to nothing. That's because the power play has been doing the same in struggling all season. Entering Wednesday's action, Edmonton's power play was tied for 29th, with Chicago, at 14.8 per cent — ahead of only Columbus, at 13.0. The Oilers are 19-for-128 overall, generating the second-fewest power-play goals among the league's 31 teams — just one more than Columbus (18-for-138).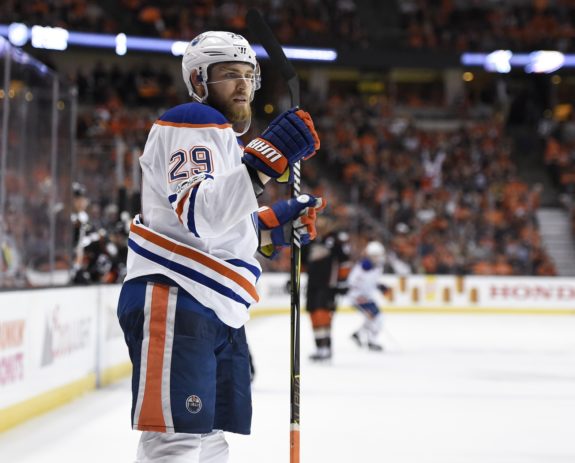 The only thing worse than Edmonton's power play is its penalty killing — particularly at home, where visiting teams are scoring on almost every second man advantage. The Oilers are only killing 54 per cent of their penalties at Rogers Place, by far the league's worst efficiency rating.
The Sabres were 3-for-4 on the power play there, converting their first three chances in a combined 2:07 — that's a mere 127 seconds — and mining goals with relative ease against Edmonton's much-maligned diamond formation.
Grant Fuhr, the Oilers' legendary goalie from the '80s, couldn't bite his tongue in tweeting "the diamond doesn't work" and suggesting an "aggressive box" as his preferred solution.
Fuhr isn't on the Oilers' coaching staff — yet — so his say doesn't mean much, but it's plain to see the status quo isn't working. The numbers don't lie.
3) Assistant Coaches, Jay Woodcroft and Jim Johnson
These two are, to my knowledge, primarily responsible for Edmonton's special teams. Woodcroft the power play and Johnson the penalty killing.
As a result, their job security has been called into question by the fan base — even more so than McLellan's. These are his right-hand men, both tagging along from San Jose, but something has to give in Edmonton.
Joel Quenneville lost his longtime sidekick Mike Kitchen in Chicago, a coaching casualty after the Blackhawks were shockingly swept by Nashville in the first round of last year's playoffs. Quenneville didn't endorse that firing, nor was he happy about it at the time, but somebody had to take the fall, if not the head guy, for failing to meet expectations.
Ditto in Edmonton. If McLellan is retained, expect a couple new assistants for next season. Perhaps a few if Ian Herbers, a former Oilers player and formerly from the University of Alberta, is also cut loose.
4) Paul Coffey Joins Staff
Yes, that Paul Coffey. A controversial hiring last week, even in a "skills development" capacity.
Coffey, the Hall-of-Fame defenceman from the Oilers' heyday, has been brought into the fold to mentor everybody from Darnell Nurse and Oscar Klefbom to Ethan Bear and Caleb Jones.
A fitting role, it would seem, but Edmonton already had that "Old Boys' Club" stereotype thanks to the failures of Kevin Lowe and Craig MacTavish during the aforementioned decade of darkness. And Coffey, for all his experiences as a player, doesn't have much of a coaching resume.
Paul Coffey's coaching resume includes two years of minor hockey with the Toronto Marlboros and one with the Jr. A Pickering Panthers. In his final playoffs behind the bench with the Marlies he was suspended three games for a discriminatory slur. Just what the Oilers need.

— Scott Wheeler (@scottcwheeler) January 21, 2018
[miptheme_quote author="— Jim Matheson of Edmonton Journal on Twitter" style="text-center"]If the Oilers brought in Ray Bourque to work with their young defence, would that be OK? Just because Coffey played for the Oilers, that's bad? If Jack Nicklaus happened by and offered help on your short game, would you say 'you've never coached before. I'd rather listen to David Leadbetter.'[/miptheme_quote]
I do believe Coffey will be able to offer enough insight to make his presence meaningful, but I'm not convinced he's the most qualified or worthy candidate. I doubt there was an exhaustive search outside the organization to fill this role.
Therefore, it's fair to criticize the Oilers for living in the past — remember, their owner Daryl Katz was the team's biggest fan throughout those dynasty years — and thus that tongue-in-cheek "yet" in regards to Fuhr.
5) McDavid's Contract Still a Blessing
For all the criticisms of Chiarelli — and many of them are merited — Oilers Nation best be thankful he got McDavid signed when he did. Imagine if McDavid had played out his entry-level contract through this season, those negotiations may not have gone so smoothly.
Or, heaven forbid, McDavid might have wanted out of Edmonton if he no longer saw the bright future and Stanley Cup potential that seemed so promising when he inked that mega-deal — an eight-year, $100-million extension — on July 5, 2017, following last season's impressive run that ended just shy of the conference final after bowing out in Game 7 of the second round. Not to mention a 103-point regular season.
For the record, the Oilers are currently on pace for a 77-point encore. Indeed, thank the Lord that McDavid is locked up long-term.
6) Criticizing Chiarelli
We can't let the general manager off the hook here. No, we could fill an entire column with Chiarelli's missteps leading up to and during his third season overseeing the Oilers' roster.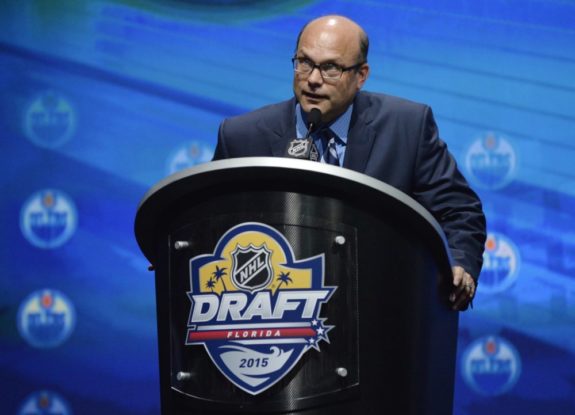 Reality is, Edmonton overachieved last season and that is apparent today. Sure, the Oilers are likely underachieving this season too, but the truth lies somewhere in the middle. Edmonton isn't the contender we anticipated, nor the bottom feeder we're witnessing.
Last season, everything was coming up Chiarelli — Adam Larsson had Oilers' fans saying "Hall who?" and Cam Talbot was in the Vezina conversation after breaking Fuhr's franchise record for wins in a single season.
This season has been much the opposite — nothing, it seems, is coming up Chiarelli. Hall and Jordan Eberle are lighting it up in the Eastern Conference, Talbot has come crashing back to Earth, Larsson and Oscar Klefbom suddenly became so bad together that they had to be split up, and the rest of the hockey world is well aware that the Oilers essentially gifted the New York Islanders their entire second line, going back to that regrettable Griffin Reinhart trade at the 2015 draft. Garth Snow can thank Chiarelli, indirectly, for Matt Barzal and Anthony Beauvillier as well.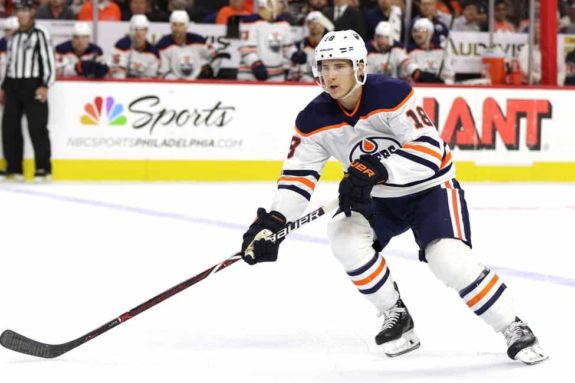 Ryan Strome hasn't really worked out in Edmonton — and certainly hasn't replaced Eberle's offence — Milan Lucic's contract is looking worse by the day, and even Draisaitl is leaving a lot to be desired as an $8.5-million man.
Some of that is on the players, obviously, but Chiarelli sat on the cap space he created from the Eberle-Strome swap — which has since been rendered useless, at least for the season at hand — and never addressed the gaping hole on defence in the absence of Andrej Sekera due to knee surgery. That was a no-brainer need, one a Harvard grad should have grasped.
The lack of scoring on the wings and lack of speed to flank McDavid is also alarming — making fans miss Hall more and more, and maybe even Yakupov a little — and the GM is to blame for those shortcomings.
Katz, Bob Nicholson and Wayne Gretzky will decide Chiarelli's fate, but a recent Twitter poll suggests an overwhelming majority of social-media users have lost faith in Chiarelli's ability to build a Cup-winning team for the former City of Champions.
The humorous poll asked: Who would be a better GM for the Oilers?
A) A Potato
B) Chiarelli
At last check, there were nearly 5,000 votes and Chiarelli had garnered just six per cent of that total. Yes, the potato got 94 per cent.
So that's telling of the temperature, or temperament, towards Chiarelli. My hot take? Sitting on your hands when you have ample cap space and an owner more than willing to spend to the ceiling is generally not well received regardless of the rationale — especially when your team has been labelled a contender, rightly or wrongly.
7) Goaltending Concerns
Talbot has appeared in 180 games over three seasons as a member of the Oilers, counting playoffs.
He got off to a slow start in his first year as the go-to guy in Edmonton, platooning with Anders Nilsson for much of the first half before a strong finish salvaged a .917 save percentage over 56 games. He went on to backstop Canada to gold at the worlds that spring, shutting out Finland in the championship game.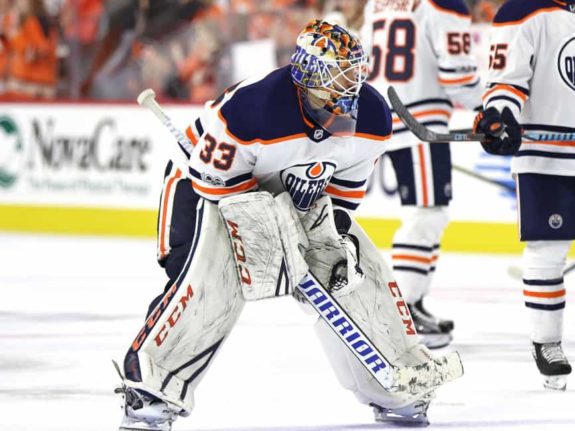 Talbot was an absolute workhorse last season — and a model of consistency — in playing 73 games and posting a .919 save percentage. In 13 playoff games, he was even better statistically at .924.
This season, Talbot has slumped to .901 and has been pulled six times in 38 starts, including three times in his last seven outings.
He has tons of defenders — off the ice and behind the keyboards — but, again, the numbers don't lie. Talbot has been a big part of the problem in Edmonton.
Goaltending, in general, is a question mark again.
The Oilers acquired Al Montoya from Montreal earlier this month to be Talbot's backup. In exchange, the Canadiens will get a conditional draft pick in 2018 — a fifth-rounder for now, but a fourth-rounder if Montoya makes seven or more appearances for Edmonton. That's appearances, not starts, and he's made three thus far — all of them in relief of Talbot, with the Oilers rallying to win once . . . over last-place Arizona.
Talbot and Montoya are both signed through next season, earning $4.17 and $1.06 million, respectively. They are both restricted free agents after that, but Edmonton's tandem for 2018-19 appears to be in place.
Beyond that, all bets are off. Talbot will need to prove he's still the Oilers' goalie of the future and then Edmonton will need to be able to afford his next contract. No guarantees on either front.
Meanwhile, Laurent Brossoit is now buried in the minors making $750,000 on a one-way contract. He's a pending RFA and presumably won't be qualified this summer.
Nick Ellis, who has been the No. 1 for AHL Bakersfield the past two seasons since signing with Edmonton out of college, is also an RFA with a $925,000 cap hit on a two-way contract. He's been solid for the most part and projects as part of the future, though Dylan Wells and Stuart Skinner arguably have more upside as prospects. The latter two, both shining in junior this season, are likely at least a couple years away from making an NHL impact.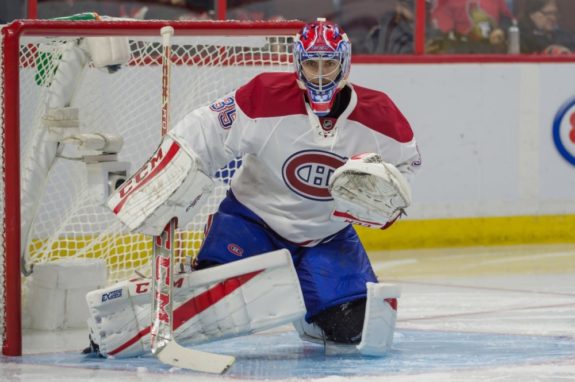 The curious decision here was trading for Montoya as a netminder under contract for next season. There would have been other expiring options to serve as a seldom-used backup.
Then, Chiarelli or whoever is in charge as his successor, could have surveyed the landscape this offseason when better options may be available on the cheap.
Two that immediately come to mind are two who have posted shutouts in Edmonton this season — Robin Lehner, from Buffalo, and Petr Mrazek, from Detroit. Both were projected as the futures of their franchises, but haven't lived up to their potential or panned out for whatever reasons.
Both are reportedly being shopped right now as pending restricted free agents — both earning $4 million in the final season of their current contracts. Tempting!
Kari Lehtonen, from Dallas, who has played his share of good games against the Oilers over the years, will be an unrestricted free agent this summer. That UFA list also includes Jaroslav Halak, Sherwood Park product Cam Ward, red-hot Jonathan Bernier, Aaron Dell and Carter Hutton, who are both underrated, Antti Raanta, who may not be Arizona's long-term answer, feel-good story Jeff Glass, minor-league standout Michael Hutchinson and a few others like Darcy Kuemper, Anton Khudobin, Ondrej Pavelec and Chad Johnson.
Yet, the Oilers opted for Montoya and are already committed to him, at least financially, for next season. Umm, why?
8) Trade Deadline Decisions, Oilers to be Sellers
Monday, February 26 is the date that Oilers fans have circled on their calendars for now — that's the NHL trade deadline. Then, sadly, it'll be a late April date once the draft lottery is scheduled.
When it comes to the trade deadline, the Oilers will be sellers and the likeliest candidates to be moved between now and then are a handful of forwards in Maroon, Letestu, Caggiula, Slepyshev and Pakarinen, plus a couple defencemen in Matt Benning and Yohann Auvitu.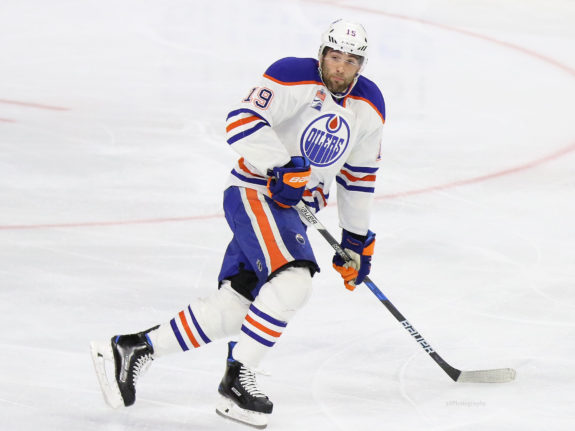 There will be a market for Maroon and Letestu. The rest are iffy and the returns would be minimal.
I'll be publishing my annual Trade Deadline Predictions at some point next month, but I could see Maroon getting dealt to his hometown St. Louis Blues and Letestu getting shipped to Pittsburgh for a second stint with the two-time defending champion Penguins.
As for those returns, Maroon could fetch a project winger like Dmitrij Jaskin and a decent draft pick — as high as a second or as low as a fourth, depending on the bidding war for his services — while Letestu is probably worth a third-round pick.
I do wonder, with Casey DeSmith playing so well lately and Matt Murray the long-term goalie in Pittsburgh, whether the Oilers could try to pry Tristan Jarry — a former Oil Kings standout — from the Penguins, who might prefer an experienced backup like Montoya to pair with Murray for the playoffs. If so, would a package of Letestu, Caggiula or Slepyshev and Montoya for Jarry and a couple contract dumps of Jim Rutherford's choosing be fair? Don't even ask for Daniel Sprong.
Maroon isn't going to command a first-round pick or a top prospect like Jordan Kyrou, Robert Thomas, Tage Thompson or Klim Kostin either. Maybe a second-tier prospect like Samuel Blais or Tanner Kaspick instead of Jaskin, or a third-tier prospect like Adam Musil (son of Frank) or Conner Bleackley instead of the draft pick. The Blues could offer up Beau Bennett too as an RFA.
Lots of options, but nothing overly exciting. The Oilers don't have the proverbial "big fish" to dangle at this year's deadline. They just have a Big Rig.
9) Drafting Better, Scouting Better
If anybody deserves praise in the Oilers' organization right now, it's the amateur scouts.
Granted, the farm team in Bakersfield is still a sore spot and a black hole for skilled forwards, but brighter days should be ahead there with the next wave of prospects.
Those scouts have been hitting more than they've been missing in recent years — especially in the mid-to-late rounds — and Edmonton should eventually reap those benefits. Perhaps not soon enough to save the jobs of Chiarelli and/or McLellan, but there is plenty of talent progressing through the pipeline.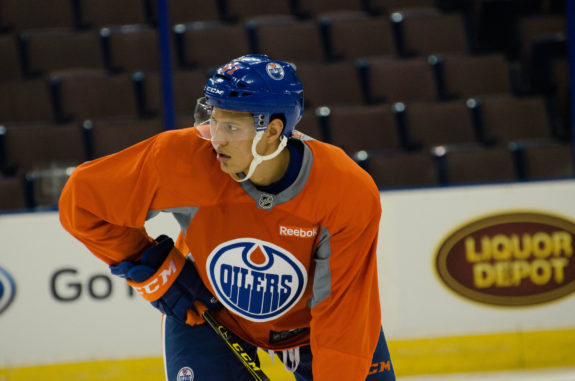 The defence is going to be in good hands down the road and a deep group with the likes of Bear, Jones and free-agent signing Ryan Mantha already trending well in the AHL, while William Lagesson, John Marino, Makus Niemelainen, Matthew Cairns, Filip Berglund, Dmitri Samorukov and Phil Kemp have all flashed NHL potential. Lots of quality picks and finds among those 10.
Up front, Edmonton has still been hit and miss. Jesse Puljujarvi and Kailer Yamamoto should compete for top-six roles next season as first-round picks, but the Oilers also took Tyler Benson over Alex DeBrincat in 2016 and were prepared to pick Joel Eriksson Ek over Barzal in 2015.
Everybody makes mistakes at the draft — some teams more than others — but Benson is rebounding nicely as a 19-year-old after a couple injury-plagued campaigns that limited him to 30 and 33 games the previous two seasons. He lost a lot of crucial development time, but it's not too late for Benson to become a serviceable top-nine winger for his hometown Oilers. Next season, as a rookie pro, will be very telling and hopefully he'll stay healthy.
Ostap Safin and Kirill Maksimov were intriguing picks at the time and are now looking like potential steals for Edmonton from the fourth and fifth rounds in 2017 — both emerging as scoring imports for their major-junior teams in Canada.
Aapeli Rasanen and Graham McPhee are making impressive strides as teammates at Boston College too, with Rasanen also standing out at the World Juniors for the second year in a row as one of Finland's best players in that tournament.
Cameron Hebig, a recent free-agent signing, got traded to the Memorial Cup host Regina Pats at the WHL deadline, so he'll get good exposure and experience as a ringer for that showcase.
All in all, the amateur scouts are doing their jobs at an above-average level.
10) Development Remains Weakness, Work in Progress
The next step is developing those prospects into NHL players once they enter the Oilers' system — particularly once they arrive in Bakersfield.
There have been less success stories coming out of California. In fact, those have been few and far between.
Take Ziyat Paigin, for example. He was generating a fair bit of buzz as a standout at the summer development camp in Jasper and some felt Paigin would be on the NHL roster by now, but instead his contract was terminated in November and he returned to Russia after being a healthy scratch more often than not in the AHL.
That begs the question — was Paigin mismanaged? Maybe. There seemed to be untapped upside in the smooth-skating 6-foot-6 blueliner, but he's no longer part of the organization and the Oilers no longer own his rights.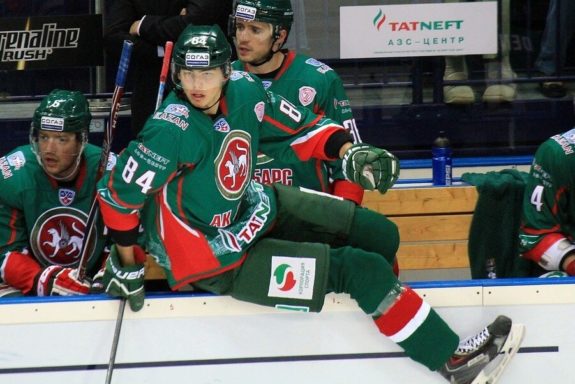 Gerry Fleming has been the head coach in Bakersfield ever since he inherited the Oklahoma City job when Todd Nelson got promoted to Edmonton's interim bench boss back in December 2014. Fleming pre-dates both McLellan and Chiarelli, and Bakersfield hasn't made the playoffs in either of the last two seasons despite Fleming's penchant for playing veteran minor-leaguers ahead of budding prospects.
Fleming's days could be numbered in Bakersfield, with the Condors hovering around .500 again and currently out of a playoff spot through 40 games this season. Fleming isn't considered a future NHL coach and wouldn't be in the running to replace McLellan, even if he was fired midseason.
A different voice down on the farm could do wonders for development. That staff should probably be overhauled ahead of next season, especially with the likes of Yamamoto and Benson turning pro and possibly cutting their teeth with the Condors before making the jump to the Oilers.
Rushing players to the big league has also been a concern for Edmonton over the years, be it with Nugent-Hopkins and Yakupov or even with Caggiula and Benning. All those players could have benefitted from more development time, in junior for the first overall picks and in the AHL for the college alums.
Draisaitl and Puljujarvi were jerked around a bit too before finding their groove in the NHL, but it's good to see Darnell Nurse on the upswing this season. He's becoming a force at both ends of the ice and still has a top-pairing ceiling.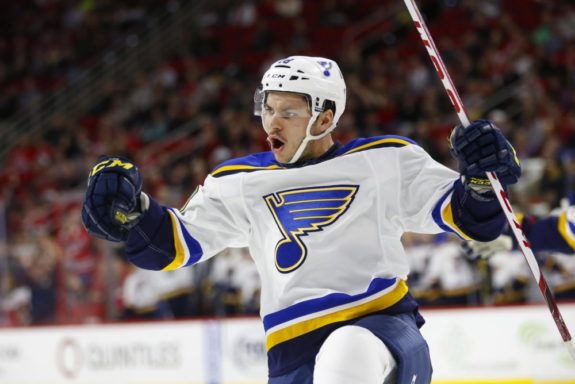 Ty Rattie is enjoying a pretty darn good season on a pretty darn bad team in Bakersfield but, for reasons unknown and beyond my comprehension, he has yet to get a call-up to Edmonton.
That's baffling to me, why the leading scorer of the AHL team with 30 points (16 goals) through 40 games and 35 games of NHL experience on his resume has yet to get a shot. Especially since Rattie is a right-winger, a position of glaring weakness for the Oilers, and could be something of a triggerman for a team that is struggling to score both at even-strength and on the power play.
Now 24, Rattie was a proven sniper in junior and thought to be a top prospect for St. Louis for a number of years. He's still not a total bust, not with AHL numbers like that — tied for 37th in league scoring through Wednesday and just 12 points back of the leaders. His 16 goals are tied for 18th overall and just five behind the leaders in that category.
That begs the question — what was the point of signing Rattie to a one-year contract? Why not give him a chance? Why not give him a look alongside McDavid?
Are Caggiula and Slepyshev — McDavid's linemates on Wednesday — that much better or more deserving? It should be noted that this isn't their first spin with McDavid — especially Caggiula, who has had multiple opportunities as No. 97's wingman, with very little in the way of tangible results. You know, like goals.
What do I know, I'm just a writer and wannabe scout — not a general manager, nor a coach. Then again, Chiarelli and McLellan may not have those titles for much longer either. Time will tell.
Larry Fisher is a senior writer and head scout for The Hockey Writers, having been an at-large contributor for THW since August 2014. Fisher covers both the NHL and the WHL, specializing in prospects and NHL draft content, including his annual mock drafts that date back to 2012. Fisher has also been a beat writer for the WHL's Kelowna Rockets since 2008, formerly working as a sports reporter/editor for The Daily Courier in Kelowna, British Columbia, Canada from 2008-2019. Follow him on Twitter: @LarryFisher_KDC.