This weekend John Klingberg will team with Tyler Seguin to represent the Dallas Stars at the 2018 NHL All-Star game in Tampa, Florida. Seguin will be playing in his fifth All-Star game while Klingberg will be making his first appearance. Both players are still just 25 years old, so look for this to become an annual tradition.
Klingberg also received a special honor Tuesday night when the Stars gave out 10,000 John Klingberg bobbleheads before their 6-1 route of the Florida Panthers at the American Airlines Center. More importantly, he's becoming a relevant name in the 2017-18 Norris Trophy discussion.
Admittedly I jumped the gun comparing Klingberg to his countryman, Erik Karlsson of the Ottawa Senators, back in November 2015. Klingberg burst on the scene midway through the 2013-14 season after being recalled from the Texas Stars of the American Hockey League. I may have been a little premature in my assessment, but so far this season he's done everything but drive the Zamboni.
Klingberg's Dynamic Offensive Results
The success in his debut season of 2013-14 seemed to coincide perfectly with the success of the Stars, who went on to advance to the second round of the playoffs for the first time since 2007-08. One thing that was true then that is still true today is that as Klingberg goes, so go the Stars. In fact, during his young NHL career, the Stars are 36-8 when Klingberg scores two or more points in a game. When the bottom fell out last season, the Stars' record was 4-5 in games that Klingberg had two or more points.
Klingberg is running away with the NHL scoring lead for defensemen with 48 points (six goals and 42 assists) in 49 games. The next closest defenseman is Brent Burns of the San Jose Sharks with 39 points (seven goals and 32 assists) in 47 games.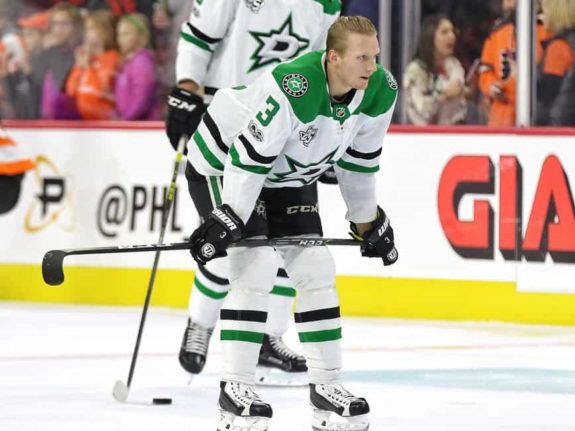 He's on pace to make a run at Karlsson's 82 points in 82 games season of 2015-16, which also stands as the most points in a single season by a Scandinavian-born NHL defenseman.
While the offensive production has been tremendous, it's also always been his strength. Arguably the more impressive part of Klingberg's development has been his consistent defensive play. This year he's making the simple and safe play as opposed to the high-wire acts that occasionally left Stars goalies exposed via breakaways, odd-man rushes, or giveaways that led to high danger scoring chances.
Klingberg's Leadership & Two-Way Game
There's no doubt Stars head coach Ken Hitchcock and assistant coach Rick Wilson have helped to influence a stronger all-around game from Klingberg. As I've mentioned before, Hitchcock has coached several of the game's best defensemen such as Sergei Zubov, Scott Niedermeyer, and Alex Pietrangelo, so he knows how to get the most out of skilled defensemen.
Before the start of the season, Hitchcock named Klingberg as one of the team's four alternate captains (along with Seguin, Jason Spezza, and Alexander Radulov). Klingberg has welcomed the additional responsibility. As Hitchcock recently told Mike Heika of the Dallas News, "I think he's really invested in the group. He's really taking responsibility as a leader, he's trying to make a difference."
Whether you're an old-school plus/minus enthusiast or a newer-age analytics supporter, you have to be impressed with Klingberg's results this season. He's a plus-15 which ties him for seventh-best among NHL defensemen who had played at least 45 games and is just a shade below annual Norris Trophy contender Drew Doughty's plus-16. For the analytics fans, Klingberg's Corsi rating is 54.80, which ranks 14th among NHL defenseman who have played at least 45 games and is less than one point away from cracking the top seven.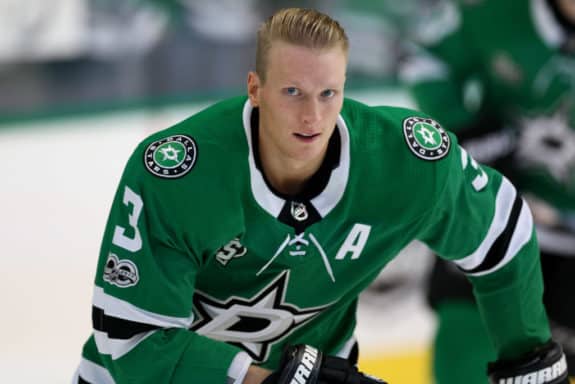 Klingberg is even killing penalties. He had fewer than 18 minutes of penalty-killing time last season; this season he already has more than 63 minutes of penalty-killing time.
Klingberg has also been more efficient on the power play. He has one goal and 15 assists in 167 minutes of power-play time this season. He's also had 35 shots on goal during the power play with just 13 shots missing the net and four takeaways. Conversely, last season he had 13 assists on the power play in 254 minutes and only 23 shots on goal with 25 missing the net.
If Klingberg keeps up this pace, he might end up driving that Zamboni just yet.
I have a Bachelor of Arts Degree is Sociology from Bridgewater State College. I have covered amateur hockey prospects with Texas roots for the scoutingreport.org, and I am a Dallas Stars writer for The Hockey Writers. I can be reached via Twitter @EdTexmass09.