Entering this third NWHL season the Boston Pride had a new look among their skaters with the departures of the US Olympians, and while the results haven't shown up in the standings they are still a formidable opponent every weekend. One of the new additions this offseason was defender, Isobel Cup champion and Massachusetts-native Paige Harrington who left the Buffalo Beauts after two seasons to be closer to home and family.
"I like being home, playing in my home city and this is a great group of girls on the Pride," the 24-year-old Harrington told The Hockey Writers. "I work full time and it's been good, I've been able to make it work. Living in the city and my family gets to come to all of our home games – it's a good vibe for me."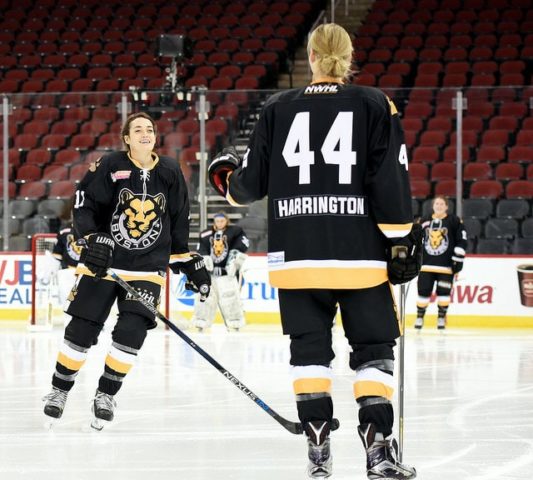 "(On the ice) we're still trying to make it all connect, and I think we're right there — that's the tough part about it. We just have to come out stronger (and) with a little more heart." Boston has only won two games and those wins are sandwiched by two, four-game winless streaks and although she went through similar stretches with Buffalo last season – one that ended in an Isobel Cup – Harrington isn't interested in drawing any parallels between the two situations.
"We don't want to wait until the playoffs to start winning, we want to win games (now). Every game that's our focus," she said after losing a home-and-home with the Metropolitan Riveters, "we're not looking towards the playoffs right now, we're looking towards next week." She also wasn't about to use the stress of two games in less than 24-hours as any type of excuse for why the Pride lost 5-1 and 2-1 against the league's top team.
Thought we were friends???? @Hbrowne24 #illneverlivethisdown picture of brownie getting squished coming soon pic.twitter.com/1MHLXghDDV

— Paige Harrington (@ona_ramPAIGE) October 28, 2017
"It's tough playing back-to-back games with the travel, but honestly there are no excuses and we have to come out and play better than that," Harrington said. "I think we're right there and honestly it doesn't matter how many games you win, it's all about the next game. I'm not worried about their win streak, I'm worried about just focusing on us and playing the best that we can."
This season Harrington has already registered three points (all assists), matching her career point total (all from season 1), and has been paired with Kaleigh Fratkin since she signed with Boston five games ago. "Since Fratty came on to the team we've been playing together, and that's been good," the defender said. "She's a good player and we're just trying to work together not only playing tough defense but also on the offensive side as well."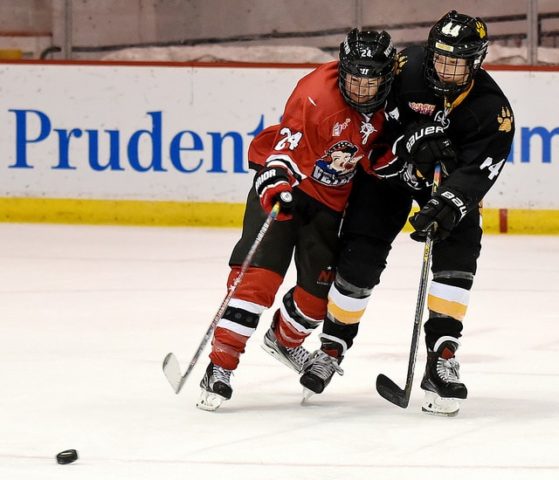 The Pride also have had a different look in net with rookie Brianna Laing starting two of the past three games, losing both by just one goal each (0-1-1). "She was awesome and I wish we could have given her the win today," said a disappointed Harrington. "She's a brick wall and we're proud of her, she played well."
With six games left in the NWHL season one of the more interesting storylines will be: can Harrington and the Boston Pride make it back to the Isobel Cup Final for a third straight season?
Dan Rice is in his 9th year of reporting for THW & has covered NJ Devils home games for 15+ years at various websites. He began his journey working for legendary broadcaster/writer Stan Fischler from 2002-04 & completed an internship at the ECHL; he also has been writing features for the NWHL (nwhl.zone) website since 2016.