Since his third-round selection in the 2011 NHL Entry Draft, 86th overall, Josh Leivo has been an intriguing yet slowly developing commodity for the Toronto Maple Leafs.
Drafted as a power forward with great size, strength, and natural offensive instincts, Leivo's nose for the net and willingness to battle in tough scenarios allowed him to generate impressive offensive totals. However, going to those rough areas of the ice have also taken their toll on Leivo physically, and as such, he has, rather unfortunately, missed considerable periods of time since his ascension to the professional ranks.
Having failed to play in more than 70 games in a given season since skating with the Barrie Colts Minor Midget AAA squad in 2008-09, Leivo's frequent visits to the Doctor's office have not only hampered his development, but also his perception as a capable NHL player.
So, when he was finally activated to the Leafs' 23-man roster on Dec. 11, having spent the entire season to date outside of five AHL games on the Non-Roster Injured Reserve, it was, at that point, understandable for Leivo to be a healthy scratch.
Breaking Out
After sitting out the team's first three games following his return, Leivo made his season debut with the Leafs on Dec. 19 against the Anaheim Ducks, a game in which he skated 12:37 and registered a +/- plus 1. Following an additional 20 days and seven games spent idle, Leivo received his second opportunity of the season against Montreal, although he failed to record a point in just 4:17 of ice time.
Leafs' Nikita Soshnikov out with upper-body injury. Josh Leivo will play just his second game on the season.

— luke fox (@lukefoxjukebox) January 7, 2017
After Toronto's loss to the Canadiens, Leivo went an incredible 33 days without playing an NHL game. A healthy scratch for 12 straight contests, Leivo's development had once again become stagnant, only this time, the situation was out of his control.
Eventually, Leivo was again inserted into the Leafs' lineup, this time on Feb. 9 – over a month since he last saw game action.
#HardWork, hot hand pays off for #MapleLeafs' #JoshLeivo https://t.co/pHEQTqU7qd pic.twitter.com/jm4NAWBs3t

— Zesty Maple Leafs (@zesty_TML) February 16, 2017
Determined to prove his value and, in doing so, remain in the Leafs' lineup, Leivo persisted and caught fire, scoring a goal and two assists against the Islanders en route to notching eight points over a five-game span.
In total, Leivo would tally nine points over an eight-game stretch, log upwards of 16:00 in ice time, and register five shots on goal on multiple occasions. In doing so, Leivo displayed his ability to play on any line in any role, log effective power play minutes, and be a consistent offensive threat at hockey's highest level.
I look at what happened with Corrado and it makes Josh Leivo an even better story. How on earth did he bounce back mid-season?

— Steve Dangle Glynn (@Steve_Dangle) March 1, 2017
Perhaps most importantly, Leivo had, it appeared, gained the trust of Head Coach Mike Babcock. Although it was a short yet highly successful stretch, Leivo's play had indicated his capabilities when healthy at the NHL level and justified a long-term opportunity, if not presence, within the Leafs' lineup.
After all, this is a franchise in the midst of a rebuild whose sole focus is player development.
Isn't it?
Lacking a Definitive Opportunity
Despite illustrating his ability to produce offensively at the NHL level, and in doing so securing a spot within a highly competitive and at times chaotic roster, Leivo's persistence ultimately failed to pay off.
In the days, weeks, and months leading up to the 2017 NHL trade deadline, Toronto's stance ahead of the event was as clear as mud. Would the team act as buyers in order to bulk up for a surprising Stanley Cup run, or instead, approach the cut-off as sellers and trade players of value in exchange for pieces vital to a rebuild?
Once the dust had settled, the answer was abundantly clear.
Wow! The Leafs are buyers for the Playoff drive and the Lightning are sellers. Brian Boyle seems the great fit I didn't expect in Toronto!

— Gord Stellick (@GordStellick) February 27, 2017
Acquiring Brian Boyle from the Tampa Bay Lightning and Eric Fehr from the Pittsburgh Penguins, the Leafs added considerable depth to their forward ranks, an area of weakness and an incredibly important aspect of any team with postseason aspirations.
In doing so, Toronto subsequently bounced Leivo from his much-deserved role on the team, as the arrival of Boyle and Fehr forced Leivo down the team's depth chart, and, ultimately, out of the lineup.
As a frequent healthy scratch, it remains unclear exactly when Leivo's next opportunity could come. Deserving of the opportunity to play on a consistent basis, especially so considering his production this season, having Leivo sit on a nightly basis is an unproductive approach for both the team and Leivo long-term.
After cracking the #Leafs lineup Josh Leivo has impressed. How good can he be? @domluszczyszyn looks at the numbers: https://t.co/YFQXP2mEtS pic.twitter.com/Bfd1fFTVsT

— The Athletic (@TheAthleticTO) February 21, 2017
Players, especially young prospects, need playing time in order to hone their skills, gain experience, and ultimately become confident players at the NHL level. Sitting Leivo for extended periods of time not only hinders his progress as an individual but also deteriorates the confidence he generated through his success.
What's more is that, when looking at the Leafs' current lineup, there are players who are, arguably, under-performing. In fact, Toronto, in the midst of a heated playoff race, would likely do well to replace such players with Leivo.
Changes Coming?
Are changes coming to the Leafs' roster, and in particular the team's fourth line?
Likely not.
The acquisition of Boyle has cemented the Leafs' fourth-line center position, while free agent signing Matt Martin and Nikita Soshnikov appear to be virtual locks on the wings as the team continues its postseason push.
Matt Martin loses track of the puck so he can throw a secondary hit, ends up hurting teammate Nikita Soshnikov instead #BellLetsTalk pic.twitter.com/fDTuJ6qy04

— Jeff Veillette (@JeffVeillette) January 26, 2017
However, it is certainly worth noting that inserting Leivo into the Leafs' lineup in place of either Martin or Soshnikov could be an effective tactic.
Matt Martin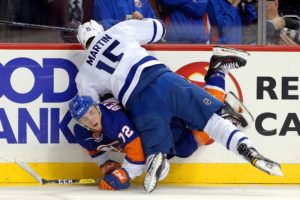 To date, Martin has failed to ice the combination of size and skill which not only made him such a crucial member of the New York Islanders' fourth line, but also a highly coveted free agent his past off-season.
With just four goals and four assists through 68 games, Martin is on pace for career-low offensive totals – totals which are minuscule when one considers the fact that Leivo has already generated more points than Martin in over 50 fewer games played.
Yes, Martin is well-known for his physical play, but so too is Leivo, who has the ability to finish his hits on the forecheck, play a heavy game, and is not a liability defensively.
Of course, Martin is a sensational leader who brings excellent postseason experience, but if the Leafs miss the playoffs, will those traits be truly significant?
Nikita Soshnikov
On the other hand, there is Soshnikov.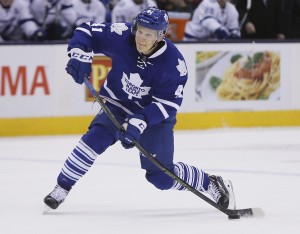 After dazzling the Leafs and their fans in a short 11-game stint last season, Soshnikov has failed to further develop in 2016-17. With the same number of points as Martin in a similar number of games, Soshnikov's playing style is not suited for the role of a fourth-line player, as he would likely be better served skating first line minutes with the Marlies where he could truly develop his offensive game.
At 5'11", 190 pounds, Soshnikov simply does not have the size or strength to play against the fourth lines of opposing teams. Founded on grit and physicality, fourth lines throughout the NHL, and especially in the playoffs, typically play a hard and relentless game, and one which Soshnikov's game, despite its peskiness, has proven it isn't capable of.
The hit that led to Tarasenko going after Soshnikov. #stlblues pic.twitter.com/znKUKcOFje

— Cristiano Simonetta (@CMS_74_) February 3, 2017
Whether or not Leivo will be substituted for one of Martin or Soshnikov quite obviously remains to be seen, yet what is abundantly clear is that fact that he is deserving of the opportunity to do so.
Leivo Deserves to Play
Based on his success to date, it goes without saying that Leivo is deserving of an opportunity to play within the Leafs' roster on a consistent basis until proven otherwise.
As a physical power forward with innate offensive capabilities and a track record of production, Leivo, now healthy, is ready more than ever to further develop his game at the NHL level. However, without the chance to do so, the Leafs are risking stagnating the progression of Leivo's game and long-term evolution as a player.
Josh Leivo's last 8 games: 1G 8A 9 PTS 21 Shots, +6.23 CF%Rel
Expected to be a healthy scratch for a seventh consecutive game tonight.

— Jeff Veillette (@JeffVeillette) March 16, 2017
Yes, the Leafs' current crop of forwards boasts impressive depth, but if certain players are failing to produce, is there any harm in replacing them with a younger player of greater skill despite his inexperience? Further, given how much success Leivo has enjoyed in so few games, the Leafs could be over-looking the development of one of their top prospects in exchange for limited playoff experience.
What is essential to remember, as it has been easily overlooked of late, is the fact that the Leafs remain a rebuilding team. Success may have come faster than any could have expected, but it is worth emphasizing that Toronto's focus remains the development and coaching of its young players and prospects.
#MapleLeafs Focus Must Be Prospects, Not Playoffs https://t.co/LXn43SapX0 #THW #TMLTalk pic.twitter.com/mk5D5LT8P9

— The Hockey Writers (@TheHockeyWriter) February 24, 2017
As such, making Leivo a healthy scratch, and at times enduring over a month's time without game action, is simply not conducive to his development as a player. Sure, reaching the playoffs would be nice, but why not allow a promising young prospect to gain experience along the way?
Heck, he could even benefit the team, and more so than a number of the franchise's current players.
Brett Slawson is a four-year veteran of The Hockey Writers who covers the Toronto Maple Leafs, NHL prospects, and the OHL's Mississauga Steelheads.
Contact Brett on Twitter @brettslawson92, or by email at brett_slawson@hotmail.com.