The Toronto Maple Leafs could very well reach the Stanley Cup Playoffs in 2017.
Let that sink in for a moment.
At the beginning of the 2016-17 NHL campaign, expectations for the Leafs were minuscule at best. As a team structured around its youth, none could have possibly anticipated Toronto being in the playoff conversation come the month of March.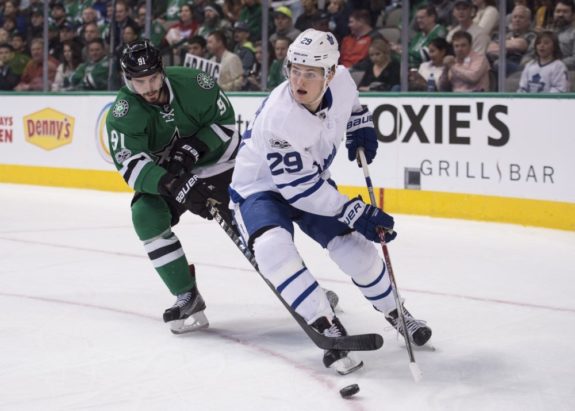 Yet, here we are, as a team led by three immensely skilled, if not gifted, young forwards has somehow managed to claw its way into the conversation. However, ascending the standings in the manner in which the Leafs have has been no simple task, and has come as the result of the contribution of virtually every member of the Leafs' roster.
Sure, Auston Matthews, Mitch Marner, and William Nylander have been sensational, but so too have Jake Gardiner, Nikita Zaitsev, and, for the most part, Morgan Rielly. Then, factor in the unbelievable play of Frederik Andersen, and how Toronto has arrived at their contested standing becomes quite easily understandable.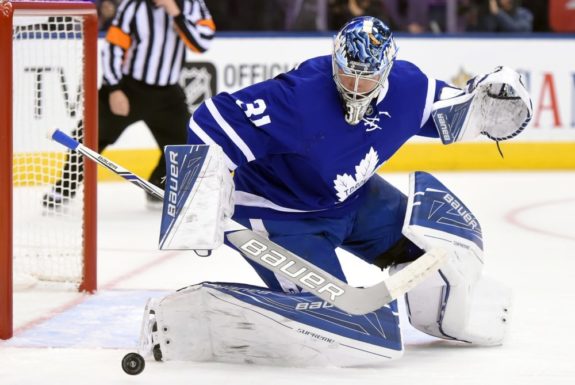 However, if the Leafs wish to take their final step and reach the postseason, the team will need to receive greater contributions from particular players in their lineup, and most notably from those who occupy depth roles.
Enter Matt Martin.
As the Leafs' biggest off-season free agent signing, Martin signed a well-deserved four-year contract with Toronto after a career-best season with the New York Islanders. Yet, to date, Martin has arguably underperformed in his first season in Toronto, and especially so when compared to his play in 2015-16.
In fact, Martin's efforts in 2016-17 could amount to the worst statistical season of his seven-year NHL career.
By the Numbers
It goes without saying that Martin is not a lethal offensive threat.
Throughout his career prior to signing with the Leafs, Martin had averaged roughly eight goals, nine assists, and 16 points per 82 NHL games played. His best offensive season, which also happened to be a contract year, saw Martin net 10 goals and 19 points, both career-highs.
More on Matt Martin: Age 27, Windsor native, coming off career-high 10-goal season. Best part for Babcock – 6-foot-3, 220 pounds. #Leafs

— Rob Longley (@longleysunsport) July 1, 2016
However, in his first season in Toronto, Martin has failed to produce remotely close to his career averages, let alone his offensive-highs.
On pace for five goals, four assists, and nine points in the 2016-17 campaign, Martin's offensive output, if he continues on his current pace, would see him post career lows across the board.
In fact, the last time Martin scored five goals, aside from the lockout season of 2012-13, came in his first full season in the NHL. Further, the last time Martin failed to hit double digits in points was, well, never – a glaring indication of his decline offensively.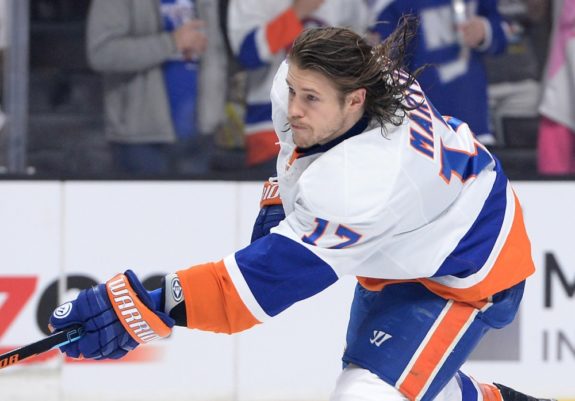 Now, I know what you are thinking – the Leafs didn't sign Martin to score goals or register points, and you are exactly right. Acquired in order to bring leadership, experience, depth, and a physical presence to a young roster, why does Martin need to produce on the score-sheet?
Well, Martin's knack for pitching in offensively was, in fact, one of the reasons why he was so highly sought after on the free agent market. Possessing the capability to score timely goals alongside his crunching body checks, Martin's hard, crisp shot has the ability to surprise opposing net-minders, and in doing so, contribute essential depth scoring to a given lineup.
While the Leafs' young stars will certainly carry the load up front, increased offense from the team's depth players, namely Martin, could very well be crucial to the success or failure of Toronto's playoff push.
As Advertised?
The Leafs inked Martin to a long-term deal in order to add much-needed size and strength to their roster, as previously mentioned.
A perennial favorite to lead the NHL in hits, Martin has not failed to deliver a physical element to the Leafs' lineup by any means. Once again amongst the top-five hitters in the league, Martin has ensured opponents' heads are on a swivel when they play Toronto, and especially so when he is on the ice.
Matt Martin and Nikita Soshnikov with the double hit on Adam Clendening! pic.twitter.com/LnBkg2o0Mt

— Goal Leafs Goal (@Goal_Leafs_Goal) January 14, 2017
Yet, similar to his offensive game, Martin's physical play has also undergone a decline statistically.
On pace for 311 hits in 2016-17, Martin's total would amount to the lowest output since his rookie season in which he dished out 299 body-checks. Currently recording 3.8 hits per game, Martin's average is down nearly one full hit per game from 2015-16. While this slight decrease does not appear to be substantial, the 15% drop-off in his physical play has resulted in the lesser suppression of opposing players, and, as a result, a greater number of scoring chances against. 
In fact, Martin's advanced statistics echo this sentiment.
In comparison to his final campaign with the Islanders, Martin's CF%, a measurement which illustrates shot opportunities for versus against, has dipped significantly to under 50%. Sitting at slightly over 46%, Martin's low CF% indicates the fact that opposing teams are generating more shot opportunities for than the Leafs are while Martin is on the ice.
Matt Martin loses track of the puck so he can throw a secondary hit, ends up hurting teammate Nikita Soshnikov instead #BellLetsTalk pic.twitter.com/fDTuJ6qy04

— Jeff Veillette (@JeffVeillette) January 26, 2017
Further, there is Martin's CF% rel value. CF% rel measures the Leafs' CF% while Martin is on the ice, and compares it to the CF% generated by the team while he is off of the ice. As such, a positive value would indicate that the team generates more shot attempts for than against while Martin is on the ice, and a negative value would illustrate that Toronto allows more shot attempts against than for while Martin is one the ice.
Similar to his CF%, Martin's CF% rel value has diminished this season. After completing his final campaign with the Islanders at an even 0.0%, Martin's value has dipped to -3.8% in 2016-17, an indication that the Leafs have allowed a greater number of shot opportunities against this season than for while Martin has been on the ice.
And, speaking of ice, Martin's ice time has also dipped dramatically this season. Skating an average of 10:33 in 2015-16, Martin has averaged just 8:50 this year, an amount which is also over two minutes less than his career-average.
The Final Word
Martin is a highly valuable player, of this there is no doubt.
An energetic and physical force, Martin's sheer size, strength, and ability to deliver massive checks intimidates and punishes opposing players on a nightly basis. Further, his easily and often overlooked offensive abilities, especially his shot, make Martin the ideal depth forward.
However, in his first campaign with the Leafs, Martin has underachieved in comparison to his standards and has failed to play the same strong and dependable game referred to above which earned him a long-term contract with Toronto.
If the Leafs truly hope to reach the Stanley Cup Playoffs, they will need contributions from throughout their entire lineup, and perhaps none more so than Martin. Able to set the tone through his physicality or score a timely goal with his hard, accurate shot, Martin is capable of much more than he has displayed in his short time with Toronto this season.
More of a little thing here but this was some good recognition of an opportunity by Matt Martin here, which leads to a zone entry pic.twitter.com/Xa4DS7TGtd

— Jeff Veillette (@JeffVeillette) February 15, 2017
Further, as an excellent leader both on and off of the ice, Martin's presence and production on a youth-laden team could be the factor which ultimately pushes the Leafs forward and into the postseason.