Gustav Nyquist entered the 2018-19 season knowing it could be his last with the Detroit Red Wings and his hot start coincidentally points to him finishing the campaign donning a different sweater.
The 29-year-old appeared to be the future of the Red Wings back in 2013-14 when a wave of injuries thrust him into the NHL. Nyquist scored 28 goals and 48 points in 57 games, almost singlehandedly stretching the franchise's postseason streak to 23 consecutive years.
Fast-forward to 2018-19, and after a handful of 40-point seasons, Nyquist is destined to be a trade deadline acquisition for a playoff-bound team. The return is up to general manager Ken Holland, but early indications suggest a winning trade come March.
Nyquist's Overall Game
Nyquist followed up his 28-goal season in 2013-14 with 27 more in 2014-15, coming away with 54 points in 82 games in a successful first full NHL campaign. It was another encouraging sign for Nyquist's potential with the Red Wings. Enter new coach Jeff Blashill in 2015, who cut the Swede's ice time by a near minute and a half per game. As a result, Nyquist's offensive numbers and confidence took a dip. He posted 17 goals and 26 assists for 43 points and 34 fewer shots and 79 fewer shot attempts.
A lackadaisical power play didn't help as he posted just 12 points (7 goals, 5 assists) on the man advantage. It was a far cry from the 24 power-play points (14 goals, 10 assists) he had a season prior when the Red Wings had the league's second-best power play.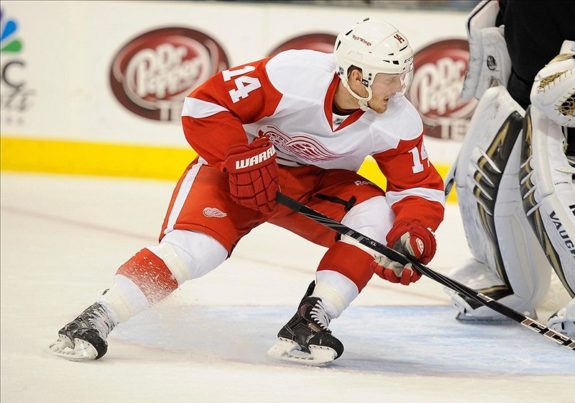 While his offensive usage dropped, Nyquist remained a strong possession player and committed himself to a tighter defensive game after a minus-11 rating in 2014-15, skating to a combined minus-4 over the next three seasons. The team's power play continued to sink each year, in tune with Nyquist's output on the man advantage, further holding back his offensive numbers, which can be slightly inflated by the power play.
As the Red Wings went through changes, Nyquist has found a new level not many can at 29 years old.
Nyquist the Playmaker
Nyquist has been a consistent part of Detroit's attack this season, coming away with 15 points (2 goals, 13 assists) through 18 games, second only to Dylan Larkin (18 points.). He's averaging 17:12 per game, again below only Larkin (20:55) among forwards.
Back to playing the speedy, elusive style he used early in his career, Nyquist appears to be riding his confidence. There is one distinct change in his game, his passing. Nyquist is changing the goal-scoring reputation he earned in his early career after 28 and 27-goal campaigns when he was paired with pass-first players and tasked with finding the back of the net.
With just 27 goals combined over his first two seasons under Blashill, Nyquist favored passing over shooting. In 2016-17, he tallied a career-high 36 assists, coupled with a career-low 7.3 shooting percentage since earning a full-time roster spot. His 13 assists this season are tied for 24th in the league.
New assistant coach Dan Bylsma is sparking the offense by using all four lines and finding a working power play that sits eighth in the league. Nyquist already has five power-play points (all assists), just three shy of his total on the man advantage last season with 64 games remaining.
Nyquist has been noticeable each game regardless of linemates, who have been a combination of Jacob de la Rose, Michael Rasmussen, Frans Nielsen, and Darren Helm over the past several games. Remaining productive among mostly unproductive linemates is not an easy feat, but he's staying confident as his time in Detroit runs out.
Related: Red Wings' Nyquist Will Follow Tatar out the Door
He's in the midst of a contract year worth $4.75 million and is all but certain to be a deadline acquisition once expectations temper across the league. Whether Nyquist remains hot or not, Holland will need to back down on his player loyalty when March comes and move Nyquist for the best return he can get. For now, Red Wings fans should enjoy watching "The Goose" and cheer for his chances at a Stanley Cup when he's traded in the New Year.