Two members of the Nashville Predators' defense have celebrated career milestones this week. Roman Josi, the longest-tenured member of the group, played in his 500th career regular season on Nov. 15 against the Arizona Coyotes. Meanwhile, P.K. Subban, whom the Predators acquired from the Montreal Canadiens during the 2016 offseason, recently appeared in his 600th regular season matchup when the Predators faced the San Jose Sharks on Nov. 13, a game in which he played just over seven minutes due to injury. With those milestones in mind, it's time to celebrate both players' accomplishments thus far in their careers.
Roman Josi, Underrated-to-Proven Blueliner
To non-Predators fans, it is likely that Josi went under the radar for much of his career considering he played in the shadows of Ryan Suter and Shea Weber for several seasons. Since then, he has become a known commodity as he's emerged as one of the league's more productive defensemen, is in his second season as Nashville's captain, and led the Predators to their first Presidents' Trophy last season. He's also climbing his way up the franchise leader board for the position and will likely be number one in several categories for Predators defensemen one day.
Place in Predators History
In his eighth season, Josi sits fourth all-time among defensemen in Predators history in games played and after he plays his 500th, he'll be 42 behind Suter for third. Considering the team will have 63 games remaining after last night's matchup against the Coyotes, Josi will surpass Suter this season provided he stays healthy. That will leave him behind Kimmo Timonen and Weber for most games played.
Furthermore, he is second to Weber in goals, points, and point shares and needs 83 goals, 140 points, and 32.6 point shares to take over the top spot. He is also third in power play goals and minutes behind Timonen and Weber and second to Subban in points-per-game among defensemen with at least 100 games played. Josi is also tied for the second-most seasons with at least 40 points with five of them.
Among Swiss Defensemen All-Time
While Switzerland isn't the European hockey hotbed that Sweden and Finland are, it has produced quality talent in recent seasons with Timo Meier emerging with the San Jose Sharks and Nico Hischier going first overall in 2017. And among Swiss blueliners, Josi is one of the best, both among active players and all-time. He is third in games played and points behind Mark Hardy and Mark Streit, second in goals, power play goals, and point shares, all behind Streit, and first in points-per-game.
Leading Nashville's Defense in Recent Seasons
Josi made his NHL debut during the 2011-12 season and became a full-time player the following season when he appeared in all 48 games. Since his debut, he has led the team's blue line in average time on ice each of the past five seasons, including Weber's last two seasons in Nashville.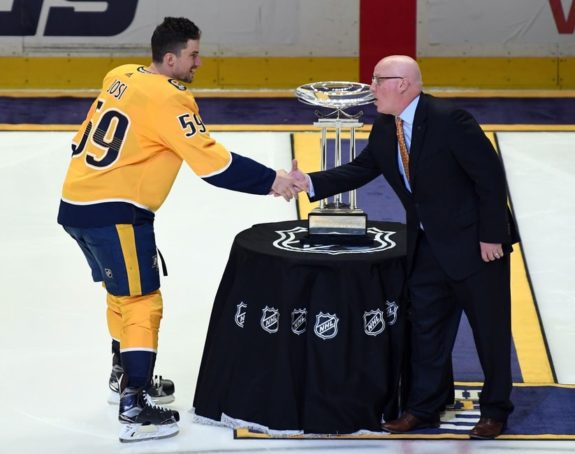 He has also averaged better than 25 minutes per game every season since 2013-14, excluding last season, and had back-to-back seasons averaging more than 26 minutes, in 2013-14 and 2014-15. In terms of offensive production, he led Predators blueliners in points three straight seasons between 2014-15 and 2016-17.
Consistently Among League's Best Defensemen
Josi has finished in the top-10 in points by NHL defensemen three times. He tied for fifth in 2014-16, was fourth in 2015-16, and tied for 10th in 2016-17. He also has two top-five Norris Trophy finishes to his name, in 2014-15 and 2015-16. He has received votes for the trophy two more seasons, 2016-17 and 2017-18.
To further convey his impact, from 2012-13, his first full season, through present, he ranks 19th in games played, sixth in goals, seventh in points, sixth in minutes, ninth in points-per-game, and fifth in point shares among NHL defensemen. Additionally, he is tied for seventh in power play goals.
Anchors His Pair
Since 2016-17, the first season without Weber, Josi has generally had Ryan Ellis as his partner with 1,760 five-on-five minutes together. Using the With or Without You measurement and looking at Nashville's control of shots, goals, and high danger scoring chances at five-on-five, Josi improves Ellis in control of shots and high danger chances while Ellis has the higher metric in goal control.

P.K. Subban Continuing His Success in Nashville
For as controversial as some of Subban's decisions are, both on and off the ice, he has been a model of relative consistency throughout his career. Apart from the 2016-17 season, his first in Nashville, he has reached the 50-point mark every season since 2013-14 and would have achieved that total in 2012-13 had it not been lockout-shortened. In fact, his four 50-point seasons since 2013-14 are tied for second-most in the league for defensemen behind Erik Karlsson.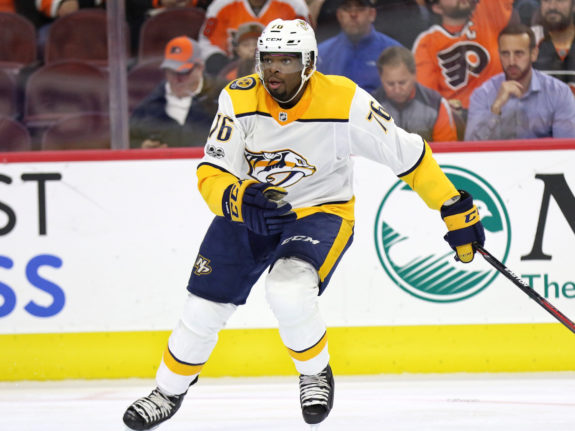 Considering Subban's Career
Because he has played for two teams, it isn't as straightforward to determine Subban's place in franchise history as it is for Josi. Of his 600 regular season games, Subban played 434 with Montreal and has played in 166 as a Predator. He has netted 91 goals and 43 power play goals and totaled 389 points and 71.5 point shares in his career. He is a three-time all-star, won the 2013 Norris Trophy, and has been a finalist for the trophy two more times.
He has averaged more than 26 minutes a game in two seasons and more than 24 minutes six times. He led his team in average ice time three times, in 2011-12, 2014-15, and 2015-16. He has also led his team's blue line in points seven times, starting as a rookie in 2010-11 and every season since, excluding 2016-17, his first in Nashville. He is also currently leading Predators defensemen in 2018-19 with 12 points.
He has finished in the top-10 in points by NHL defensemen five times. He tied for first in 2012-13, tied for sixth in 2013-14, tied for second in 2014-15, tied for ninth in 2015-16, and tied for eighth last season. Furthermore, since 2010-11, his 598 games rank 14th for all blueliners, he is fifth in goals and points, tied for third in power play goals, and is sixth in minutes, seventh in points-per-game, and third in point shares.
Still Ranks Well in Montreal History
Despite only playing six full seasons with the Habs, Subban surprisingly ranks fairly high in team history, and keep in mind, this is a franchise that had Larry Robinson and Serge Savard on its blue line. Subban only ranks 22nd in games played, but is tied for ninth in goals, is 10th in points, fifth in power play goals, 13th in point shares, and is fourth in points-per-game among Montreal defensemen with at least 100 games played.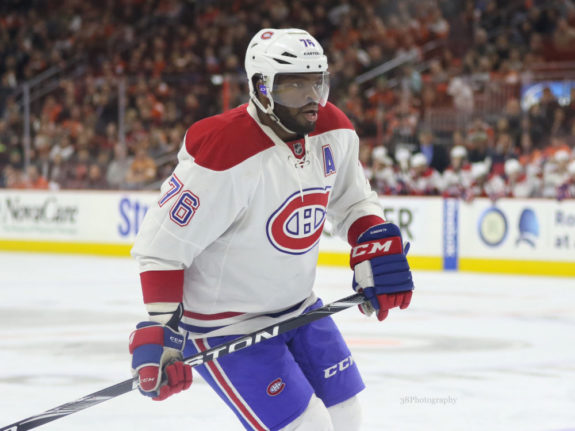 With or Without You Stats Point to His Greatness
Since entering the league in 2010-11, Subban has had five primary defense partners. His first was Hal Gill, followed by Josh Gorges and Andrei Markov in Montreal and Mattias Ekholm and Alexei Emelin in Nashville. Between 2013-14 and 2015-16, his last season with the Canadiens, Subban played 2,703 five-on-five minutes with Markov, his most common partner those seasons. As a pair, the Canadiens had strong metrics when they were deployed. But what's surprising is that even though Subban is 10 years younger, he maintained the stronger metrics of the two when they were separated.

Fast-forward to 2016-17 and Subban is in Nashville with Ekholm as his primary partner. Since that season, the pair have shared the ice for 1,849 five-on-five minutes and have controlled at least 53 percent of shots, goals, and high danger chances when together. However, when separate, both players have maintained strong metrics with Ekholm being better in control of shots and high danger chances. But keep in mind, that the only season in which Subban had a main partner other than Ekholm, it was Emelin and he pulled Subban's metrics down in a significant way.

Both Josi and Subban Are Great
Like the rest of Nashville's top-four, Josi and Subban are among the game's best defensemen. Josi emerged in Suter and Weber's departures to become one of the best puck moving blueliners, was named captain, and has received Norris Trophy votes each of the past four seasons. Meanwhile, Subban excelled for one of the league's most storied franchises, was forced out, and has only continued to thrive in Nashville.
He has already won a Norris Trophy, has been a finalist two more times, and will be a borderline Hall of Famer if his career continues its trajectory. It is a great coincidence that both players are hitting career milestones within one game of each other and the perfect time to look upon each player's career with fondness.
My name is Kyle, and I'm the managing editor of The Hockey Writers. I joined THW in Oct. 2017 and am always striving to bring you the best hockey coverage possible. You can email me directly at kyle@thehockeywriters.com.