If I had predicted at the beginning of the summer that Andreas Athanasiou would still be unsigned on September 4, you'd probably have laughed. After all, at the time it seemed like a slam dunk for general manager Ken Holland to retain such an electrifying asset. He outscored almost all of the 10 forwards that averaged more ice time last season, and this despite missing 18 games, some as a healthy scratch on the basis of his compete level.
Andreas Athanasiou Still Not Signed
However, Athanasiou's camp and Detroit have not conquered their impasse in negotiations with training camp and the preseason looming. The Wings' elaborate salary cap situation has been key in this issue, with about $900,000 left to sign him and defenseman Robbie Russo after Johan Franzen goes on long-term injured reserve.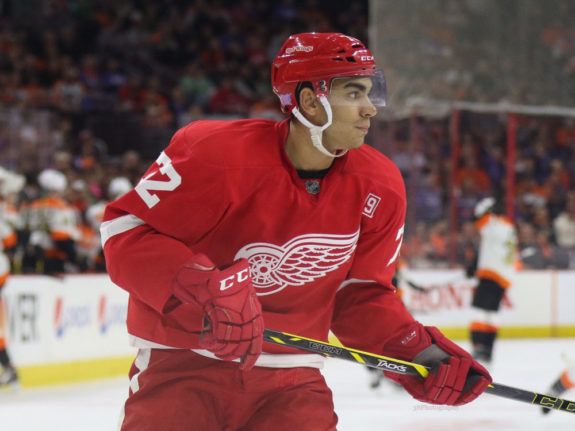 The cap mismanagement has left Detroit crippled financially with a less than imposing on-ice product. If the unthinkable happens and "Double A" indeed leaves to play in the KHL, the lineup would lose important speed and energy. Losing a legitimate game-breaker from a squad yearning for them would not go over well.
It's highly unlikely that the organization believes David Booth will be a sustainable replacement on his player tryout. Thankfully, there do exist internal alternatives that could seize the opportunity in Athanasiou's absence and further grow their game as Detroit heads towards a rebuild.
Tyler Bertuzzi
While Bertuzzi is likely to crack the lineup even if Athanasiou re-signs, he'd be guaranteed a spot if Athanasiou leaves.
The 22-year-old went pointless in seven games with the big club last season before sustaining a high ankle sprain that kept him sidelined until around New Year's Day. He spent the remainder of the year with the Griffins in the AHL, turning in an improved season scoring 12 goals and 37 points in just 48 games. He surpassed 2015-16's point total by seven in 23 fewer contests.
Bertuzzi again saved his best for the postseason, scoring nine goals and 19 points en route to the Griffins' second Calder Cup Championship since 2013. He earned the Jack A. Butterfield Trophy as playoff MVP in the process. All told, he's scored 23 goals and 39 points in 42 career AHL playoff games, up .37 points per game from his regular season average in 121 games.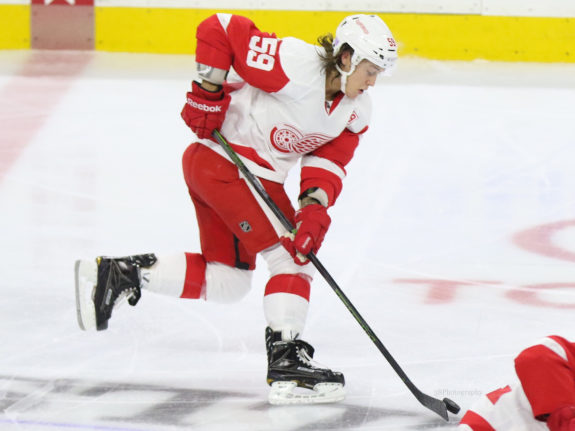 While Bertuzzi's feistiness and agitating style attracted the Wings, the offensive production seems to have curbed his penalty minute total slightly. After a year of 133 sin bin minutes in 2015-16, "Little Bert" posted just 37 this past season, including none in his seven NHL games. The injury was a prime reason for the decline in box time, of course. Nonetheless, it has been encouraging to see Todd's nephew evolve from a prospect who was projected to be just a raw pest into a key contributor.
His progression offensively is evidenced by his even strength production this past season. He notched .54 five-on-five points-per-60 minutes in 2016-17 to tie for 17th overall in the league. The Guelph Storm alumnus was among Charles Hudon, Ivan Barbashev and Kyle Connor in that regard. This bodes well for Bertuzzi possibly slotting into a top-nine role rather than a fourth line spot if Athanasiou leaves. He could play alongside Dylan Larkin producing in his own right while protecting him with his feistiness.
Martin Frk
He's not as fast as Athanasiou, but Frk will shoot from anywhere. The 23-year-old's AHL-leading 3.55 shots per game rate is a testament to that.
Overall in 2016-17, Frk scored 27 goals and added 50 points for his best professional season to date. He notched five goals and 15 points in the Calder Cup run, including the game-winning goal in Game 6's clincher.
A regular on the Griffins power play, 11 of his markers and 22 of his points came on the man advantage. He placed in the AHL's top-10 in both categories. With the Wings power play ranked at the bottom of the NHL through most of last season, Frk's shoot-first mentality would be a welcome addition to either unit.
The Pelhrimov native is not the best all-around player and is criticized for being a one-dimensional talent. Frk's 1.64 even strength points-per-60 placed 127th in the AHL and his 48.53% on-ice goals-for percentage placed 207th. His -7.34% relative goals-for percentage was also a concern, as the team clearly performed better at five-on-five without him on the ice.
However, Jeff Blashill can use Frk in a similar way he deployed Thomas Vanek. A top-nine role that comes with a majority of shifts in the offensive zone would be best suited for Frk's game. Mentioned in a prior piece, Vanek's 70.04% zone start percentage ranked fourth in the NHL last season, as the Wings and Florida Panthers were wary of his defensive liabilities.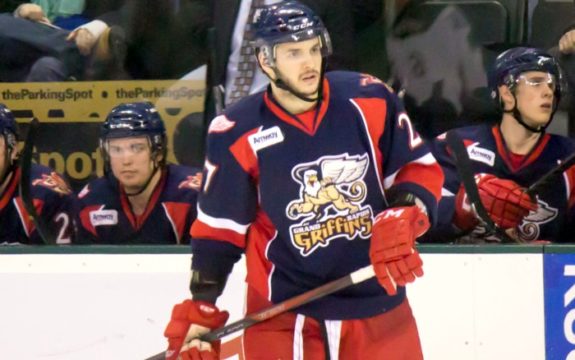 Deployed in his niche role, Vanek ignited some offense for Detroit as arguably their smartest offensive player. The 33-year-old led the team in goals with 15 and placed second in points totaling 38 in 48 games before he was traded on March 1.
Frk could be used in this same way, grabbing the bulk of his shifts from offensive zone faceoffs and on the power play. His shooting and offensive ability are undeniable. As a side note, the Wings had just one 20-goal scorer and zero players that landed 200 shots on goal last season, so adding a player with Frk's mentality wouldn't hurt.
Matt Lorito
An older AHL player at 27, Lorito has not received much of an NHL opportunity thus far despite a solid NCAA and AHL resume. His .90 and .85 respective points-per-game marks seem to be overshadowed by his less than imposing frame (5'9″, 181 lbs). TSN's Bob McKenzie made a comparison to Pittsburgh Penguins forward Conor Sheary when Detroit signed him in the summer of 2016.
While Sheary got to break into the NHL sooner, with Sidney Crosby and Evgeni Malkin to play with, his AHL and NCAA numbers are quite similar to Lorito. In fact, both were captains of their team in their last collegiate season.

Lorito wouldn't play with that caliber of talent on the Wings, but his speed would complement a Larkin or Frans Nielsen down the middle. The Oakville, Ontario native's .75 primary points-per-60 placed ninth overall in the league last season, and his playmaking was particularly evident on the man advantage. He also had 26 of his points, 19 of them primary, come on the power play.
The former Albany Devil scored all but five of his goals at even strength placing in the top 30 in terms of five-on-five goals-per-60. Sheary is a more prolific shooter, firing 2.28 shots per game last season compared to Lorito's 3.1 in his last AHL campaign in 2015-16. However, Lorito still managed to produce on both special teams and at five-on-five. That was evidenced by his .92 overall points-per-game in 2016-17.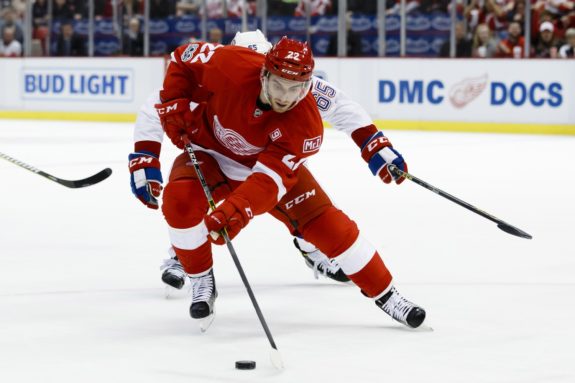 Lorito wouldn't be a game-breaker like Athanasiou but the absence of the latter would provide an opportunity for the organization to see if his game can translate to the NHL level. That's something Detroit would likely want to find out anyway in the last year of his contract to see if he has a top-nine future in Hockeytown.
Evgeny Svechnikov
We've saved the best for last. The early returns on Svechnikov's professional career were evident last season, as the former first round pick took a crucial step forward for the Griffins.
The 20-year-old scored 20 goals and added 51 points in 74 games, placing fourth in overall AHL rookie scoring. He also generated 187 shots to place 12th in the league among all skaters. He used his hulking frame (6'3″, 205 lbs) to his advantage and saved some of his best work for the postseason, scoring five goals and 12 points in 19 games. It was a bonus to go through a grueling professional championship run at such a young age.
The former Cape Breton Screaming Eagle notched 37 primary points to place third on the Griffins and 38th overall in the league,  an exciting start for a professional rookie. His even strength play (-4.77% relative goals-for percentage) has room for improvement but will undoubtedly get better with age.
The Motor Barnaul product's offensive performance was good enough to earn him a two-game stint with the Red Wings at the tail end of the season. Svechnikov made sure to leave a lasting first impression in his debut on April 3.
https://www.youtube.com/watch?v=IITS2pcPjYY
For context, Anthony Mantha, arguably Detroit's best sniper, needed two professional seasons to make it to the big club. However, his 2014-15 rookie season was set back by a fractured tibia in training camp, leading to an underwhelming 15-goal, 33-point performance. Mantha's first fully healthy AHL campaign came in 2015-16, where he looked the part of Detroit's best forward prospect. His 21 goals and 45 points were enough to earn him a 10-game stint with Detroit that year. It only took 10 more AHL games for Mantha to earn a permanent spot on the NHL roster in 2016-17.
While Svechnikov would most likely be better suited playing a major role in the AHL for at least one more season, the prospect of having him play alongside Larkin or possibly even Henrik Zetterberg is tempting. Accelerated development has been a theme in the organization lately, and Svechnikov would be another member of that group if the Wings elect to go to him as Athanasiou's replacement.
Statistics courtesy of ProspectStats.com
Griffin is a Junior at Northwood University in Midland, Michigan pursuing a Sports and Entertainment degree. His passion of writing began when Detroit Red Wings captain Henrik Zetterberg was out for the season in 2014 and he wanted to give his thoughts. Griffin comes from LastWordOnSports.com where he had the role of "associate editor" and wrote nearly 300 articles over three years for their hockey department.