Few teams in the NHL have been able to make bigger impacts than the Chicago Blackhawks over the last few seasons. With three Stanley Cup Championships and multiple star players traded over the years, the Blackhawks can always be counted on for offseason entertainment. The most impressive part of the Blackhawks offseason transactions stems from the fact that, though the team is no stranger to a blockbuster move, the team never ceases to surprise and shock the hockey world.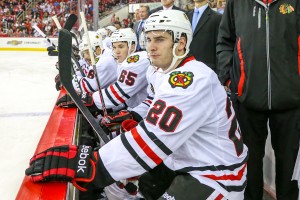 Kicking off the 2017 offseason in a big way, the Blackhawks pulled off one of those shocking moves when they traded forward Artemi Panarin to the Columbus Blue Jackets to re-acquire Brandon Saad – the player they had traded to Columbus just two offseasons prior. It was a deal that was completely out of left field as Panarin has established himself as one of the most dynamic offensive threats in the entire league over the last two seasons and was set to start a new two-year, $12 million contract with the Blackhawks next season. Instead, the Blackhawks opted to acquire Saad, a player signed for four more seasons with a cap hit identical to Panarin's $6 million price tag who is a tremendously gifted well-rounded player.
Because this move came as such a surprise, declaring an immediate winner of the trade seemed almost pointless as it happened ahead of both the 2017 NHL Entry Draft and the big wave of NHL free agency signings. With both events passing, the dust is now settling and the makeup of both teams is more clear than it was at the time of the deal. With that Mark Scheig (Columbus Blue Jackets), Gail Kauchak (Chicago Blackhawks), Chris Roemeling (Chicago Blackhawks) all expressed interest in discussing the deal in a round-table setting with Brandon Share-Cohen after having the time to let the deal sink in. The entirety of the discussion can be found below:
1. Which Player Would You Rather Have Out of Brandon Saad and Artemi Panarin?
Mark Scheig:
Depends on the situation. Give me Panarin on the power play or if I need a goal at the end of the game. Give me Saad for the all-around game. At 5 on 5, I'd rather have Saad. If I had to choose one, give me the more dynamic player. That's Panarin. He's gonna take Alex Wennberg to a new level.
Brandon Share-Cohen:
It's a matter of scheme, as Mark mentioned in his response. If the Blackhawks are looking for a goal or an offensive surge, there's almost no better bet in the entire NHL than a player like Panarin. If the team is looking to compete in all situations and make up for the loss of two-way phenom Marian Hossa while giving Jonathan Toews some comfort and familiarity on his left wing, Saad fits the bill. Given the responsibility in all-zones and the fact that he's signed for two years longer than Panarin at the same cap hit, Saad looks like the better player in the deal. Still, Panarin's offensive ability can't be ignored and I don't think either team could go wrong with such a deal. Give me Saad, but don't sleep on Panarin either.
Chris Roemeling:
Firstly, both Brandon Saad and Artemi Panarin are exceptionally talented players and they both have the ability to help the current situations of their teams. Out of the two, I would rather have Saad. Saad earned the nickname "Mini Hossa" for a reason. He has exceptional strength and uses it [effectively] to protect the puck. Also, just as important, Saad plays well without the puck and is a more reliable two-way hockey player. He is a reliable option for both the penalty kill and power play. That said, Panarin is one of the top offensive talents in the game. While it might be unfair to say, he really only seemed to score three ways: on the power play, off a one-timer, or a feed from Kane.
Gail Kauchak:
While both are very dynamic and talented players in their own right, I'm going to have to go with Saad here. Panarin may offer more of an offensive upside, but Saad is the more well-rounded player. Saad is an asset on both ends of the ice, both offensively and defensively.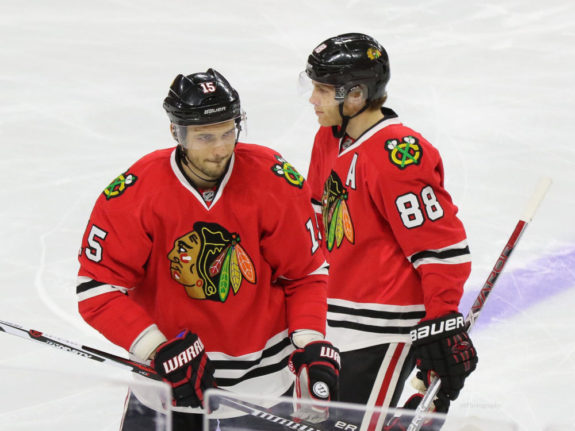 Looking at the numbers, Panarin boasted 77 and 74 points in the last two seasons, respectively. He and fellow linemate Patrick Kane were a dynamic duo that gave teams fits. But Panarin was often a liability on the defensive end. Like Kane, defensive responsibility wasn't a big part of his game. His smaller stature also made it easy for opponents to strip him of the puck.
Saad, on the other hand, contributed 53 points in both of his last two seasons with the Columbus Blue Jackets. While not on the same scale as Panarin, it's quite respectable and consistent nonetheless. On the defensive end, Saad offers a bigger stature and more physicality. He's strong on the puck, and has excellent forechecking and backchecking abilities. It's Saad that's more likely to strip the puck from his opponent than the other way around.
2. Did You See a Trade Involving Either of These Players Coming?
Mark Scheig:
Nope. In fact, I was driving with colleague Ryan Pike on the Kennedy (I-90) in Chicago [ahead of the 2017 NHL Entry Draft] when [the] trade came down. Had no reason to believe Saad was going anywhere. Same with Panarin.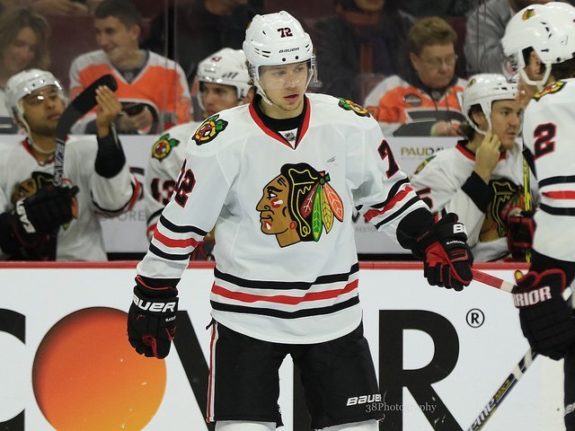 Brandon Share-Cohen:
The deal came as a surprise to just about everyone in the hockey community, myself included. In his first two seasons in the NHL, Artemi Panarin has been an absolute phenom playing alongside Patrick Kane on the Blackhawks most productive line. Trading him away to re-acquire Brandon Saad was a deal that looked like a move for the future as Saad's contract spans two years longer than Panarin's. If Panarin refused to sign for longer than two years at such a reasonable cap hit for the production he provided in his first two seasons, the Blackhawks found a way to parlay that into a proven commodity in Saad who would give them an extra two years without the headache of a new contract extension.
Chris Roemeling:
I did not see this trade coming. Numerous times on sports radio I've heard how Kane and Toews went to management stressing how much Saad was missed. I can honestly say I didn't see the trade coming, but the trade made sense. Given the Hawks current cap situation and financial obstacles they face, it makes more sense. They'll have Saad longer and it'll be more cost effective. Panarin, I'm sure, would have wanted a large paycheck at some point, and rightfully so. I think Bowman pulled off a spectacular trade.
Gail Kauchak:
While a Panarin trade was speculated upon amongst many bloggers and beat writers, I personally didn't believe it would happen. Especially because Panarin signed a two-year contract with the Blackhawks this past December, for $6 million each year. He could have held out for a longer-term contract, but he went with a two-year deal in order to stay with the Blackhawks. That didn't work out so good, did it?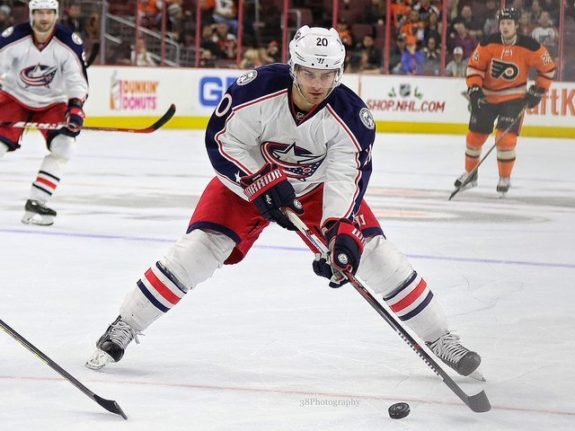 The Saad situation was even more of a surprise. First off, he was supposed to be the up-and-coming star that was drafted and would be a big name with the Blackhawks for years to come. Until he was traded to the Blue Jackets in June of 2015. All this was because he demanded too much money. Yet two years later, it appears he wasn't too expensive after all. It looks like the Hawks' brass realized their mistake, and decided to go back to the drawing board. Like I said, I didn't see it coming; but I certainly don't have a problem with this trade.
3. Do you think either team got better immediately with the deal? (Could be both, could be neither)
Mark Scheig:
Both improved. Saad will bring Jonathan Toews' game up. Same with Panarin to Alexander Wennberg and [the Blue Jackets power play].
Brandon Share-Cohen:
I tend to agree that both teams improved. The Blackhawks may have lost some of their dynamic offense with Panarin, but the addition of Saad helps them regain their dominant two-way line with him alongside Toews. It's a situation where neither team loses, but both teams got a tremendously talented player who can benefit the game in a different way.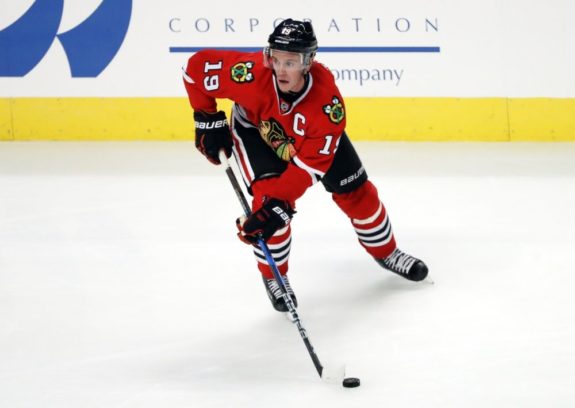 Chris Roemeling:
I think both teams got better with the deal. Toews will benefit from having Saad back on his line and the penalty kill has another solid option. He forechecks extremely well and is a remarkably smart player. The Blue Jackets are coming off a five-game series loss to the Penguins. In that series, the Penguins outscored the Jackets 21-13. Panarin will help the Jackets be a bigger threat in the offensive zone.
Gail Kauchak:
I believe the Blackhawks will be a better team with Saad than they will be with Panarin. Jonathan Toews has slumped in his production these past two years. But he thrived when Saad was by his side. The two have a chemistry and a style of play that complements each other. Putting them back together could be a huge boost for the first line of the Hawks. On the second line, Kane will miss his scoring buddy, but I believe he will adjust accordingly. He has enough raw talent to be successful on his own. Perhaps not as successful as with Panarin, but this move will benefit the whole team. Far too many times in the last two seasons the Hawks have relied too heavily on Kane and Panarin for their scoring.
Along those same lines, Blue Jackets fans might think they're getting a goal-scoring machine in Panarin. I wouldn't be so sure. How much of it was Kane, and how much of it was Panarin? I guess we'll find out soon enough.
Final Verdict
At the end of the day, both teams got young, talented players in the prime of their respective careers who can contribute different things to their new teams. Saad is the better all-around player and has benefited in the past from playing alongside Toews on the Blackhawks top line. With an extra two years on his contract compared to Panarin's, the Blackhawks are able to kick the can down the road a little bit longer rather than paying Panarin what is expected to be a monster contract following his two-year contract.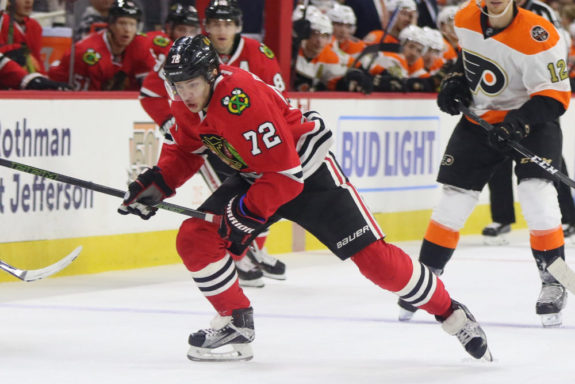 In Panarin, the Blue Jackets are getting another young forward who immediately adds a dynamic aspect to their offense. Though Panarin has never played an NHL game outside of the NHL, he should have every opportunity to shine in Columbus as the focal point of the Blue Jackets offense alongside Wennberg. It's hard to pick a winner of the trade before really seeing how the players perform with their new clubs in the 2017-18 season, and the topic will undoubtedly be re-discussed throughout the season and again in the 2018 offseason.
Brandon Share-Cohen has covered the NHL and various professional sports for six years. Working with The Hockey Writers, Brandon works extensively on covering the Boston Bruins in addition to his role as the News Team Lead.