As the summer winds down and training camp starts up in just over a month, the Detroit Red Wings are entering with a clogged roster on both sides of the puck.
Sound familiar? The song has stuck for a few offseasons now.
Current Salary Cap Troubles
For starters, the team is nearly $4 million over the cap after Tomas Tatar agreed to a four-year extension worth $5.3 million per season. The goaltending situation has not been solved and continues to thicken plot wise. Andreas Athanasiou, the most electrifying player up front, has not yet been signed, and likely will not settle for the $900,000 that the team will be left with after Johan Franzen goes on long-term injured reserve. An in-depth look at the cap troubles by Red Wings writer Tony Wolak can be found here.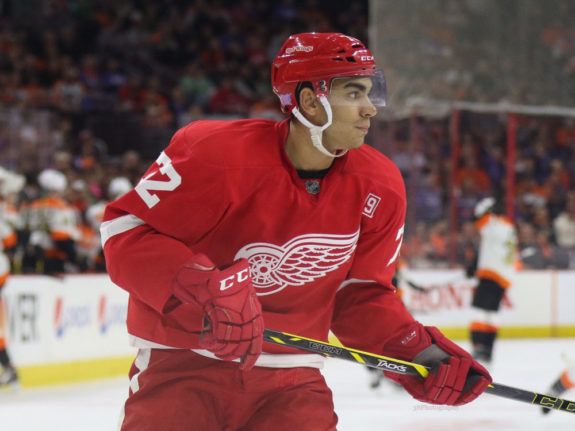 As many as 11 forward positions are filled already with overvalued assets like Darren Helm, Luke Glendening (if he's ready for the regular season), and Justin Abdelkader taking up vital spots from young forwards that have come and gone over the years.
Past Roster Crunch Casualties
Teemu Pulkkinen was lost to waivers last season, and while it doesn't seem like a huge loss, it seemed like he was getting into a groove before his injury in 2015-16 with six goals in his first 20 games. He played 12 contests the rest of the way with frequent healthy scratches. Tomas Jurco, though given an ample amount of games to prove himself with limited results, was never a consistent top-nine player in terms of minutes and would be scratched consistently getting in only a few games at a time.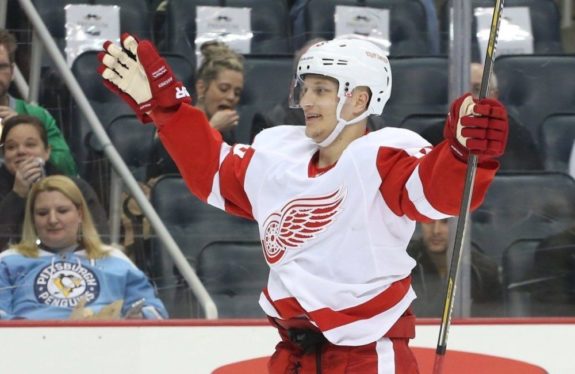 Mattias Janmark was seen as expendable, as well, in 2015 and was shipped to Dallas where he scored 15 goals in his rookie season. The Calle Jarnkrok trade that brought the corpse of David Legwand in to extend the playoff streak is still fresh in the minds of many, and he has turned in back-to-back 15-plus goal seasons on a team with not many offensive sources. All of these happenings follow a consistent theme of space being at a premium, especially with a veteran-wary Ken Holland at the helm.
Martin Frk, lost and reclaimed on waivers already just last season, should not go down as that next roster casualty without a fight. With Glendening questionable for the regular season, there is an opportunity for him to see this battle through, but it should not be in a fourth line role.
An Alternative Offensive Option
While Frk is unlikely to be an elite dynamo offensively in the NHL, there is potential from his professional resume scoring 27 goals in back-to-back AHL seasons with the Griffins showing off a blistering rocket of a shot that has visual evidence of breaking twigs.
With the regression of Abdelkader from a 23 and 19-goal scorer to a seven-goal performer, Riley Sheahan's season of ineptitude, and a bottom six that is thirsting for goals from wingers, an offensively-minded player with an shoot-first mentality on a team full of passive players would be a breath of fresh air ideally on the third line.
The 23-year old is not the best skater or defensive player, but deserves an opportunity on a team with little-to-no playoff aspirations according to almost everyone outside of the head coach and general manager just to see if he can inject any type of offense into the group. For a team that finished with the fewest goals in a single season since their last playoff miss at 2.41 per game, any alternative options should be on the table.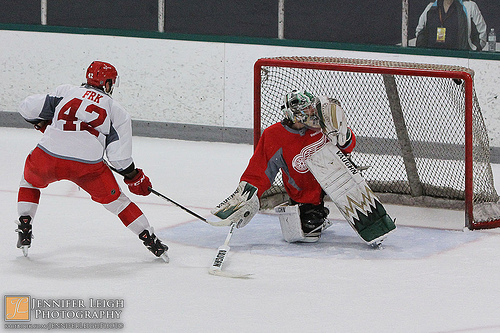 Offense-First Mentality
In Frk's last two professional seasons, his offensive numbers are impressive enough, but the shot volume is another story. He's averaged 3.23 shots per game in his last 132 AHL contests, leading the league among forwards that played at least 30 games this past season with 3.55 shots per contest. Henrik Zetterberg lead the Wings this season with 2.4 shots per game. Granted, it is more difficult to get a shot off at the NHL level, it is astounding and depicts why the Wings have not been able to score consistently.
The power play is Frk's bread and butter, however. He's scored 23 goals and 42 points on the man advantage the last two seasons. The Wings power play clicked at a rate that was ninth-best in the league in the last half of the season, and Blashill has stated that he's reluctant to break up that chemistry.
In the big picture however, no Wing scored more than five power play goals and the unit was the worst in the league for the better part of the season. It needs a true shooter, and at least on the second unit, Frk could bring that in a sheltered role.
Vanek's Example Last Year
As a comparison, Thomas Vanek last season was heavily sheltered defensively, starting an astounding 72.68% of face-offs in the offensive zone. Overall he finished fourth-highest in the league in that regard behind the likes of Artemi Panarin and Evgeni Malkin. He regularly rotated in the top-nine and had the best chemistry at the beginning of the season with Athanasiou and Helm. In just 48 games with Detroit, he logged 136:08 of power play time.
Frk of course is not at the skill level Vanek is, but both are lacking in skating and defensive prowess, and Frk has time to correct at least the first portion being so young. It would be intriguing to see what he could bring to the table as a Red Wing if he were able to make the team out of camp and play a role like the former Buffalo Sabre did.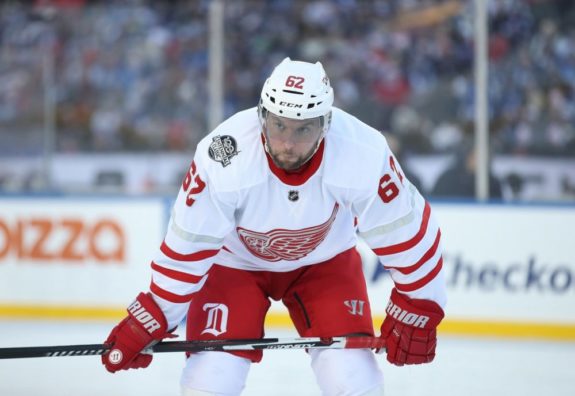 It's unlikely that he'd get that much opportunity on the man advantage with Blashill's stinginess to dish minutes to young, but anything close to that setup is preferred.
Taking A Flier
That stinginess extends to Holland with Pulkkinen and others going by the way of trade and waivers. As I mentioned, Frk would not be an end-all, be-all dynamic offensive cornerstone, but it's a flier that the Wings are in a position to take with really nothing to lose at this point now that the playoff streak is in the past with the intangible factor of the new arena ready to fade as the season goes on.
With the team on the brink of a rebuild needing to evaluate young assets and their worth to the organization going forward, Frk should be one of them. Who knows, after missing out on what Janmark or Jarnkrok could have done, the Wings could reap some short-term benefits out of the young sniper.
Griffin is a Junior at Northwood University in Midland, Michigan pursuing a Sports and Entertainment degree. His passion of writing began when Detroit Red Wings captain Henrik Zetterberg was out for the season in 2014 and he wanted to give his thoughts. Griffin comes from LastWordOnSports.com where he had the role of "associate editor" and wrote nearly 300 articles over three years for their hockey department.