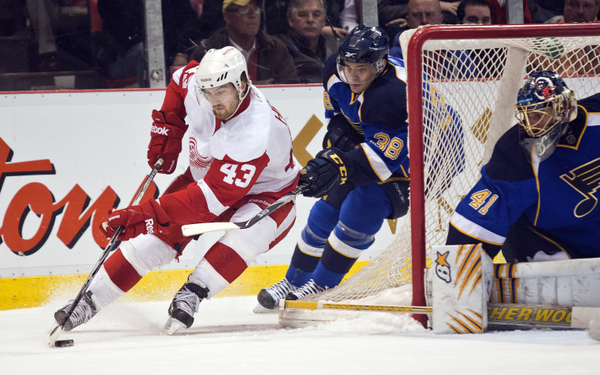 On Tuesday morning word broke that the Detroit Red Wings had re-signed impending restricted free agent Darren Helm to a 4-year $8.5 million contract.
Without scouring the twitterverse to see if this is already out…Darren Helm agrees to 4 year, $8.5 deal in Detroit.

— Darren Dreger (@DarrenDreger) June 19, 2012
While the contract, which carries a cap hit of $2.125 million, is worth slightly more than estimated ($1.5-2m), it won't upset Red Wings fans one bit.
Earlier this month popular Wings blog Winging It In Motown conducted a series of polls regarding the team's various free agents, and a whopping 96.3% of fans voted in favor of keeping the 3rd line center.
"The Darren Helm voting was so one-sided that we had to take to making some pretty silly "what it" scenarios in the comments to find a reason the club should not want to re-sign him. All told, it took more than 28 minutes for the first "No" vote to come in and the total amount of them (17) falls within the probable margin for error. Although there is no way to track this, without anybody sounding off a reason, I'm going to assume that the only no votes came from people who were confused by the ballot and people who hate the Red Wings."
Fans aren't the only ones who will be happy with this signing, as Helene St. James (Detroit Free Press) points out.
Who's happy, besides Helm: Mike Babcock, who decried bottom6 w/out Helm; Todd Bertuzzi, who gets his "other son" & stall-mate back.

— Freep Red Wings (@freepwings) June 19, 2012
Both points are on task. Helm went as Bertuzzi last Halloween, and today Bertuzzi let us know how much he envies Helm's "9 pack."
Babcock's feelings come from a very different place, though he's certainly has made them well-known. His thoughts about the Red Wings minus Helm are crystal clear. He attributed a significant part Detroit's first round playoff elimination (a 5 game series which Helm played just 3:08 in) to his absence and the lack of an adequate replacement.
"We were playing hard and playing well. But I don't think we ever scored again after we lost Darren Helm. We lost at a ton of guys at that time but Helmer gave us … we won a lot of games because our third line was flat out better and wore down the other team and kept coming.

He's a huge part of our team."
Helm's recovery from that injury (lacerated tendons in his forearm), appears to be right on schedule. At least that's what he indicated to reporters at Nicklas Lidstrom's retirement press conference last month.
"The strength is coming back, the movement is pretty good. Doctors are saying I should make a full recovery."

"I'm starting to do more therapy on (his arm), where I can do different strength activities. (Wednesday) was really the first day outside of the cast, so doctors took a look at it and said it's ahead of schedule."

"I should be working out hard in a couple of months and get back and ready for camp."
Those positive recovery signs coupled with such an endorsement from coach Babcock likely helped garner Helm his new deal (which more than doubles his previous cap hit), but more than anything (and the reason he has received such praise) his play earned him the raise.
Helm lead Wings' forwards in shorthanded playing time in both 2009-10 and 2010-11, and finished 2nd this season thanks to an MCL injury. That statistic comes as no surprise when you look at what he's capable of.
He's a hard-working and completely reliable 3rd line checking center. He's also one of the fastest players in the game, and while it would be nice if he was able to finish on more of the opportunities that speed generates for him, it's simply not necessary. He's a consistent 25-30 point producer that logs 13-15 minutes of ice time a game, and 2-3 of those minutes are shorthanded. He's an incredibly valuable asset to this team, and this deal points to that fact.
Helm, for one, recognizes that fact, and is glad to be staying put in a place where he's valued.
Helm tells FP: "It's def. nice that they see me as a player that deserves that. I'm happy to know where I'm going to be the next 4 years."

— Freep Red Wings (@freepwings) June 19, 2012
He does deserve it. Scouring Cap Geeks list of the 20 cap hits most comparable to Helms, I'm not sure there's anyone I would take over him, or that there's anyone quite as valuable to their team as he is to Detroit.
This deal is good for both parties. It locks up one of the players most crucial to Detroit's continued success for 4 more years at a reasonable price while still providing him with a well-deserved raise. With an estimated $24,132,955 in cap space still available, this deal doesn't hamper the Red Wings free agent plans at all. They'll still be active in looking for the 5 pieces they need ], and they retain the rights of one of the best 3rd line centers in the league. Win-win, my friends, win-win.
Andrew is a passionate hockey fan at heart, and has been since a very young age. Residing in Michigan, he grew up with the team he currently covers at THW, the Detroit Red Wings.