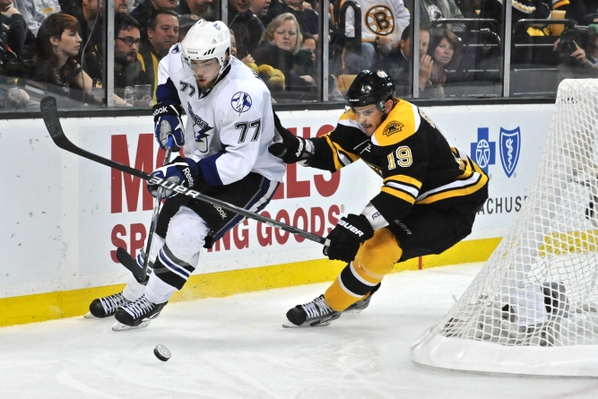 The last time the Tampa Bay Lightning took the ice before Steve Yzerman was named general manager was April 11th, 2010. The players who lined up on defense were:
Mattias Ohlund
Kurtis Foster
Matt Walker
Andresz Meszaros
Mike Lundin
Matt Lashoff
Scott Jackson (subbing for an injured Victor Hedman)
Six months later, after his first off-season signing free agents and making trades, the defense line was composed of:
Brett Clark
Randy Jones
Pavel Kubina
Mike Lundin
Mike Vernace
Victor Hedman
Lundin was the only carryover and Vernace started because Ohlund was injured. Fast forward through a surprising run to the Eastern Conference Finals and an off-season dominated by the Steven Stamkos saga. Mr. Yzerman rebuilt the defense again and it featured the following players:
Eric Brewer
Brett Clark
Pavel Kubina
Marc-Andre Bergeron
Victor Hedman
Matt Gilroy
By season's end Kubina and Gilroy were gone via trade and Bergeron was hurt. Clark is an unrestricted free agency who likely won't be back unless he takes a deal for about the same money he made last year (about $1 million per season). From the start of his tenure the only defensemen that have survived have been Ohlund and Hedman. If Ohlund had been healthy and tradable, he probably would have been moved during last season's purge as well.
In other words, the Lightning hasn't had much stability in front of the goaltender during the Yzerman era. This off-season is no different. With less than two weeks to go until free agency begins, there are only four defensemen currently under contract.
To make matters worse three of those players dealt with injuries that not only led to significant games lost, but could reoccur in the future:
Mattias Ohlund missed the entire season after undergoing major knee surgery. His status, according to Coach Boucher, is unknown for the upcoming season. Even if he does return, what type of impact can he have at 35-years-old with two surgically repaired knees?
Marc-Andre Bergeron's reoccurring back injury limited him to only 43 games last season and none after February 7th. He underwent surgery in March to hopefully correct the bulging disk, the second time he's had that operation performed in his career, and expects to be ready for the season. Unfortunately for athletes, and non-athletes, once a back problem exists it can flare up again at any moment.
Victor Hedman is only 21 and signed to a long-term deal. However, a cavalcade of injuries, including at least one concussion, kept him out of 21 games last season. While he did come back and finish the season strong (7 points in his final 7 games) concussions are a tricky injury to recover from. Research has shown that once a player sustains a concussion he is susceptible to them in the future.
That's the bad news. The good news is that Mr. Yzerman has three young defensemen that are currently restricted free agents that he should be able to sign to new deals easily. Brendan Mikkelson, Brian Lee and Keith Aulie (all players brought in by Mr. Yzerman via trades) played well enough to earn spots on the roster for next season and shouldn't require huge raises over their previous salaries.
With those three players, Victor Hedman and Eric Brewer (the lone under-contract player who is relatively healthy), five of the spots on the roster are filled. Adding another 4-5 NHL-ready players allows Coach Boucher to dress seven defensemen as is wont and the team has enough depth to cover for injuries or poor play.
The Lightning is likely to draft a defenseman with at least one of their first round picks this week. Unfortunately for next season's squad that player, whether it's Mathew Dumba or Griffen Reihart or Morgan Rielly, will most likely not be playing in Tampa. It's rare that an 18-year-old is ready to make an impact as a blueliner in the NHL, especially one drafted in the middle of the first round.
Trading for an impact player may happen, names such as Jay Bouwmeester, Mike Green and Niklas Hjalmarsson are all rumored to be on the market, but their contracts and the cost to acquire might be prohibitive for Tampa Bay. The team does have the extra first round pick that they can dangle to teams looking for young talent that they may be able to package together for a defenseman, but that player would have to fit into the Lightning's budget.
That leaves two talent pools for Mr. Yzerman to improve the defense – internal promotion and free agency. He will most likely draw from both sources in order to flesh out the backlines for the team next season.
There aren't too many internal candidates in the minors that are likely to fight for a roster spot next season. Despite the record-setting performance by the Norfolk Admirals last season, the Lightning's defensive prospects are thin when it comes to being ready for the big time. Radko Gudas, a big imposing blueliner who has racked up 360 penalty minutes in two seasons in Norfolk, would seem to have the best chance to make the team. With the exception of Brian Lee, the current group playing at Channelside Drive isn't extremely physical. One of the downfalls for last year's team was their inability to knock forwards off the puck in the defensive zone.
The top prospects that the Lightning have under contract are all young. Gudas, Mark Barberio, and Nikita Nesterov are all under 23-years-old. Most defensemen don't start coming into their prime until their mid-20's at the earliest and despite their success at Norfolk last year (excluding Nesterov who played in the KHL) they could benefit from another year of seasoning in the minors. Most likely they will start the season in Syracuse and then get called up throughout the season to fill holes in the lineup.
There is no doubt he'll dabble in the free agency market starting in July. Throughout his two-plus years at the helm of the Tampa Bay Lightning, Mr. Yzerman has shown great restraint when navigating the turbulent waters of unrestricted free agency. He has opted to sign depth players to short-term contracts instead of splurging on the big names and tying up tons of money long term. In fact, the only long-term contracts he has offered are to players already under the Lightning umbrella.
So signing Ryan Suter is probably a long shot at best. As is Jason Garrison or Dennis Wideman, two other unrestricted free agents who figure to cash in this off-season. Mr. Yzerman won't get into a bidding war with other teams for Suter's services since it goes against his entire team-building philosophy.
In all likelihood he will pursue second or third tier players that can fill a role and eat up minutes. Players like Dylan Reese,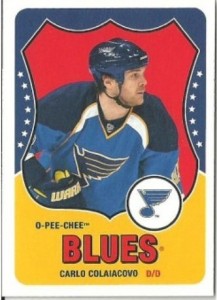 or Aaron Johnson are more likely to be wearing the blue and white next season than Suter or Garrison. They are players with experience that are under 30 and can be signed to affordable deals and provide solid play.
While the goaltending issues have dominated roster talks over the last couple of seasons, finding a stable and competent defensive corps has been just as problematic. For the team to revisit the playoffs, Mr. Yzerman has to find the right pieces over the next three months.
Justin G. came to be a hockey fan during his college days in Florida. He writes about sports, card collecting and other assorted things on his other site – The Hopeful Chase.