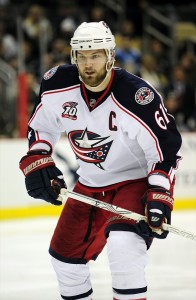 The period of time between the handing out of the Stanley Cup and July 1st's start to free agency is a time only rivaled by the February trade deadline in terms of wild rumor generation. Seemingly every player on the market is somehow headed to 30 different teams for a plethora of reasons, some well founded, others bordering on insane. One of those less realistic suggestions found its way out last week as the internet stirred at the sound of the Rick Nash trade talks heating up.
The Columbus Dispatch's Aaron Portzline reported last Friday that approximately 10 teams had inquired about what it would take to land Nash, and suddenly every fan in the league was fantasizing about their roster featuring #61.
Among those were Red Wings fans concerned about the very real possibility that the team will be unable to land either Zach Parise or Alexander Semin through free agency. There were enough of them that Helene St. James of the Detroit Free Press addressed the idea later the same day (or perhaps she just felt inclined to write about it).
"Nash is a top-end talent, a prized package of size and skill. Could he help the Wings regain their footing after three straight playoff disappointments? Of course. But the price would be astronomical.

Anything is possible, but the Wings' cost to acquire Nash would be steeper than almost anyone else's, because the Blue Jackets would have to justify trading their franchise player (they picked him first overall in 2002) to a team within the Central Division."
Just how much would it cost to land Nash?
Before February's trade deadline the price was astronomical, for the Rangers at least. The New York Post's Larry Brooks reported that Columbus sought a 5 asset package that included Brandon Dubinsky, either Ryan McDonagh or Michael Del Zotto, either Derek Stepan or Carl Hagelin, prospect Kris Krieder, and a first round draft pick. That's 3 (at the time, now likely 4 considering Krieder's impressive playoff run) roster players and a first round draft pick.
Fast forward approximately 4 months and the demands from Columbus haven't decreased in value.
Those comments make Helene's assertion that it would take Detroit Valtteri Filppula, Brendan Smith, a first round draft pick, and then some look like low-balling it.
The sky-high prices are to be expected. Nash has only missed the 30 goal mark twice in his career, his rookie season (17) and in 2006-2007 when he fell just 3 goals shy. This all comes while being the only star level player on a team that has never won a playoff game. He's an absurdly talented individual, and losing him without reaping a significant amount in return would doom the Blue Jackets franchise for the foreseeable future. The trade return goals are appropriately lofty, and they're not likely to come down in any kind significant fashion.
That almost certainly rules the Red Wings out. A team that is attempting to fill a need for increased depth is not going to part with 4 players just to add a 30 goal scorer, especially when those pieces are some of the most valuable to the team and its future.
That doesn't even take into account the fact that Nash's contract carries a cap hit of $7.8 million through 2017-2018, a higher hit than any contract currently on the Wings payroll. That's an awful lot to pay for a largely 1 dimensional slightly more consistent version of Johan Franzen. An arguably acceptable amount if you're just signing the guy, but to trade 4 major assets and then pay such a price? That only makes sense if your needs are equally 1 dimensional and you have more than enough pieces ready to aptly replace the ones you'd lose. Detroit isn't in either of those positions. To refer back to St. James, the team needs to add players without subtracting them, and the way to do that is through free agency.
"Management is very serious about re-tooling the Wings after a first-round loss to Nashville, but the focus is on doing it via free agency more than via trades."
Free agency is where the next reality stretching Red Wings-related rumor rears its head.
Justin Schultz has apparently decided Anaheim, the team that drafted him 43rd overall in 2008, isn't to his liking, and thanks to a CBA "loophole," he will become a free agent on July 1st. Schultz isn't the first to exploit this CBA "flaw" either. As Overtime's Alexander Monaghan points out, Blake Wheeler set this precedent back in 2008.
"Blake Wheeler is a special case. The Phoenix Coyotes saw enough in the youngster to spend the fifth overall pick on him during the 2004 NHL Draft. Wayne Gretzky himself, then the coach of the 'Yotes, stepped up to the podium and made Wheeler the highest selected high school player in 21 years (Brian Lawton went 1st overall in 1983). The risk was huge and the player was raw, but the Coyotes liked the thought of a big, strong forward with an immeasurable skill-set.

Like Schultz, Wheeler was drafted at a younger age and still needed a year in juniors before going to school. Wheeler played in the USHL for the Green Bay Gamblers before ultimately taking the NCAA route at the University of Minnesota. After his junior year with Minnesota, Wheeler opted to leave the school and expose a dangerous flaw in the CBA. The aforementioned flaw — or loophole if you dare — allows college players to become free agents four seasons after they were drafted, explaining why Schultz can sign with any team on July 1st."
Schultz's decision to exploit Anaheim via this rule is understandably upsetting to Ducks GM Bob Murray, who told the Los Angeles Times that the team had a spot for him.
"Yeah, that's a sore spot. We've drafted fairly well the last few years…. We rebuilt and you have a young man like Justin [Schultz] coming along who gave us every indication he wanted to play for us."

"There's a spot there for him on the right point on that blue line. You mention the weaknesses. Our power play has been horrible. And Justin is very good at that. So it's a huge disappointment. You just can't replace it. You counted on it."

"…There's a loophole in the CBA. Some things you just don't understand. You move on. That's the way it is."
With the Ducks moving on, this top-tier prospect is the supposed envy of 29 other NHL teams. Here's how Hockey's Future assesses his talents:
"Justin Schultz has been one of the finest rearguards in the nation two seasons running. He has a complete offensive game, capable of igniting plays from his own zone, carrying the puck through the neutral zone and making confident, creative plays in the offensive zone. He has shown a strong commitment to improving his defensive game and strength, although he will never be a physical force.

Schultz faces all the challenges a thinner defenseman faces trying to make the leap to the NHL, as well as an adjustment to the 82-game schedule. Nonetheless, he possesses such a comprehensive skill set and sound work ethic that it hardly seems like a reach to project him as a top-four defenseman."
With rave reviews like that, and the Red Wings's clear need for more defensive depth, they must be interested in signing him! At least that seems to be the theme coming out of Detroit's media outlets. Writers for The Detroit News, Detroit Free Press, and MLive have all penned articles on why Schultz would be a great fit in Detroit–all clinging to the idea that Schultz may be interested because he spent a season playing with prospect Brendan Smith at the University of Wisconsin (because there definitely aren't any other former Badgers that Schultz played with currently in the NHL).
For my money, Smith is exactly the reason Schultz would have little interest in heading to Detroit, or rather, what Smith represents.
If Schultz's reviews are glowing, Smith's are just as bright. Again from Hockey's Future:
"Smith, who is regarded as a high-end offensive defenseman, is a silky smooth skater who moves effortlessly. He also has very good vision and soft hands, which complement his overall mobility very well.

Smith projects as a top pairing, offensive defenseman. He will spend his second year as a member of the Grand Rapids team of the AHL during the 2011-12 season, looking to increase his role on the team and stay healthy."
It's that last bit that is crucial to the discussion. Smith is projected to be as good, if not better than Schultz, and still he was asked to spend a season in Grand Rapids. Schultz would by all accounts be expected to do the same. Why then would he abandon a team that had a roster spot available for him to come to a team where he would have to earn his way into the lineup, and out play an equally impressive prospect to do so? According to EX-NHL GM Brian Lawton via David Staples of the Edmonton Journal, he wouldn't.
"No team can offer Schultz, 21, more money than any other squad, just a standard, bonus-packed entry level deal, so it's going to be a brilliant sales job that will win the day."

"Former NHL GM Brian Lawton says that any team that wants this highly-rated, soon-to-be-free agent prospect will have to meet with him in person and guarantee him a roster spot for next season.

'You can rest assured ten teams will guarantee him a spot on their roster,' Lawton told Jason Gregor of the Team 1260. 'If you want to compete for these guys you better understand the environment and you better be aggressive. Because there is no time to not be.

'So if you any chance to get a player like this, you're gonna unfortunately  going to be out there on a limb in some uncomfortable positions. Because there are things you don't want to do like guaranteeing a roster spot to a player who has not played in the league. But guess what? That is the landscape you're dealing with. If you're going to sit at home and say, 'I'm not going to do that,' that's great. But you're not going to get any players either.'"
That guarantee is something I don't believe the Red Wings desperate enough to give. As Lawton pointed out, Schultz hasn't played a game in the NHL. To guarantee him a roster spot sounds borderline ludicrous. It's not how the Detroit Red Wings organization typically operates, and it isn't likely to be now. That is, if they're even seriously interested in acquiring his services.
The details on why Schultz has chosen to take this course of action are few and far between. Anaheim GM Bob Murray's comments appear to indicate that he understands the situation as little as we do. Schultz is choosing to walk away from a team that had a place for him, and no one but him (and perhaps his agent and those closest to him) knows exactly the reason why.
Does Schultz have an underlying feeling of entitlement or a lack of desire to work for his NHL spot? Does he desire to play closer to home? Does he feel the Ducks aren't a contending team? We have no idea what the basis for his decision is, but most of the questions point to potential character flaws. For a team like Detroit, that prides itself on character and class, those questions have to be a cause for at least some pause.
Why take that risk when there are other proven options available? Beyond top defensive dog Ryan Suter, names like Matt Carle, Dennis Wideman, and Jason Garrison would all appear to be more attractive candidates. They're proven talents and all near the prime of their careers. For a team that needs repairs now, they're easily better options.
I'll admit that there's still a possibility that Schultz ends up in Detroit, but the chances would appear to be very slim. The questions he raises are a cause for concern, and the guarantees he'll get elsewhere are likely to lure him away in a similar manner to what money will do for Jiri Hudler in just a few short days.
The same goes for Nash, who will be dealt for a King's ransom that Detroit would have to be absolutely desperate to consider paying (and even then…). If Detroit is unable to sign a single other offensive talent and Columbus' price drops substantially, it's possible the deal could happen, but the likelihood of those things happening is again, slim to none.
They're 2 very talented players available on the open market, it's easy to fantasize about them wearing the winged wheel, but skepticism and reality are far more reliable reading buddies than hope and desire. 1 thing that makes sense doesn't outweigh 5 that don't, and even if a rumor contains the smallest kernel of logic, it's best to meet it with a healthy dose of disbelief.