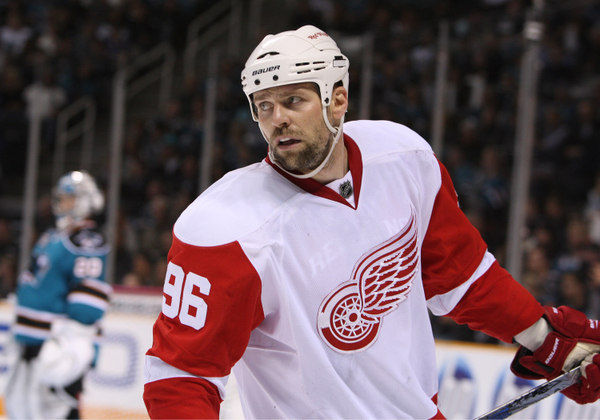 "You add people and you lose people. Some of them are tougher than others.We haven't been good enough in here lately and I think everyone in here is prepared to make those sacrifices to do what needs to be done."
Those were Detroit Red Wings forward Henrik Zetterberg's words just days after the team's first round playoff exit. Nearly 1 month later it's becoming increasingly apparent just who those sacrifices will be: Tomas Holmstrom, Jiri Hudler, and Brad Stuart. Each key players, free agents, and for different reasons.
Tomas Holmstrom
For Holmstrom the question is not 'where', but 'if' he'll play next season. Having already expressed a desire to finish his career in Detroit, it will come down to 2 simple questions for the 39-year-old Swede. The first of those questions is whether or not 'Homer' believes he can continue to play.
"I would love to play three or four more years. It's so much fun to come to the rink. It's just whether the body can take it one or two more years. It's all about the wear and tear on the body."

" I just know that mentally, the last couple of years, I've had to go through stiffness, soreness, aches and pains. It can be pretty tough during the regular season."
Once that decision has been made, it's up to General Manager Ken Holland as to whether or not #96 fits into the Red Wings' short-term plans.
"We want him to decide if he's healthy and if he has the passion and the energy to play another season."

"It's not strictly his call. We have to look at our team and decide what we're doing."
If he does, it will be in a similar role to the one he played in during this season, contributing on the 4th line and powerplay. That's something he clearly wasn't a fan of. 
"If I'm going to play next year am I going to play on the 4th line again and get 9 minutes of ice time? It's not that easy to get out there and make stuff happen when you have limited ice time."

"It's been tough. Right from the get-go there was not much ice time. I tried to do my job, I didn't bitch or anything just played my game and did my thing."
There simply isn't room for Holmstrom anywhere but in the bottom half of Detroit's lineup, nor does he present the skills necessary to be anything more than a role player at this point in his career.
Further complicating matters is the notion that Holmstrom and teammate Nicklas Lidstrom could be some kind of package deal. The close friends have both expressly stated that their decisions will have no bearing on one another, but Lidstrom's notorious routines, and Holmstrom's prominent involvement in them, leave room for speculation.
It's a complex situation with no easy answer, and it's not the only one the Red Wings find themselves forced to handle this offseason.
Jiri Hudler
Like Holmstrom's, Hudler's case is multifaceted. Does Jiri Hudler want to be a Red Wing in 2012-13, and do the Red Wings themselves want to bring him back?
After severely underperforming in his first year back after defecting to the KHL in 2009, 2011-12 saw Hudler rebound in a big way. His 25 goals (a career best) and 50 points in 81 games were good enough to place him 2nd and 5th on the team respectively. His production boost was exactly what the Red Wings wanted to see, and yet, as Helene St. James of the Detroit Free Press notes, Hudler's rebound success is also a big part of why he'll likely be moving on.
"There's no question Hudler is going to be attractive to other teams."

"He's coming off a productive season and has every reason to expect a raise."
Hudler made $3 million this season, making him a bargain for the Wings by all accounts. Couple that reality with a weak free agent class and you have a recipe for overpayment. That's something the Red Wings won't be willing to offer. That is, if they're interested in keeping him at all; Hudler isn't exactly God's gift to hockey, as St. James aptly points out later on.
"He's not a great skater. He's not great in his own zone. He definitely benefited from playing this season with Henrik Zetterberg and Valtteri Filppula, two of the game's best two-way centers."

"Hudler also was a power-play regular, and he scored only two goals all season with the man-advantage. He's generously listed on most hockey websites as 5-feet-10 (5-7 is more like it), and his lack of size works against him when he has to battle bigger players for the puck."
Hudler represents several things the Red Wings will attempt to move away from this offseason. They want to add size, grit, defensive ability, and consistent goal scoring. He provides them with none of those attributes, and there won't be room to keep him and acquire players that do. He's a talented and productive player, but he's exactly the kind of loss the team needs to take in order to improve.
'Happy' will test the market this summer, and when he does he'll find that he can make more money outside of Detroit. It doesn't make sense for the Red Wings to overpay to keep him. As Kukla's Korner's George Malik puts it:
"I know that Hudler loves playing in Detroit, but financially speaking, and especially, "Getting the most bang out of your forwards' bucks" speaking, I don't see him coming back, not for a second."
Hudler's departure may end up being the best for both parties, and could result in both sides getting what they want. But for the next likely-to-depart Wing, the situation is almost completely the opposite.
Brad Stuart
Brad Stuarts' expected decision to move on has nothing to do with money, improving the team, or (as he told reporters back in April), hockey at all.
"I love it here. Yeah, If it was a purely hockey decision, I would stay. But I've got other things to consider and factors other than just hockey. Those are things I guess I'll have to figure out in the next month and a half."
Those "other things" boil down to family matters (and not the 1990's sitcom starring Jaleel White). Stuart's family is stuck in California thanks to custody complications with his teenage step-daughter (that is assuming his family even wants to move, which could be just as big of an issue), and the distance has been understandably tough.
"My family situation can't change next year so the only way for that to work is for me to have to suck it up for another year."

"It's been a draining couple of years for me, having to do that. So that's a decision I guess we'll have to make as a family. I guess it's just, 'Can I get through another year of that?' My boys are getting older now, they're four and five. So it's getting hard to be away from them."

"Those are all factors I have to consider."
Putting his family first is an admirable (and the right) thing to do, and it's something his defensive partner Niklas Kronwall fully supports.
"Family comes first. That's just the way it has to be. Everyone knows his family has been in California for a few years and it's got to be tough on him. His kids are growing up and as much as I hate to see him leave, he needs to do what's right for him and his family."
Beyond support though, Kronwall seems resigned to the fact that Stuart will leave, and he isn't the only one; coach Mike Babcock too seemed sure that the 32 year-old Canadian was on his way out.
"I know his family's still living out West, so that's probably going to happen."
Their confidence in his departure likely stems, at least in part, from the fact that Stuart didn't sign a contract extension earlier this season. And according to an interview with Red Wings' scout Hakan Andersson conducted by Expressen's Linus Hugosson and translated (roughly) by George Malik, the Wings worked hard at getting him to re-sign.
"The 32-year-old Stuart came to Detroit from Los Angles for draft picks in 2008, and became one of the Red Wings' most important defensemen on the way to their Stanley Cup victory later that spring.

The expectation was that Stuart would be moving back that summer, but Holland got him to sign a four-year contract.

Now the contract is about to expire—and Stuart won't sign an extension.

"We've tried hard, but in vain," says Hakan Andersson."
That failure to secure Stuart is almost certainly why the team made a trade for former draft pick Kyle Quincey just before the trade deadline; He's the replacement piece for the hole that the Red Wings expect will need filling. The fact that they've already begun to plan for his absence is a pretty good indication of how probable it is.