It has been an up and down season for Edmonton Oilers prospect Leon Draisaitl.
After beginning the 2014-15 season on a high at the NHL level, where he played 37 games, Leon was eventually returned to the Western Hockey League. Not only was his first professional season cut short, but Draisaitl was also withheld from playing in the 2015 World Junior Hockey Championship for Germany despite being re-assigned to the CHL a short time later.
However, despite his rollercoaster year, Draisaitl has since settled in quite nicely with the WHL leading Kelowna Rockets, a team abundant in both top NHL prospects and draft eligible players.
NHL Experience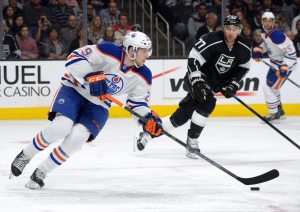 Although Leon's first steps in the NHL were short lived, he gained valuable hockey experience from matching up against some of the best players, in particular centres, in the NHL.
In his first 37 games with the Oilers, Draisaitl recorded two goals and seven assists, while he registered a minus 17 rating.
Averaging a mere 12:40 of ice time per game and with the Oilers well out of the playoff picture, it was an easy decision to return Draisaitl to the WHL as it provided Leon the opportunity to further develop his game as well as restore his confidence.
Rebounding Rocket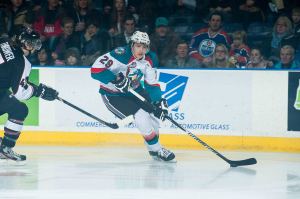 Following his assignment to the WHL on January 4th, Leon Draisaitl as been one of the WHL's most productive players.
Since his return, Leon had scored 43 points, including 16 goals in only 26 games for the Kelowna Rockets. His 1.65 points per game is also the best of any player on Kelowna.
A major factor in Draisaitl's resurgence, and the success of the Rockets as a whole is the wealth of high end NHL talent on the Kelowna roster. Alongside Draisaitl are first round NHL draft picks and team Canada World Junior stars Madison Bowey and Josh Morrissey.
The Rockets also boast a bevy of other high end talent, such as potential first round draft pick Nick Merkley, 46 goal scorer and San Jose Sharks prospect Rourke Chartier as well as Justin Kirland, a third round selection of the Nashville Predators.
[Check out this video! Leon reflects on his NHL experience and readjusting to the WHL]
With such incredible depth and proven success so far this season, having won 50 of 66 games, the Kelowna Rockets and Draisaitl appear poised not only for a long playoff run, but a potential appearance in the annual Memorial Cup.
Draisaitl himself does not have much playoff experience, as he and his old team, the Prince Albert Raiders, were quickly eliminated in each of the past two WHL post seasons. However, a deep playoff run will do Draisaitl considerable good, as it is an aspect of hockey with which he is largely unfamiliar with since his arrival in North America.
Brett Slawson is a four-year veteran of The Hockey Writers who covers the Toronto Maple Leafs, NHL prospects, and the OHL's Mississauga Steelheads.
Contact Brett on Twitter @brettslawson92, or by email at brett_slawson@hotmail.com.