By now, the reports of Ryan Getzlaf and his running mate Corey Perry being involved in an altercation with locals at a Helsinki nightclub have made the rounds. The fact that said reports have been all but forgotten points towards the incident being overblown by the Finnish media, but it is of some concern to the Anaheim organization.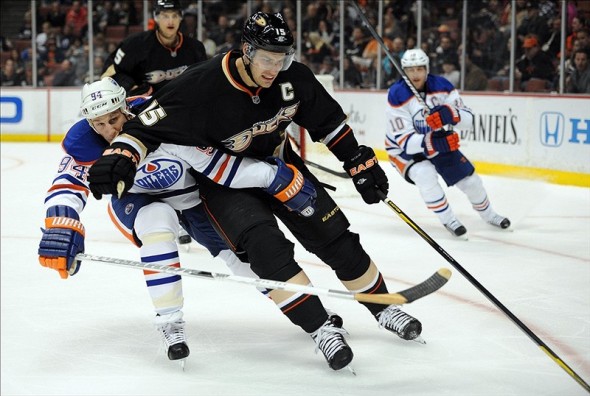 For a team looking to rebound from a sub-par season, and one that counts the Western Conference finalist Phoenix Coyotes and possible Stanley Cup champion Los Angeles Kings amongst its divisional rivals, Anaheim needs its captain to lead the way both on and off the ice.
While Getzlaf maintains the reports of the nightclub incident in Helsinki were overblown and it certainly seems they were, as the captain of high-profile Team Canada, he needed to realize that seemingly minute issues had the potential to become distractions.
As the captain of an Anaheim Ducks squad that could very well be without veteran Teemu Selanne next season, as well as introduce a couple of young players such as Emerson Etem and Kyle Palmieri to the rigors of NHL play, he'll need to lead by example off the ice, as well as on it.
The reports of Getzlaf's off-ice escapade were also unfortunate in that they overshadowed his play during the World Championship tournament, which saw him look more like the dominant pivot he can be when motivated. Compiling two goals and nine points in eight games to accompany his plus-six rating, it has become clear that Getzlaf won't settle for another sub-60 point campaign in the NHL.
Unfortunately for Getzlaf, and Team Canada, it was his five-minute major penalty for kneeing Juraj Mikus that ultimately set the stage for the game-winning, power play goal notched by Michael Handzus. However, Getzlaf's willingness to play a physical game throughout the tournament is a positive sign for Anaheim and his untimely penalty shouldn't overshadow his tournament-long contributions.
A motivated Ryan Getzlaf willing to assert himself physically is one of the best players in the world. As skilled as he is, when he attempts to get too fancy with the puck and gets whistled for lazy stick infractions, his contributions are severely mitigated.
After  a season which saw his offensive output drop to its second-lowest, and worst full-season, point total ever, a rejuvenated Getzlaf is exactly what the doctor ordered. As Getzlaf goes, so too does Anaheim and its other stars, Corey Perry and Bobby Ryan. To see him fully engaged during the World Championship was akin to witnessing him make a statement for all to see—I'm back.
In a division that could very well challenge for the title of most competitive next season, the return to form for Getzlaf will go a long way to Anaheim not only treading water, but making some noise in the Pacific Division and Western Conference. As Getzlaf's level of play is raised, his ability to make those around him better becomes apparent, and if his recent play is any indication playing at a point-per-game pace won't be a stretch by any means.
Yet, for as dismal a season as Getzlaf and company had last year, it wasn't so much an indication of future returns, it was more of an aberration, a reverse flash-in-the-pan if you will. Many factors played into an admittedly disappointing season last year, but Getzlaf is already poised to show the world that reports of Anaheim's demise are overblown and exaggerated.
Just like reports of a certain night on the town in Helsinki.