The biggest need for the Buffalo Sabres this offseason is to find stability in their top line centre. Ever since the departure of Daniel Briere and Chris Drury the Sabres have had a gaping hole in regards to the number-one centre position. If the Sabres are to take the next step and reach the upper echelon of the NHL they need to find this elusive creature, a true number-one centre.
The bad news for the Sabres and other teams looking for a centre from free agency is the pool of free agents is weak and the contracts could become ridiculously expensive. Unless Darcy Regier can pull off some miraculous trade to gain a top-notch centre, the solution to the problem is going to have to come from within. A player on the current roster or somewhere in the organization has to step up and show they can get the job done. Fear not Sabres fans there are a few worthy candidates who will apply for the job once camp opens.
Tyler Ennis
Ennis had a breakout year centering the third line during last season's second half. So the question becomes, can Tyler Ennis be a first line centre? In order to answer this question you must compare his stats to the last number-one centre Buffalo had, Daniel Briere. Once Ennis was back to full health he caught fire and recorded 34 points in 48 games. But his best streak occurred during the last 26 games, in which he totaled 11 goals and 16 assists for 27 points, which is slightly over a point per game rate. A point per game type of player is roughly what a first line centre should be.
In 2005-2006 Briere played just 48 games for the Sabres (Same as Ennis) he scored 25 goals and added 33 assists for 58 points. Briere's numbers were slightly better than Ennis' but not far off for a player who has played his NHL career on the wing versus a centre who was arguably in his prime. Another similarity between the two is their size. Ennis comes in at 5'9″ and 157 while Briere was 5'10' and 179. Ennis has said he is committed to gaining some weight this offseason, and should be a little bulkier come the spring, making it harder for opponents to push him off the puck. By the time the puck drops on the 2012-2013 season Sabres fans could be seeing version 2.0 of Daniel Briere hopefully this version will stay in Buffalo. A large reason the Sabres even came close to making the playoffs was because of the play of Ennis in the last 26 games. He posted surreal numbers and nearly carried them to the playoffs.
https://twitter.com/DirtyWaterBuzz/status/207483957984493569
The problem is (and it really isn't a problem) he had such great chemistry with Marcus Foligno and Drew Stafford. If moved, there's no guarantee he'll have that same chemistry with new wingers (Pominville and Vanek). But Foligno and Stafford are not ready to assume the role of playing on the top line, they're second line players at best.
So do you risk the chemistry between Ennis, Foligno and Stafford to put him on the first line?
Ville Leino
The reason Darcy Regier and Terry Pegula threw a bucket load of money at Leino was so he could come in and be the number centre the Sabres so desperately needed. It's no secret he underperformed this season and really set the Sabres back, but why not give him another chance next season? It's always tough on a player to change teams especially when they are asked to play a new role. Leino went from a 2nd/3rd line with the Flyers to being expected to play on the 1st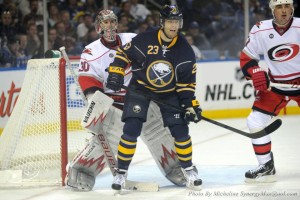 line with the Sabres. The Sabres paid a steep price to get their hands on him but he wasn't able to produce notching just 8 goals and 17 assists for 25 points, not exactly what Regier was expecting. It was quickly discovered that Leino was not a centre and therefore was moved around from line to line. He was never really able to get comfortable with his line mates.
It may have been wrong of Regier and Lindy Ruff to expect Ville Leino to come in and become a player or fill a role he really couldn't. But he could have done a little more to help with the success of the team. The Sabres should give him another shot at the top line centre position to start off the year and see if he's more comfortable or ready to adapt. If he doesn't succeed at centre they may move him to the wing (where he's arguably better).
Cody Hodgson
The Sabres acquired Hodgson to be the future number one centre with the key word being "future". Hodgson still needs to improve his skill and become a more mature player before he is ready to take the leap to the top line. He appears to have all the necessary skill required for a first line centre, but still needs time to develop that skill as well as his leadership.
But if the Sabres are desperate for success they may try to put him on the first line to see his impact. The positive thing for the Sabres is the Cody Hodgson deal is a win-win. He has tons of prior leadership experience (Brampton Battalion, Team Canada U-18) and he is a prized prospect around the league. If teams knew Hodgson was available at the trade deadline, teams would have been lining up to acquire his services. He needs an opportunity and a chance to show off his skill, something he was unable to get in Vancouver. But he will get more than enough opportunities to centre the first line in Buffalo.
It would be good for Hodgson to be paired with line mates at the start of the season and keep the same line mates for the first half of the season. He had a very difficult time adjusting to the Sabres, so pairing him with solid line mates he can make chemistry with is crucial to his success.
Luke Adam
The Sabres have given Adam enough time to develop, it's time to bring him up and keep him up to see what he can do or trade him. When he was centering the first line between Pominville and Vanek he was very solid. In his 15 games with the two stars he scored 5 goals, added 7 assists and the Sabres went 10-5-0. After being removed from the top line on November 12th he scored just 8 points in his final 37 games. Despite his low ice time and poor defensive play, he still led the Sabres in 5 on 5 goals per 60 minutes.
He showed great maturity on the first line, yet still gave the line some youthful excitement. Sure his numbers trailed off near the end of his stay on the first line, but what player (rookie or veteran) doesn't experience dry spells? Lindy Ruff's mind-games (demoting Adam back to the fourth line when he didn't deserve it) didn't help.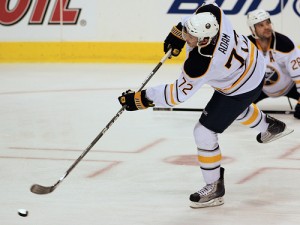 The thing that doesn't bode well for him is the fact he failed to respond. When he was sent back down to the Rochester Americans he didn't stand out, he flat-out played poorly. He played as if his "spirits" had been broken and in fact they had, he lost all his confidence. Luke Adam doesn't fit the bill of a number centre and is likely not skilled enough to stay at the spot permanently, but if it can buy some time for Hodgson or another free agent on the market why not?
It wouldn't cost the Sabres any money to give Adam another shot at playing with Pominville and Vanek as he's already under contract for another season.
Trading Up
The Buffalo Sabres have two first round draft picks for the upcoming daft (12&21). They could easily package those picks with maybe a prospect to move up into the top 5. If they were able to draft up to the top 5, they should be able to get their hands on Mikhail Grigorenko from the QMJHL. He had by far the best season of any rookie from the "Q" scoring 40 goals, adding 45 assists in just 59 games. Grigorenko is 18 but he's already built like a man at 6'3″ 200 pounds. He might  need some time to fine tune his skills but he could be the perfect centre the Sabres need in the future. Big, tall, strong and skilled is a rare mix to find in such a young player.
Mikhail Grigorenko was selected as the Rookie of the Year of the #CHL.

— Bryan Yates (@BryanYates24) May 27, 2012
If the Sabres are unable to get a pick in the top 5, they should try for the top 10 as two other solid centres could be available. Alex Galchenyuk and Radek Faksa both played in the OHL last season. Galchenyuk was injured for all but the season's final few games but managed 31 goals and 58 assists in 68 games for the Sarnia Sting the year before. Faksa racked up 29 goals and 38 assists in 62 games for the Kitchener Rangers as an OHL rookie this season.
The Sabres have so many options to fix that gapping whole up the middle in their organization already (minus the draft). It would be great for fans and management to see Ville Leino have a bounce back year and step into his role on the first line. In such a weak year for free agent first line centres, why spend the money and take the risk on an outsider when you have several insiders that would kill for that chance. Until you give a player a fair shot, you don't know what they are capable of and some might surprise you.