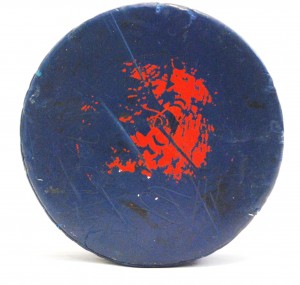 Last year I had the good fortune to be interviewed on a Clear Channel radio station in support of my most recent book on sports cards.
My co-author and I were asked the usual questions we get on the state of the hobby, but towards the end we were surprised by one question from the host: if there is a market for beat up cards or if their condition would be ignored in some cases.
Though my co-writer jumped on the question, I couldn't help but think that, to me, condition was only one factor in a hockey memorabilia's value. Yes, any collector who saw two Wayne Gretzky rookie cards sitting on a table at a trade show would likely be drawn closer to the scoff-free version over the creased piece, but both would draw interest, especially at the right price.
This becomes  especially true when you're looking at hockey collectibles that, quite frankly, don't come up for sale that often to the general public, especially those with historic importance.
Witness, for example, the puck you see in this article. Yes, the logo has been chipped at, yes there are more scars on its visage than there were on Jacques Plante's face and, like an unsuccessful playoff team, there are pieces distinctly missing, but it's a WHA game used puck from the "blue" era. I won't go into the boring details of where I picked it up (at least in this entry), but it's a piece that in my wildest dreams I never thought I'd own.
So next time you're out hunting for hockey collectibles, don't be so quick to look just for pristine-condition memorabilia. Sometimes character is a good thing, especially when the story behind it is better than one you could ever tell on your own.