The Pittsburgh Penguins are enjoying a bye week and won't return to action until January 8. They're coming off a December for the ages and despite key injuries on the blue line, they're excelling. So, what's left to talk about this week?
Trades, of course.
Except, the rumor mill is slow. Even for an active general manager like Jim Rutherford, there's very little action right now and why would there be? Rutherford is in no hurry to add or subtract from such an effective group. And his masterpiece, the current Penguins team — a product of his ability to adapt to today's NHL and build a championship roster — got me thinking.
How have his biggest deals worked out to this point? Especially his first, which was the ultimate statement that this lineup belongs to him. 
Patric Hornqvist & Nick Spaling for James Neal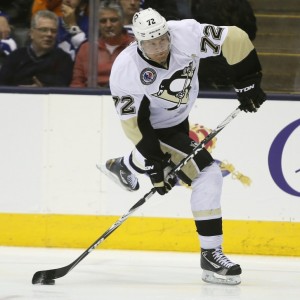 Neal quickly became a fan favorite in Pittsburgh and one of the most dangerous scorers in the league playing alongside Evgeni Malkin. During his tenure, the Penguins were a top-heavy team with a large percentage of their production stemming from their top-six with very little contribution from depth players. So, when Rutherford embarked on his journey to recreate the Penguins under his watch, there's no way he'd consider trading one of their most productive forwards, right?
Needless to say, this move shocked the majority of the Penguins faithful and media alike.
The Pens clearly needed change and while Neal was a centerpiece of their offense, he was also a bit of a liability when it came to untimely penalties. He also wasn't able to offer something the Penguins needed at that point, which was an individual capable of creating havoc — mainly around the opponent's goal crease — but skilled enough to play with their top centers.
Admittedly, like so many others, I felt the return for Neal was underwhelming. Hornqvist ended up fitting the bill perfectly, though, and the rest is history. Would you say the Penguins are better off now?
Hornqvist is averaging .7 points per game since arriving in Pittsburgh. He's a mainstay in the top-six and has been extremely productive alongside both Malkin and Sidney Crosby, though Crosby has been his most common linemate. Neal has been streaky in Nashville — like most scorers in this league — but like Hornqvist, he has been very good for his new club and is clicking at .63 points per game.
Spaling was a throw-in on this deal, mainly for cap reasons. Though, you could argue that the Penguins would have been better off without taking on his additional salary. He's now playing overseas in the Swiss-A league.
The dust has settled on this deal and it ended up being a great hockey trade for both franchises. This was a risky first move by Rutherford that ended up paying off in a big way.
July 1, 2015 — Phil Kessel is a Pittsburgh Penguin
In what seemed like an impossible feat when you consider the landscape of Pittsburgh's salary situation, Rutherford swooped in and acquired Kessel from the Toronto Maple Leafs. The Leafs decided Kessel would not be part of their future plans and were giving him away, but his cost made it a tough sell for most teams.
Rutherford was more than happy to find room for him under Pittsburgh's ceiling.
The cost, while it did include a first round draft pick in the 2016 NHL Entry Draft, was worth the risk. The Penguins received a second round pick in return and as far as the prospects Rutherford forfeited, Scott Harrington is no longer with the Leafs and Kasperi Kapanen is still developing his game in the AHL. Whether this deal works out for the Leafs depends highly on Kapanen's future, but it's clear the Penguins did themselves a solid by committing to this swap.
Kessel was in the conversation for the Conn Smythe Trophy for his stellar play throughout Pittsburgh's Stanley Cup run last spring. He's now part of a Penguins' core that already boasted names like Crosby, Malkin and Kris Letang. Simply put, this could go down as one of the greatest trades in Penguins history.
Trevor Daley for Rob Scuderi
What happens when an unstoppable force meets an immovable object? Well, if the unstoppable force is Jim Rutherford, the immovable object somehow ends up in Chicago.
That's how this physics thing works, right?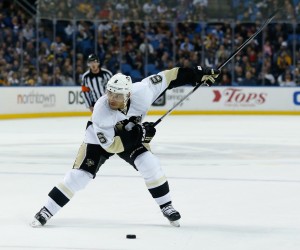 Scuderi — after putting together quite the NHL career — was past the point where he could truly contribute at this level. After deciding that he wouldn't use a buyout on the veteran defenseman over the summer, it seemed as if Rutherford had an immovable object on his hands, which meant the Penguins would be strapped with his $3.375 million cap hit for at least the remainder of the 2015-16 season.
Of course, that changed in a hurry on December 14, 2015.
To everyone's surprise, Chicago Blackhawks general manager Stan Bowman was willing to take Scuderi — with Pittsburgh retaining a hair over $1 million of his salary — in exchange for puck-moving defenseman Trevor Daley. The impact of this deal was felt immediately.
Head coach Mike Sullivan's hire coincided with that deal and Daley was a perfect fit in his speed-centric system right out of the gate. Rutherford's first two years in Pittsburgh were extremely busy but this trade, while not a blockbuster to the extent of the Kessel trade, was some of his finest work.
You could argue that acquiring Carl Hagelin ranks within the top three trades of his tenure, and maybe even getting Justin Schultz for a measly third round pick. However, the three trades above truly changed the Penguins as an organization and they were all examples of Rutherford showing his hand, offering a glimpse into his ultimate plan.
You can debate the magnitude of these deals in the comments — and of course — you can criticize the Penguins for failed deals like forfeiting a first round draft pick for David Perron (though it seemed like a great fit at the time). What you can't debate, at least with any sort of logic, is Rutherford's positive impact on this franchise from his second summer on the job. Or, maybe more specifically, July 1, 2015.