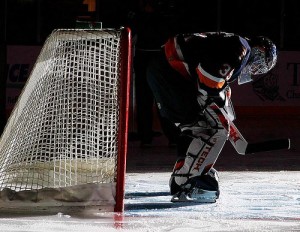 It has been reported on twitter by Islanders Newsday reporter, Katie Strang and Islanders Point Blank blogger, Chris Botta as well as other various writers that Rick DiPietro was not on the ice for practice this morning at Syosset as he is out indefinitely with swelling of the knee.
How many of you just rolled your eyes right now? This injury has not come as a surprise to many. In fact, many even told me that they were waiting for this to happen. What surprises me is that this is at the end of the Olympic break, a time where most players were resting and nursing bumps and bruises that they might have had. Rick, on the other hand, returned to practice yesterday and was able to participate. Therefore it is being assumed that he might have agitated his knee recently.
When is it going to end with DP? He has only played a handful of games this year and before he can even get a legitimate chance to take back the starting role he is back in the press-box. And worst of all, this injury comes right before the March 3rd trade deadline and the Islanders are still currently carrying three goaltenders.
So now what does Garth Snow do? Does he keep both Roloson and Biron despite the trade offers he might receive since the length of Rick's contemporary absence is yet to be determined? Or does Snow go forth with whatever plans he has had since Day 1?
Rick's recovery was never guaranteed by management, the coaching staff or the goalie himself. It was something that was going to take time, and all precautionary measures were being used to help restore the former first-overall pick back to glory. This recent bump in the road doesn't mean DP is down for the count. But it certainly doesn't make anyone feel more confident about his ability to restore himself as a number-one goaltender.
I still hope that Garth goes with whatever offer he gets for either Biron or Roloson that comes his way, as long as it is for the best of the team. The medical staff will pay their attention to Rick but Garth needs to focus on what the team needs with or without #39 between the pipes.
As a fan that has been looking forward to the upcoming holiday of trade deadline madness, do you think that Snow should part ways with either Roly or Biron despite the injury? Or is it safer and more reasonable to keep all three on board since Rick's health continues to remain in question?