Granted, Morgan Rielly likely didn't mean things the way they might have come across in a recent quote about John Tavares and playing defense against the great Connor McDavid, but the words have gotten attention as the Toronto Maple Leafs get set to meet with Edmonton Oilers in a highly-anticipated matchup on Saturday night.
According to Sportsnet's Luke Fox, when Rielly was informed that Tavares described the challenge of facing McDavid as "exciting", Rielly responded, "He's never played defense." Clearly, the quote was meant to insinuate that life against McDavid is tougher when you're a blueliner and McDavid has the ability to embarrass you on a moment's notice, but fans are jumping on this a little bit, suggesting Rielly may regret having made those comments.
Let's put it out there now… chill out people, it was just a joke.
The Quote Is Being Taken Out of Context
Rielly knows firsthand how easy it is to be turned inside out by the most dynamic player in the game. He likely still wakes up in cold sweats every time he thinks about McDavid torching him in a game back in January 2020. It's a highlight for McDavid that will live on for the rest of his career, but a low point in Rielly's career. As such, his comments that Tavares might not know what it's like to be in his shoes are understandable.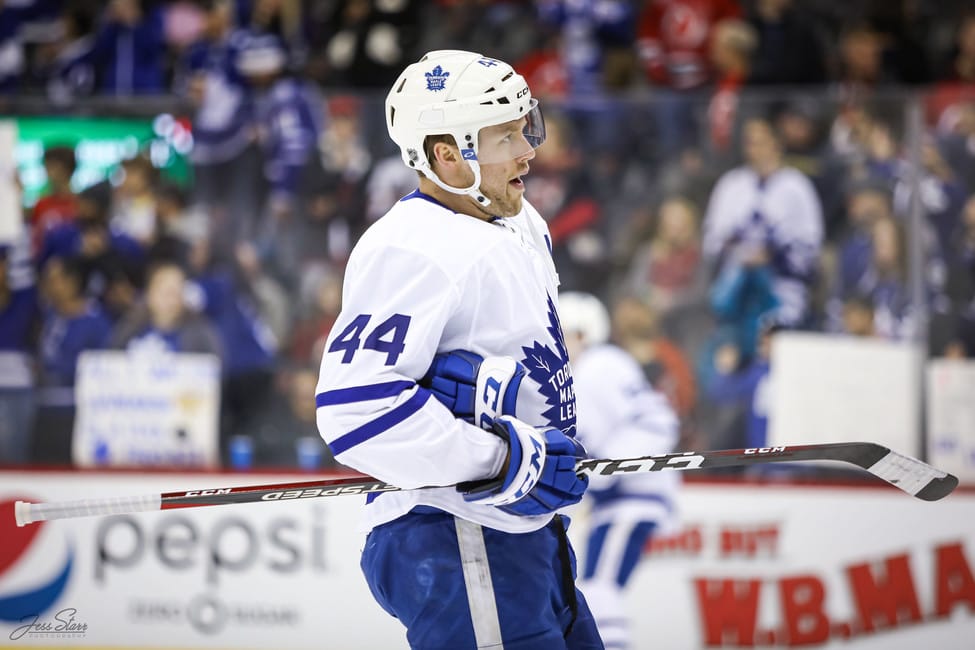 For some, the quote comes across as a bit of a back-handed shot at the team's captain, even if it's mean in jest. The reality is, you can't shut down the dynamic Connor McDavid. The best you can do is hope to contain him. So to suggest that players like Tavares — known mostly for their job to produce offense — can't know what it's like to try and slow McDavid's and his amazing offense is a bit ignorant. Sure, there isn't a defenseman that McDavid hasn't embarrassed, but he's left plenty of forwards in the dust too.
Rielly's Exact Quote Says a Lot More About McDavid Than Tavares
The part some fans are leaving out is the rest of Rielly's quote, one that is clearly meant to compliment McDavid and not take a shot at Tavares. Rielly said, "He's never played defence. Exciting isn't what I'd call it. (But) there is an element you enjoy watching as a guy who loves hockey. I enjoy watching highlights. It's impressive to see."
This isn't being said to suggest that Tavares doesn't play a 200-ft game or that he's leaving his defenseman out to dry. This is simply a comment meant to point out that McDavid is otherworldly and no matter what you do, you're bound to see him post a highlight reel move against you or your team. If you can separate yourself from the player who opposes him to the fan who gets to watch what he does, yes it is exciting.
The Leafs are going to have their hands full and Reilly knows it. Going into the game, the oddsmakers have the Maple Leafs as a slight favorite, but Edmonton handily defeated the Leafs by a score of 5-2 the last time these two teams played. McDavid had two goals and one assist in just over 21 minutes of ice time.
At Most, Rielly is Guilty of Bad Timing
If there's one reason to take a shot at Rielly for these comments it might be because the timing of them isn't ideal. Rielly has taken a bit of a hit in Toronto lately for his poor play. As one Twitter user wrote in the comments section, "Morgan Rielly is an expert in not playing defense. If anybody were to tell me that somebody never played defense, he'd be the most reputable source."
Just recently, Sportsnet's Nick Kypreos and Justin Bourne discussed what they saw as Rielly's underwhelming play and suggested it might be time to bench him to send a message. You can see the comments in the video below:
"Morgan Rielly is a star player who is struggling. If you want to make a statement, bench him," said Kypreos. Bourne added that regardless of how Rielly plays, he's always given over 20 minutes per night. They also played a clip of head coach Sheldon Keefe saying Rielly can be better, even though he backed his player. Kypreos argued Rielly's decision-making hasn't been strong all season long and reading the play hasn't been his strong suit.
Perhaps reading the room and the time to joke about McDavid burning him and his teammates might not have been ideal either. That doesn't mean he's wrong and it doesn't mean he's taking a shot at Tavares like some people might want to suggest.