Tonight, the Edmonton Oilers and the Toronto Maple Leafs come together for the second time in just over a week. The Oilers enter the game on a high after a comeback win over the Bruins in Boston. The Maple Leafs' last game was also an impressive comeback win in New Jersey against the Devils. Both teams will have some momentum heading into the game.
Related: United States & Canada Women's Olympic Hockey Rivalry Revisited
However, the Maple Leafs will be looking for a little revenge after losing to the Oilers last week in Edmonton. Tonight's game features two of the best players in the NHL when Connor McDavid and Auston Matthews go head to head.
The Oilers want to continue their strong play on the road, but the Maple Leafs are a tough opponent on home ice. The McDavid and Matthews match-up is always fun to watch. I expect both stars to bring their A-games.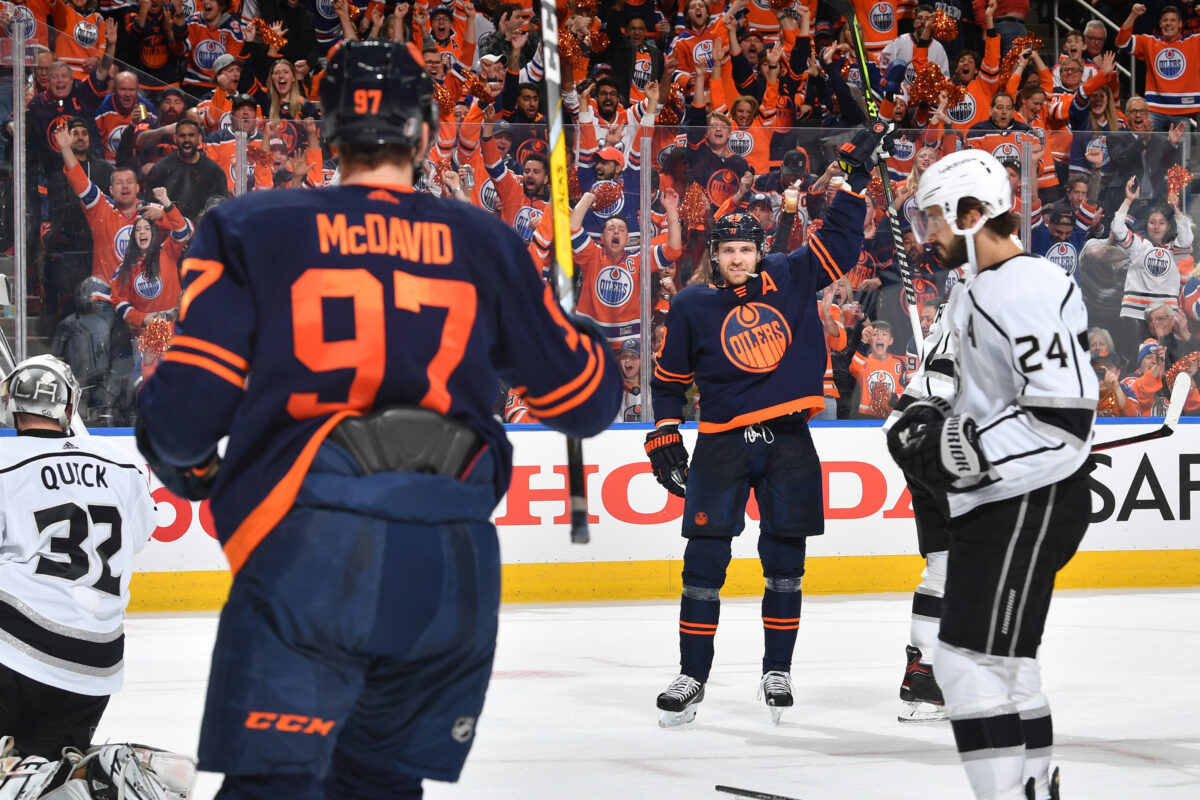 In this edition of Maple Leafs News & Rumors, I'll take a look at some of the news heading into this important game for both teams. The Maple Leafs' lineup will be interesting tonight.
Item One: Connor McDavid Is on a Huge Tear
One of the issues tonight is the health of Connor McDavid. During the Boston game, McDavid collided with teammate Derek Ryan and struggled to reach the bench. He did return at the very end of the game to help hold off the Bruins. 
Oilers' head coach Jay Woodcroft didn't see the incident but noted that McDavid felt good enough to finish the game. McDavid also practiced yesterday so it does look like he'll play tonight. The question is whether he'll be at 100 percent.
Related: Auston Matthews Is Better than Leon Draisaitl
At 100 percent, there's no one in the NHL like him. In my mind, he's the best player in the NHL today. His ability to score goals and make plays for his teammates is simply outstanding.
To put his point production in perspective, McDavid's current pace of 1.91 points per game puts him on track to potentially reach 160 points if he were to play a full 82-game season. That's almost two points per game, which is an incredibly difficult feat in the NHL. He's also been able to maintain that pace throughout the season. 
---
Latest News & Highlights
---
The last person to have that kind of a season would be the amazing Mario Lemieux, who scored 161 points during the 1995-96 season. McDavid is the driving force behind any success the Edmonton Oilers have had this season. The Oilers might not be the best team in the NHL, but they have the best player. 
There are holes in the Edmonton lineup, but don't count them out for a long postseason run. McDavid's talent and leadership could be a major factor for the Oilers moving forward. What an injured Leon Drasaitl did basically playing on one leg last postseason was inspiring.
Related: Maple Leafs' One That Got Away: Tuukka Rask
My dream postseason would be seeing the Maple Leafs and the Oilers in the Stanley Cup Final.
Item Two: Look for Matthews to Have a Big Game Tonight
Matthews has been having a "down" season in 2022-23. But it's important to note that his "down" season is still impressive by almost all other standards. On the season, injuries and all, Matthews has scored 29 goals and added 33 assists (for 62 points) in 57 games.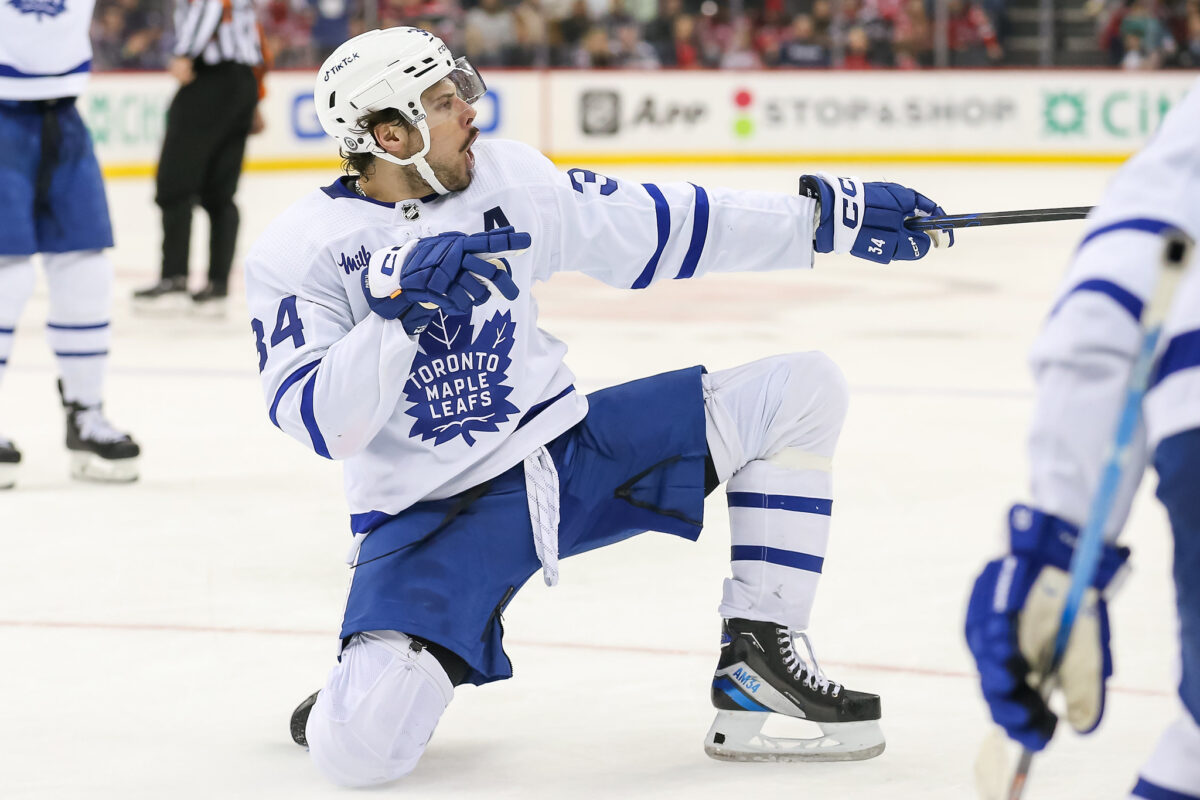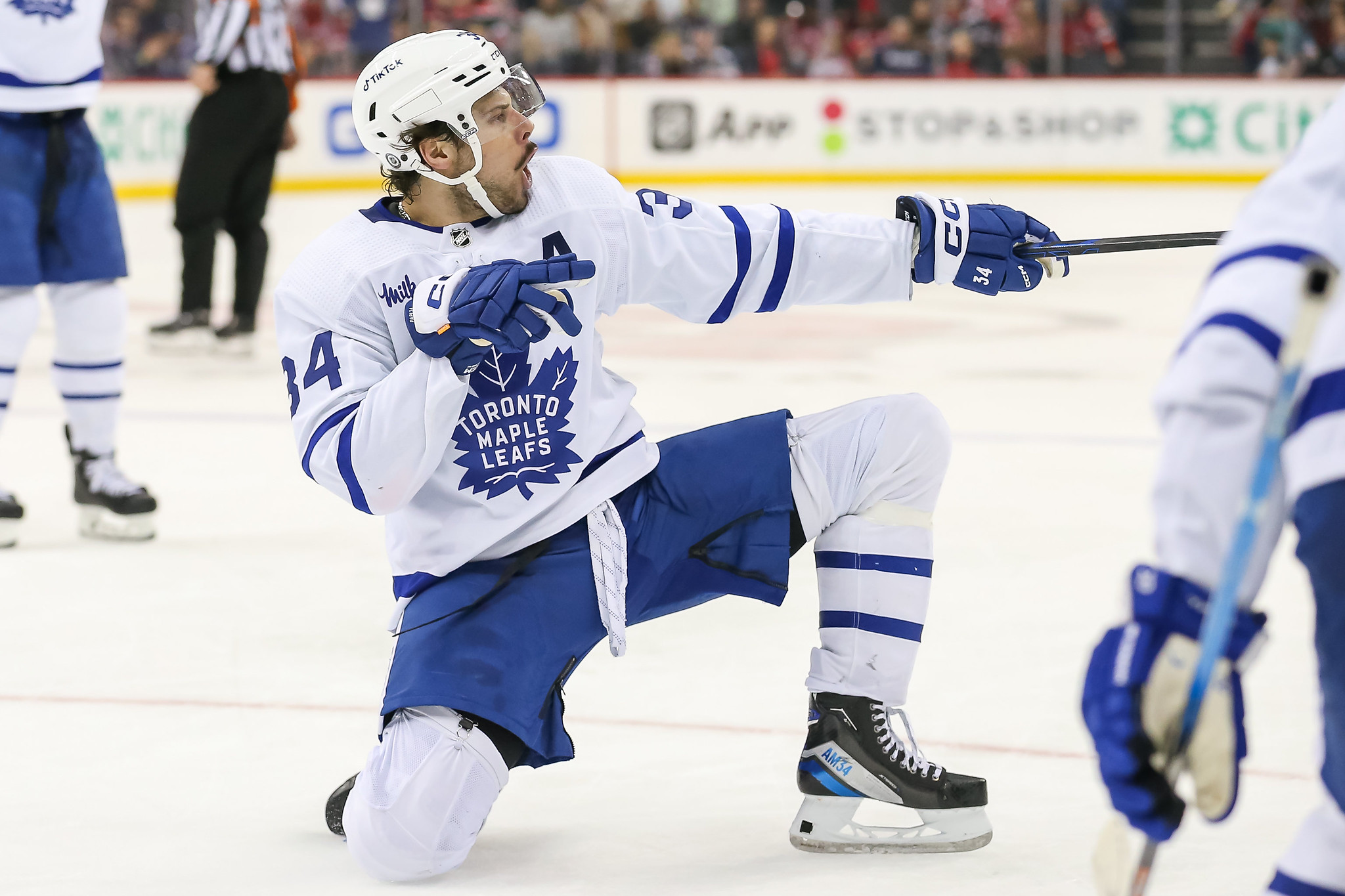 Interestingly, he's averaging less than 20 minutes (19:51) per game. He will not be close to the Rocket Richard Trophy this season — McDavid has that wrapped up. However, Matthews is still a major force on the ice. I'm looking for him to be a key contributor to the Maple Leafs' game tonight.
Item Three: Matt Murray Gets the Start Tonight Against Edmonton
Matt Murray will get the start tonight for the Maple Leafs. In his last start, Murray gave up four goals on 24 shots losing to the Vancouver Canucks. This is only his second start since Jan. 17, and during his last three games, he's given up four goals in each game. 
Related: Maple Leafs' Prospect Hildeby Rising Among Swedish Goalies
Murray's last strong start was a 2-1 win against the Nashville Predators on Jan. 11. He's been battling injuries all the season. On the season, Murray's record is 11-6-2, with a goals-against average of 2.80, and a save percentage of .908. There's no longer any doubt who the team's number one goalie is: Ilya Samsonov.
Item Four: Interesting Maple Leafs Lineup
The Maple Leafs' line combinations for practice yesterday were interesting. John Tavares skated and looks like he'll be able to play. It was unclear what his issue was that kept him out of the game. He did take some big hits in the Canucks' game but was also later diagnosed with an illness. The flu seemed to be spreading through the Maple Leafs' locker room. 
You may also like:
But it looks like the Maple Leafs' captain, with his 28 goals and 62 points this season, will be back in the lineup. That said, if practices are a direct indicator of what fans will see in the game, expect to see "something completely different" (as Monty Python's Flying Circus used to announce). 
The Maple Leafs line combinations for yesterday were the following:
| | | | |
| --- | --- | --- | --- |
| Forward Line | Left-Wing | Center | Right-Wing |
| First Line | Alex Kerfoot | Auston Matthews | Mitch Marner |
| Second Line | William Nylander | Sam Lafferty | Calle Jarnkrok |
| Third Line | Michael Bunting | John Tavares | Wayne Simmonds |
| Fourth Line | Zach Aston-Reese | David Kampf | Noel Acciari |
| | | |
| --- | --- | --- |
| Defensive Pairing | Left-Side | Right-Side |
| First Pairing | Jake McCabe | TJ Brodie |
| Second Pairing | Morgan Rielly | Erik Gustafsson |
| Third Pairing  | Mark Giordaon | Timothy Liljegren |
| Extras | Conor Timmins | Justin Holl |
What's Next for the Maple Leafs?
It will be interesting to see Wayne Simmonds in the lineup tonight. He was recalled from the Toronto Marlies and was practicing on the team's third line with Tavares and Bunting yesterday.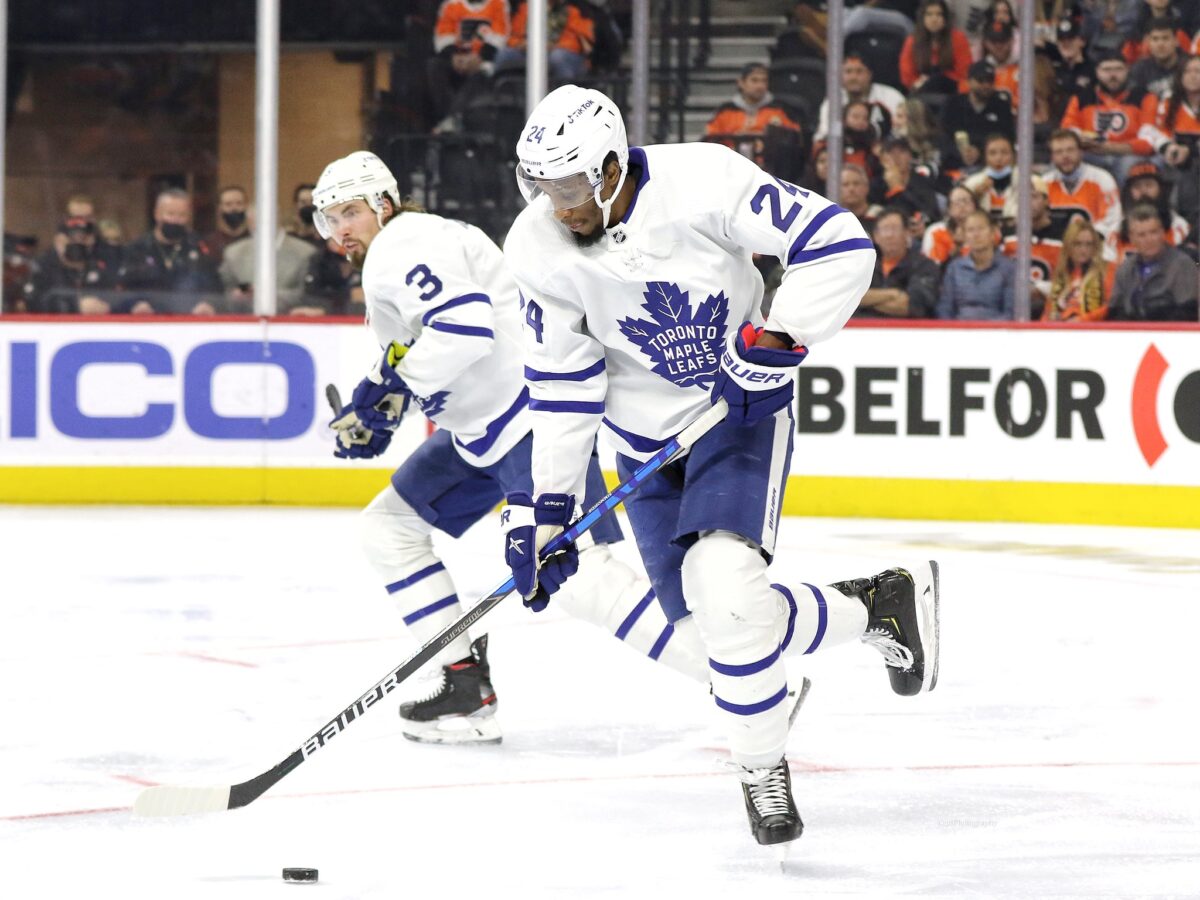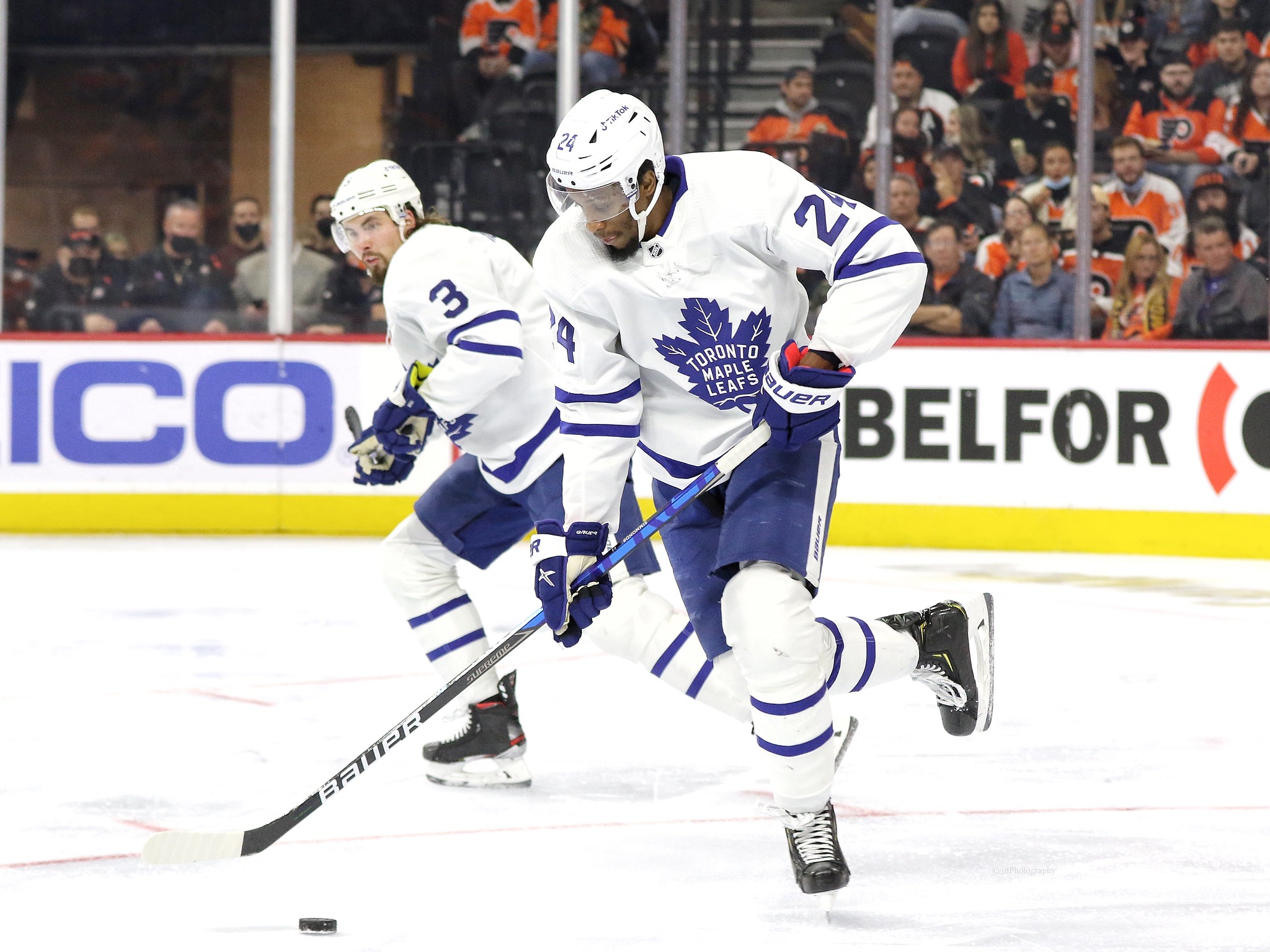 Simmonds has played 13 games for the Maple Leafs this season and has registered a single assist. Good luck to him.
---
---