As the Edmonton Oilers get back to full health and the playoffs approach, with every game being more and more important, there are a few players on this roster who will see their roles diminished. This isn't to suggest these are bad players; however, the roster is deep and the competition for jobs is healthy. There isn't room for everyone on a solid squad that could make a deep run.
Let's take a look at players who will play a smaller role with this team over the remainder of the season, but likely won't be going anywhere because they'll be needed at a moment's notice.
Jack Campbell Is Now the Backup
Stuart Skinner has won the starting job as Edmonton's goaltender this season. Not only has he had a solid campaign, but Jack Campbell hasn't helped his cause with his up-and-down play. Campbell has gone on more cold streaks than hot ones and the Oilers are at a point where they can't experiment to see if he can find his game in contests that are critical in the standings race.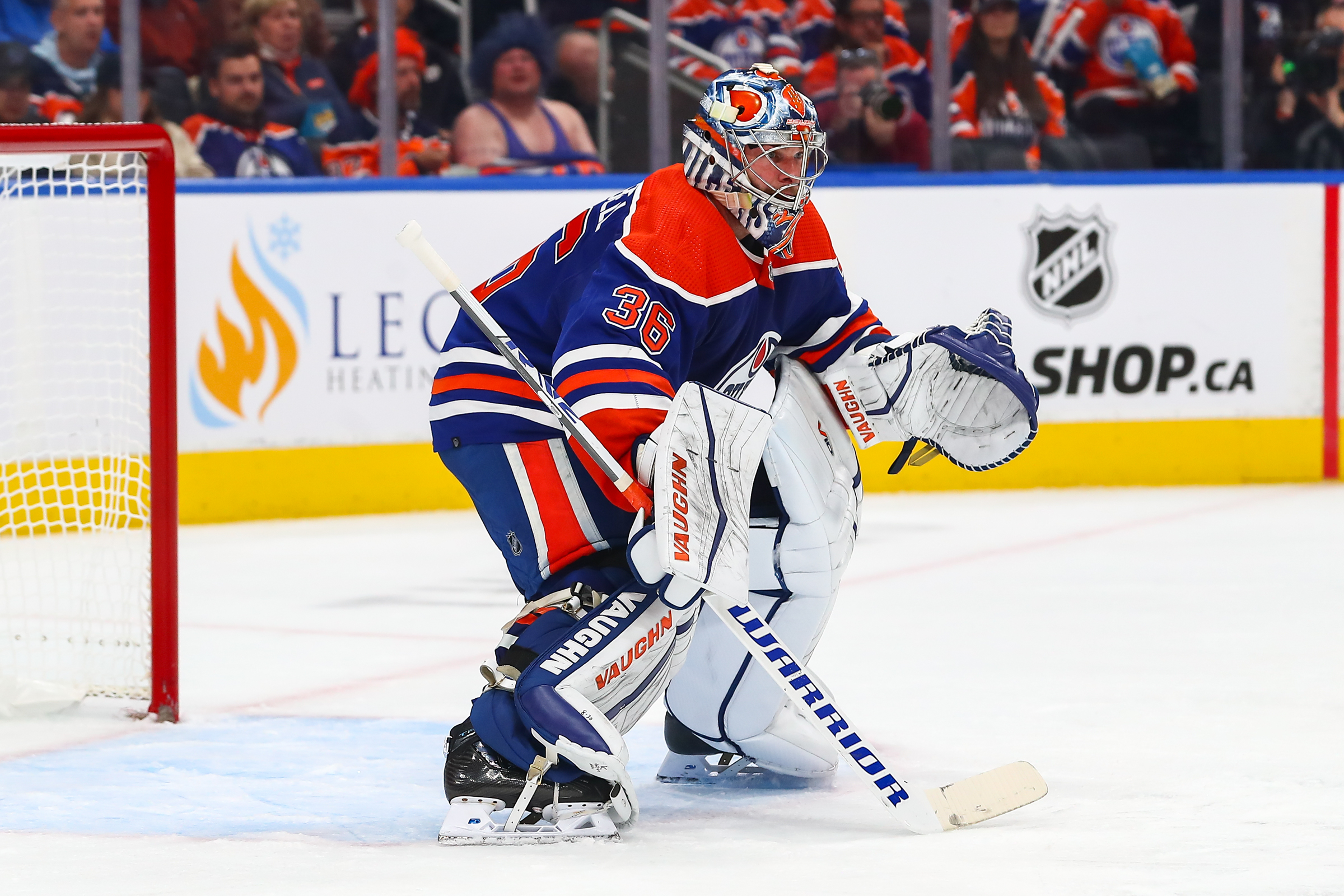 From here on in, Campbell likely gets the starts in each of the team's remaining back-to-back games, or against lesser opponents, especially if they can create a bit of a cushion towards the end of the season and their spot in the playoffs is locked in. Until that happens, this is Skinner's net to lose and the Oilers are hoping he doesn't give them a reason to make a change.
Philip Broberg Pushed Out by Ekholm and a 12-6 Deployment
Philip Broberg has had a solid season. His lack of playing time moving forward has nothing to do with how he's performed. That said, with the addition of Mattias Ekholm on the Oilers' left side and the faith the organization is showing in Vincent Desharnais as a shut-down defender and penalty killer, Broberg is on the outside looking in.
One injury could change things or if head coach Jay Woodcroft decides to run 11 forwards and seven defensemen, Broberg will slot back in. But, with a healthy Evander Kane and guys like Kilm Kostin sitting out because the team has too many viable options at forward, the chances of Woodcroft continuing to run 12-6 are high. The Oilers might not have the best top-four blue line in the NHL, but they are solid and deep enough that a player like Broberg isn't looking at guaranteed ice time. His inexperience is what's hurting him here.
Klim Kostin Needs To Shoot and Draw Penalties
One would think that Devin Shore would be the odd man out when it comes to the surplus of forwards on the Oilers roster that Woodcroft needs to choose between, but Shore understands his role with this team, he's played it well, and he's not given the coach a reason to take him out of the lineup. Meanwhile, Klim Kostin has been a bit more cold than hot since he was first called up to the main roster.
---
Latest News & Highlights
---
Kostin has the skill, whereas Shore has the undogged determination to forecheck, penalty kill, and grind. That is winning out right now and Kostin is going to need to seize an opportunity if he gets one over the next few games. Kostin needs to come into the lineup, bang bodies, and shoot. He needs to be willing to engage and make the simple plays, getting pucks to the net and producing on offense. If he's not putting up numbers or drawing penalties, he's likely going to be watching from the press box.
Dylan Holloway's Injury Was Bad Timing
Ken Holland says he's excited about the prospect of Dylan Holloway being healthy again for the postseason, but Holloway won't get back into the lineup unless an injury opens up a spot for him. He's had a decent rookie season, but he's shown the inconsistencies that come with learning the NHL and trying to keep up with the physicality and need to be consistent on a nightly basis.
Holloway has a ton of skill and he'll be a big part of the Oilers' future but this might not be his season to make an impact. He was sent down the AHL for a reason — the Oilers want him to play a lot and that just isn't going to happen with the main roster down the stretch.
You may also like: