Every year, countless thousands of young hockey players work insanely hard in the hopes of getting drafted into the National Hockey League. Every year, only about 200 of these young men get drafted. And so, many of those not drafted give up their NHL dreams and go on to do other things.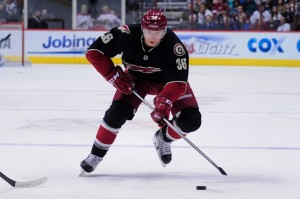 Rob Klinkhammer is one individual who refused to give up.
A product of Lethbridge, Alberta – a stone's throw from Calgary – Klinkhammer spent his junior career in the Western Hockey League, primarily playing for his hometown Lethbridge Hurricanes. He bounced around the league during his 19 and 20-year-old seasons, though, also suiting up for the Seattle Thunderbirds, Portland Winterhawks and Brandon Wheat Kings. Klinkhammer never posted amazing scoring numbers in the Dub, and so went undrafted by any NHL clubs.
Undettered, Klinkhammer soldiered on. He signed an American Hockey League deal with the Norfolk Admirals, then Tampa Bay's top affiliate, and suited up for 66 of the team's 80 games (notching 24 points). That season earned him another AHL contract, this time with the Rockford Ice Hogs – Chicago's farm team. He played in 76 games, amassed 33 points and impressed enough to dress in all four of Rockford's playoff contests.
"It's tough," said Klinkhammer of his bumpy road to the NHL. "You're in the minors. My first couple years I wasn't even on NHL deals. I was on AHL/East Coast two-ways. It's tough, but I think positivity goes a long way in this game. Not just in this game, but in life. If you're positive I think good things to come to you. Negativity will eat you alive. You've just got to keep the right mind and keep working at it."
Klinkhammer's efforts over the 2008-09 campaign earned him his first NHL contract, a two-year pact with the Ice Hogs' parent, the Chicago Blackhawks. When asked to describe his game, he characterized himself as a bit of a late-bloomer, albeit a hard-working one.
"I think it was kind-of fine-tuning my game," said Klinkhammer. "I was never a highly skilled guy or a high offense guy, just kind of a reliable guy, a worker. Just make smart plays, put the puck in the net when you get a chance, just kinda have a smart, hard-working game. The more I played pro the more I got to work on that, and like I said before, fine-tune it. My game's coming along now."
With just over a half-a-point per game in offensive production over 230 WHL and 396 AHL games, Rob Klinkhammer isn't the likeliest candidate for a National Hockey League gig. The fact that he's not known as a fighter – HockeyFights.com doesn't even have a listing for him – makes his NHL employment even more of a long-shot. But after a brief stop in the Ottawa Senators organization and a productive season split between the Phoenix Coyotes and their AHL affiliate, the Portland Pirates, he's carved out a place for himself in the Coyotes' bottom six. With a one-way NHL contract that runs through next season in his back pocket, he's a hopeful example to anybody that doesn't get snatched up in the NHL Draft.
"Obviously the majority of kids aren't drafted," he said. "I think it's good to have a real-life example, you know, [that] a couple players have [made the NHL]. I'm the same way, never been drafted or anything. It's a battle, but I think it's nice to have an example to have something to work for."
Ryan Pike has covered the Calgary Flames and the NHL Draft extensively since 2010 as a Senior Writer for The Hockey Writers and Senior Contributing Editor of FlamesNation.ca. A member of the Professional Hockey Writers Association, he lives in Calgary.