NHL snipers come in all shapes and sizes, and they come from all over the world. Just about every team has one and throughout the history of the game we have seen some of the best to ever play the sport. The New Jersey Devils had traded for one in Ilya Kovalchuk a few years back, but we all know how that story ends. This offseason they added another one during free agency and Michael Ryder, in the first year of a two-year deal with the Devils, has provided not only goals (16 — tied for the team lead), but also timely goals. "I know they brought me here to help out offensively and if I don't score I want to try and create things — pass the puck, create chances for my linemates," he said. "If we're playing well as a line and getting opportunities to score goals, that's the main thing."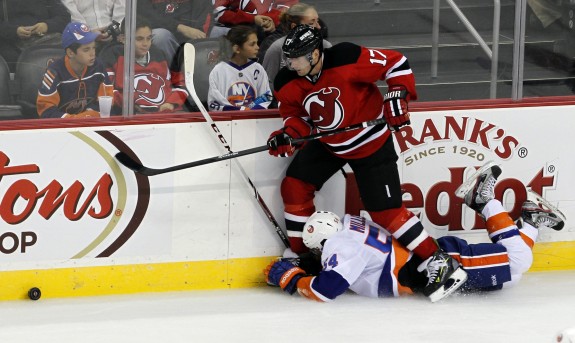 The best snipers know how to find the "soft spot" or open spots on the ice and Ryder is no different in that regard than say Brett Hull or Alexander Mogilny. "He's got a great release; he's so strong through the forearms," said New Jersey coach Peter DeBoer when asked what makes Ryder so good at his craft. "You look at the guys over the history of the game with a great shot; it's a strength thing. He can not only shoot on his forehand, he can shoot against his body, the way he changes angles it makes it hard for the goalies to pick it up. He's a goal-scorer."
Like all talented goal scorers, Ryder is a streaky player and can score a goal in four straight games after not netting one in any of the previous twelve games. "The pucks are going in for me right now, I went through a little stretch there where they weren't going in," the 33-year-old told the Hockey Writers after a 1-0 win in which he had the game's only tally. "I just stuck with it, kept shooting and eventually found the back of the net. They are going in for me right now and I'm just glad we got the win tonight; it's a big two points for us and we needed that."
Confidence is maybe the most overlooked aspect of a hockey player to the fans that often wonder why a guy hasn't scored in a week or three or two months. Ryder admitted to us that even he isn't immune to the Jedi Mind Tricks that a hockey player goes through during an 82-game season. "When you don't score for a while you kind of think about it and you try not to do that; its hard not to, you just want to try and do the right things on the ice and help the team in other ways. When things go well you just have to go with it, keep working hard and do what I can to help my team."
Michael Ryder talks to the media after a 1-0 win over the Dallas Stars:
Once an adversary of Ryder's, Cory Schneider is now his teammate and happy that he only has to face the Newfoundland native in practice rather than games. "He doesn't need much room; he gets it and pops it real quick. He doesn't need to wind it up or have nobody within ten feet of him," said the Devils goalie. "He can get it in tight areas and it's off his stick in a hurry; it makes his shot really hard to pick up and he puts it in places that are inside the post, under the crossbar — it's not like he's hitting guys in the chest very often. He's got a very accurate shot."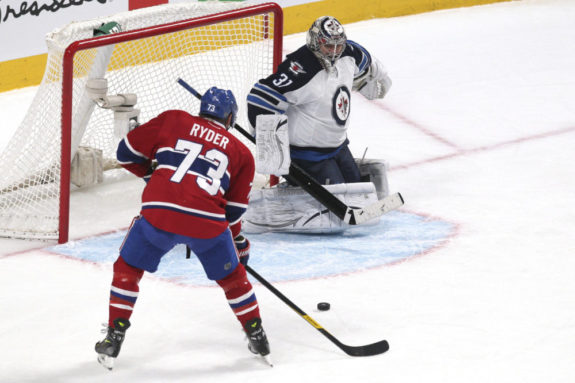 Ryder often downplays his talents as he did after that game against Dallas: "I just try to find those areas where you can get a pass, find a little soft area I guess." Like almost every hockey player, he is selfless and also often diverts the credit to whomever passed him the puck when asked about how the goals happen. "I was just trying to find a little area where I could get open and Travis made a great pass to me," he said after his goal against Dallas. "I just wanted to shoot it as quick as I can, to the far side, and it managed to go in."
Michael Ryder finds an open spot in the slot and snaps a shot past Kari Lehtonen:
It's amazing how many times a goal scorer with his reputation and pedigree finds himself so alone on the ice at times. Crucial times. Like when he tied a game against the Philadelphia Flyers with under a minute to play and the Devils were shorthanded. "I just try and get ready to shoot as soon as the puck is on my stick; I just try to shoot it as quick as I can and get it off before the D gets close," he explained. "Whatever shot it is, I don't want to think about it, I just want to get it off quick and surprise the goalie."
Michael Ryder finds himself all alone on the side of the net to tie the game in the final minute of play:
Since this writer started watching hockey, no one comes close to being as lethal of a sniper that Brett Hull was. There may be a few players that come close, but only close; and Hull did it during an era of the game where there was a lot more hooking, clutching, grabbing, and cross-checking allowed. Ryder isn't on that level at all, and he likely hasn't ever been the best sniper in the league at any point during his career, but that doesn't mean that he isn't a highly effective player who can provide some instant and timely offense for the Devils. Another bonus is that Ryder has been on a championship team and can instill some of that experience on some of his younger teammates who are very green and inexperienced.
Here's a little Brett Hull compilation for you youngins out there who didn't see him play:
Dan Rice can be reached via Twitter: @DRdiabloTHW or via Email: drdiablo321@yahoo.com
Dan Rice is in his 9th year of reporting for THW & has covered NJ Devils home games for 15+ years at various websites. He began his journey working for legendary broadcaster/writer Stan Fischler from 2002-04 & completed an internship at the ECHL; he also has been writing features for the NWHL (nwhl.zone) website since 2016.