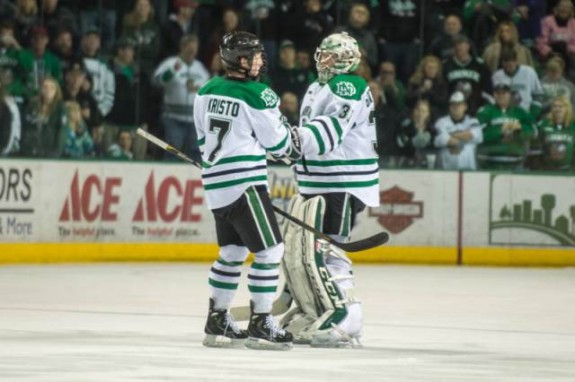 Nothing has come easy for the University of North Dakota Hockey team this season. Keeping with this season's theme, the UND hockey team will experience some more adversity.   UND will take on the University of Denver in an important two-game conference series, minus one of their best players.
Yesterday, sophomore goalie Zane Gothberg was injured in practice and will be out indefinitely.   Gothberg has a lower-body injury, and he's not practicing with the team.
"Zane (Gothberg) is going to be out indefinitely with a lower-body injury that he sustained yesterday in practice," Hakstol said. "I won't make any more comments or have any updates for one to two weeks."
Ouch!
Gothberg has been very solid this season and has racked up some pretty good numbers.  During the nine-game unbeaten streak, Gothberg has started all nine games, he is 8-0-1 with a 1.76 GAA and a .923 save percentage.
For the season, Gothberg is 10-5-3 with a 2.20 GAA and a .916 save percentage. The sophomore goalie is third in the NCHC in wins, fourth in the NCHC in save percentage, and third in the NCHC for goals against average. His presence will be missed by the UND hockey team, no doubt.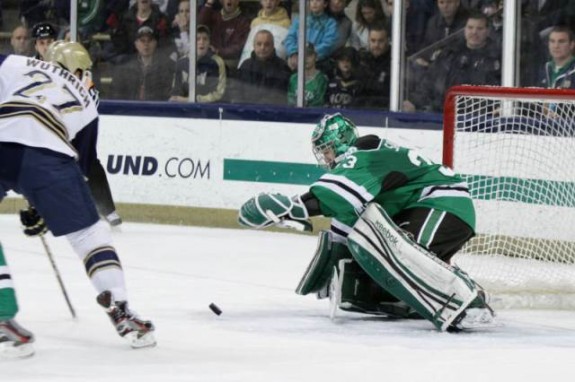 Enter senior goalie Clarke Saunders
Insert senior goalie Clarke Saunders, who has a 2-2-0 record with a 3.60 GAA and a .900 save percentage. Saunders has been up-and-down this season, getting pulled in two-of-six games that he started (pulled against Vermont, Minnesota-Duluth).  Saunders did have a two-game stretch in November where he won back-to-back games before he was relegated to the bench as the backup goalie.
Saunders last started on November 29, 2013, when UND lost at home to Saint Lawrence Saints 5-2. Going forward, this start is about redemption for Saunders and it might be his last chance to prove himself before UND decides on a starter for the stretch run, barring any more injuries.
No matter who's in net for UND, the message is clear, UND has 12 games remaining. UND will probably need at least an 8-4 record to make the NCAA tourney as an at large bid. Unless they win the NCHC tourney.
"Now, he's going to have to get back to game speed real quick," Hakstol said. "Clarke went through some real ups and downs just before Christmas in his performance in practice. The bright side of that he's practiced extremely well over the last few weeks."
"He's back. He's settled. He's been competing. He's been very good in practice. He's going to have to transition that to game action. Our guys are going to have to work hard in front of him, and he's got to work hard for them. I think that will happen."
The challenge has been set. UND knows what it has to do going forward, no matter who's in net for the Green and White.
Eric is a 1996, 1999 graduate of the University of North Dakota. Eric covers the University of North Dakota Hockey and Division I college hockey. Eric is the Contributing Editor for Inside Hockey.