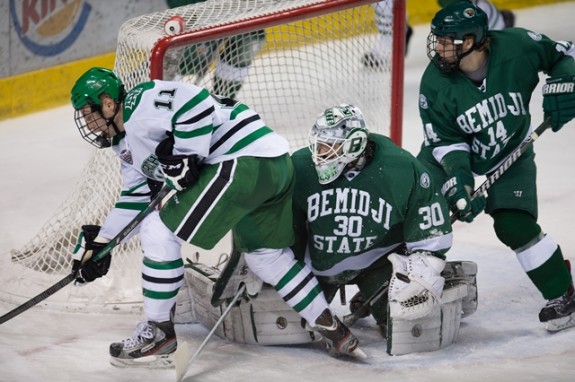 This past weekend, the University of North Dakota squared off against the Bemidji State Beavers in a two-game non-conference series. UND went 1-0-1 against the Beavers and finished their non-conference play with a 5-2-3 record. UND will now turn its focus to NCHC conference play. Currently, UND is sitting at 19th in the Pairwise Ranking and needs to get in the top 13 of the Pairwise Rankings to be assured an at-large bid to the NCAA tourney.
Adam Walsh saves the Beavers from defeat 
I know fans don't like to hear about it, but you can cue the hot goalie reference. Seriously, you have to give credit where credit is due. Junior goalie Adam Walsh was very good on Friday night. UND bombed the net with shots and Walsh stood on his head. There's no other way you can describe it. UND outplayed the Beavers in every aspect of Friday's game; they did everything right but score goals.
If you don't believe me, all you have to do is look at the box score. You will see that the shots were very lopsided, UND outshot BSU 43-15. UND threw a barrage of pucks at the Beavers net, but UND was unable to get more than one goal past Walsh. It just wasn't meant to be. The junior goaltender from Dawson Creek, B.C. stood his ground stopping 42-of-43 shots. It was one of those games where you had to tip your hat to the goaltender. That's hockey.
Walsh unlikely starter
If Beavers freshman goalie Jesse Wilkins hadn't been hurt, Walsh wouldn't have been the starter this weekend. Currently, Wilkins is suffering from a groin injury and was unable to go. The Beavers coaching staff inserted Adam Walsh in his place, and the junior goalie didn't disappoint.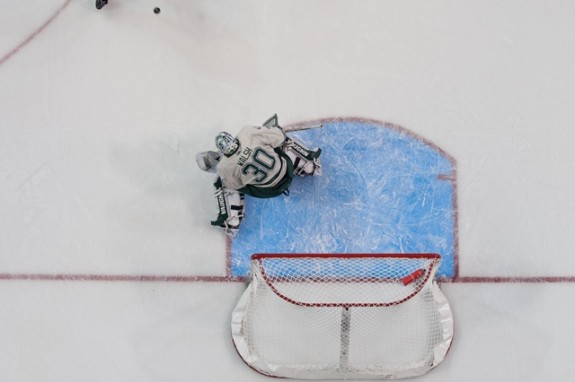 Friday postgame
After the game, Bemidji State head coach Tom Serratore seemed pleased with his team's effort against UND.
"We were on our heels," Serratore said. "They played with great pace. Our puck management wasn't very good in that first period and we allowed them to play a 200-foot game."
"That's not want you want them to do. You have to play a half-court game with them. You have to manage the puck and possess the puck down low. The first period we neglected to do that."
On the flip side, UND head coach Dave Hakstol wasn't satisfied with the tie.
"You can always do a little more," Hakstol said. "We played well. We played hard for 60 minutes. We've got to, somewhere along the way, find a way to make one more play in a game like tonight."
"We have to be a little better. We have to have a lot of the same, but a little bit better. We're playing for a series (win). That's what's left on the table for us. We have to play a little bit better hockey game."
UND extends unbeaten streak to nine games
The University of North Dakota entered Saturday's game riding an eight-game unbeaten streak and with the 4-2 win, UND has now won 8-of-9 games. During the streak, UND  hasn't given up more than three goals in any of the games. UND has been very stingy on defense, giving up an average of 1.77 goals per game.
UND's goaltending has been rock solid as well. Sophomore goalie Zane Gothberg has started all nine games during UND's unbeaten streak. Gothberg has been nothing short of amazing, posting an 8-0-1 record, with an impressive 1.76 goals against average and a .923 save percentage.
Also during the streak, UND has received balanced scoring from their forward lines. Tonight, players not normally known for their scoring prowess chipped in goals for UND.
Saturday night junior forward Andrew Panzarella scored the first goal of his UND career.
It feels definitely good," Panzarella said. "It's a long time coming. So, I don't know, it couldn't have been any easier. I was just driving to the net and Mark (MacMillan) put in on my tape, I don't think I even moved my stick."
Saturday postgame
The Beavers head coach Tom Serratore seemed a bit disappointed with the loss, but took it in stride.
"We just couldn't get into a rhythm," Serratore said. "They had a lot of offensive zone play. That was tough because we were down after one. They definitely won the time of possession battle. We just couldn't get into a rhythm."
"I think the biggest thing at this time of year is that you want to try to get better every game," Serratore said. "We got a tie last night and came in here optimistic. You want to come in this building, which is a very, very difficult building to play in, but you want to respond. I thought there were some bright spots, but at the end of the day, we lost."
UND head coach Dave Hakstol seemed pleased with his team's win against the Beavers.
"We got a couple that found a hole early," Hakstol said. "I think that was important. We put a lot of pucks to the net and this time we had something to show for it."
The Rodwell file
One of the reoccurring storylines has been the play of forward Derek Rodwell. When Rodwell in the lineup, UND has an impressive record of 10-2-1, without him, UND is 2-5-2. The senior forward's efforts haven't gone unnoticed by the UND head coach Dave Hakstol.
"Derek played extremely well and there was chemistry there," Hakstol said. "And that's not just been this weekend. Those guys have been very good together over the last couple of months. Rods is playing very well right now."
"We put him in, and we couldn't take him out," Hakstol said. "That's a credit to him. That's great mental toughness to stick with it. He's a great role model for our guys in the program, and how he's handled the tough times, he's taken advantage of the opportunities in front of him."
The forward line of Stephane Pattyn, Connor Gaarder and Rodwell has been miserable to play against. It's also been their badge of honor. Tonight, their hard work was rewarded with a couple of goals by Rodwell and Gaarder.
"I think it's kind of starting from baseline things," Rodwell said. "We're kind of going out there and doing the same thing every day, going hard to the net, working (hard). They're starting to go in for us now. We know going to the net the bounces are going to come and they kind of been coming for us lately."
Points of interest
Now for the good news: UND hasn't lost in nine games.  With the tie, UND is (11-7-3, 7-5-0 NCHC). On the other end of the ice, the tie leaves Bemidji State Beavers with a record of (7-11-7, 7-7-4 WCHA). The Beavers now have seven ties on the season.
Next weekend, UND travels to Denver, Colorado to play the University of Denver in an important two-game conference series, game time is at 7:37 Mountain Time.
Since returning from injury, UND forward Mark MacMillan has (2g-2a—4pts) in four games and is a +5. Before the injury, MacMillan had (3g-2a—5pts) and was a -8 in 14 games.
UND has been stingy on defense, giving up an average of 23 shots per game during the nine-game unbeaten streak. Before the streak, UND was giving up an average of 33 shots per game.
UND goalie Zane Gothberg (10-5-3, 2.20 GAA and a .916 save percentage) is third in the NCHC in wins, fourth in the NCHC in save percentage, and third in the NCHC in goals against average.
Eric is a 1996, 1999 graduate of the University of North Dakota. Eric covers the University of North Dakota Hockey and Division I college hockey. Eric is the Contributing Editor for Inside Hockey.