The Buffalo Sabres were set when it came to the goaltending position for nine years from 2005 to 2014, as Ryan Miller guarded the net. Prior to that, Dominik Hasek was the staple in goal for the Sabres from 1992 to 2001 – coincidentally a nine-year stretch as well. On Feb. 28, 2014 the search for the next goaltender of the organization's future began. Miller was traded to the St. Louis Blues just days before the trade deadline, and an era of Sabres hockey came to an end.
Since that day we've seen names like Michal Neuvirth, Jhonas Enroth, Anders Lindback, Matt Hackett, Nathan Lieuwan and Chad Johnson step between the pipes for the blue and gold. Finally, this year, thanks in part to an injury last season, Robin Lehner stepped in the crease as the club's true number-one goaltender. The 25-year old was taking his first crack at being a legitimate starting goaltender.
Unfair Criticism
While the Sabres struggled in the first half of the season, many issues stood out like a sore thumb. However, one topic that shouldn't have been a primary talking point always seemed to come up: goaltending. Night in and night out it felt like that the play of the goalie was what fans and media wanted to discuss.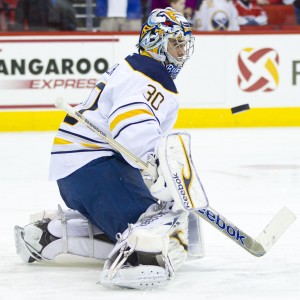 Lehner had a lot of pressure out of the gate. He was held to a high standard in his attempt to replace a franchise goaltender in Ryan Miller, a player a lot of fans had an excellent connection with as the face of the team. It's important to remember that Lehner is still a very young keeper who's still learning how to become the go-to guy. Remember back to when Miller first came into the league. In his first 18 NHL games, Miller won only six games and had a .886 save percentage with a 3.05 goals-against average. Goaltenders usually hit their prime years between the ages of 26 and 28.
Lehner has played 138 games throughout his young career, but never more than 36 in a season, which was back in 2013. As a second-round pick of the Ottawa Senators in 2009, he was juggled between the NHL and AHL as he went through his development. Being familiar with Lehner from his time in Ottawa, general manager Tim Murray made the move at the 2015 NHL Draft to acquire the big Swede to be his number-one goalie.
The unfortunate part for Lehner would be the price that Murray had to pay in order to bring him to Buffalo. The Sabres parted with the 21st overall pick in the 2015 draft and took on the contract of David Legwand in the deal. Unfairly, Lehner has been connected to that first-round tag ever since coming over and is being held to that type of standard.
Impressive Numbers
Lehner's Sabres career didn't exactly start out as well as he would have hoped. He struggled through his first preseason and suffered a high ankle sprain one period into his regular season debut. The injury caused him to miss all but 21 games of the 2015-16 season. However, in those 21 games, Lehner played very well while dealing with the lingering effects of the ankle issue. He posted a .924 save percentage, which was good enough for fourth-best in the league among goalies who played at least 20 games.
Again this season he's done the job for the team. He put the work in during the offseason and came into training camp leaner, which resulted in an improvement in his lateral quickness in the net. He's also managed to stay healthy thus far and is showing the ability to handle the requirements of being a number-one. Entering the All-Star break, Lehner ranks 12th in the league in save percentage among players who have appeared in at least 20 games, with a .920 mark. That puts him ahead of big name goaltenders like Tuukka Rask, Cory Schneider, Henrik Lundqvist and Corey Crawford. His 2.57 goals-against average ranks him 20th in the league right now, which is slightly below average, but again better than guys like Crawford, Lundqvist and Ben Bishop.
Lehner is not part of any reason why the Sabres started slow out of the gate. He kept his team in the game most nights but wasn't getting the goal support needed to win hockey games. In the month of November they scored more than two goals in a game only twice all month. Since Jack Eichel's return, the scoring has increased, but that was the type of goal support not only Lehner, but Anders Nilsson was getting on a consistent basis.
In today's NHL you don't need the best goaltender in the league to win a Stanley Cup. If you have one that is just above average and gets hot during the playoffs, that can be good enough to get you to the promised land. Look at the previous three Cup-winning goalies; Matt Murray, Crawford (twice) and Jonathan Quick. The only player most people would consider "elite" is Quick and he's been known to struggle at times over the last few years.
The fan base in Buffalo may have been spoiled with the past performances of Miller and Hasek. Lehner will not get to the level of Hasek and not many ever will. He'll also possibly never get to the level of Miller in his top years. With that being said, Lehner is only 25-years old and has been above average in his brief history in Buffalo. He still has the potential to move into the discussion of a top-10 goaltender in the league on an annual basis.
Chad DeDominicis was born and raised in Buffalo, NY. Chad is currently a Buffalo Sabres contributor for The Hockey Writers. He is an avid sports fan and is passionate about the game of hockey. Chad works hard to share creative and quality content with his readers.