Being an ace penalty killer might be the most thankless job in hockey. When you spend a few minutes of each hockey game hemmed in your own zone, the best way to get noticed is just to not get scored on.
Most of the première hockey players in this game get noticed for their offensive flair. Connor McDavid, Sidney Crosby, and Alex Ovechkin are all lauded for their ability to get quality scoring chances. However, each team needs a solid defensive player for every bona-fide offensive star.
What Makes a Great Penalty Kill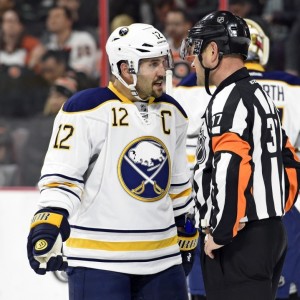 Factors that go into determining the best penalty killers in the league are similar to determining what make a great even-strength player. Possession stats are vital, with an emphasis on the ability to limit shot attempts and scoring chances. There are some penalty killers who are able to generate scoring chances at an above-average rate while shorthanded, but they still give up a ton of chances.
Take J.T. Miller of the New York Rangers. He has accumulated 7.9 scoring chances per 60 minutes while shorthanded, which is second-best in the league. However, his 30.7 scoring chances against per 60 ranks 14th-worst among the 278 players who have played more than 50 minutes on the penalty kill this season.
Limiting shot attempts and scoring chances is a pretty obvious way to have a successful penalty kill. Brian Gionta, Rasmus Ristolainen, and Josh Gorges all rank in the bottom three for shot attempts against shorthanded per 60 minutes, with Ryan O'Reilly not too far behind in seventh. Gionta is also in the bottom 10 for scoring chances against, with Ristolainen also in the bottom 20. That's one of the main reasons why the Buffalo Sabres have a league-worst 73% penalty kill.
The #Buffalo #Sabres have a dreadful penalty kill. Just one of the reasons they are last in the East.

— Curt Olson (@olson_curt) January 21, 2017
Killing it Off for Dummies
A player's time spent on the penalty kill is the glaring obstacle in trying to figure out which penalty killers stand out among the rest. This is because for the most part, players with higher ice time have worse numbers on the penalty kill. Many of the top statistical players in each category barely crossed the threshold of 50 minutes played shorthanded. This was likely because they face a weaker power play unit compared to the rest of the forwards on their team.
Analyzing players who have spent more than 50 minutes shorthanded means that for the most part, four defencemen and four to six penalty killer forwards on each team are accounted for. These include players such as Jaden Schwartz and Austin Czarnik, who rank near the top in CA60, SCA60 and xGF%. However, they have the lowest penalty killing time among all forwards on their teams, so they weren't listed as the best penalty killers.
Here are some of the key statistics and league averages for players who have played more than 50 minutes shorthanded.
Corsi Against per 60 minutes (CA60)
90.03
Corsi Percentage (CF%)
11.87%
Scoring Chances Against per 60 minutes (SCA60)
21.32
Expected Goals Against (xGA60)
5.96

 

Actual Goals Against per 60 minutes (GA60)
5.68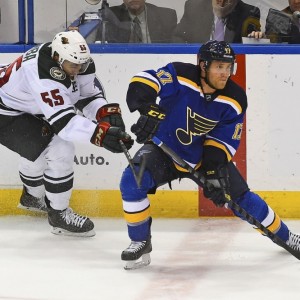 Corsi percentage is the least important statistic here, since the emphasis for penalty killers should be placed on preventing shot attempts. That leaves us with four main statistics, which can both be joined to get a clearer picture of strong penalty killers.
Combining Corsi Against and Scoring Chances Against per 60 minutes (CA/SCA60) puts an equal emphasis on shot attempts and quality shot attempts that get through to a goaltender. The league average for CA/SCA60 would be 55.7.
Although actual goals against represents a real-life total, expected goals against might be a better representation of how many goals a player is likely to let in while he is on the ice. Expected goals against is related to shot quality, and what kind of quality shots a player lets on net while he is on the ice. Both stats have their merit, so combining them balances out how many goals a player lets in while he is on the ice and how many goals he should let in on average. The league average of 5.82 for GA/xGA60 doesn't represent a large difference between the two different totals, but it can vary from player to player.
This was part of the imperfect science put into figuring out this season's best penalty killers. As mentioned, time on ice was also a factor. Only players who averaged more than 1:30 of shorthanded ice time per game were included for this piece. That includes 238 players total (111 forwards, 127 defencemen). If players were close in statistics, the nod was given to the player with more ice time. A team's rank on the penalty kill was also given some merit for this article.
Best Shorthanded Forwards
Since most teams use three different penalty killing units with two forwards on each unit, six different forwards were chosen. Think of it as an All-Star team with the league's best penalty killers this season.
Strong penalty kill. 💪

— Florida Panthers (@FlaPanthers) January 24, 2017
Reilly Smith
CA/SCA60: 41.96 (Third among forwards) GA/xGA60: 5.29 (27th among forwards)
Out of all forwards who are among the top penalty killers on their team, Reilly Smith is the best at suppressing shot attempts and scoring chances while shorthanded. Only Wayne Simmonds and Tyler Toffoli rank ahead of him, but neither of those players consistently faces a top power play unit.
Only teammate Aleksander Barkov ranks ahead of Smith in terms of Corsi Against per 60, but Barkov was part of the Panthers' de facto third penalty killing unit before he got injured. Smith's value to the Panthers is tremendous this season, especially with injuries to Barkov and Jonathan Huberdeau. His expected goals against per 60 is sixth among eligible forwards, but his below average total for actual goals against brings down his GA/xGA60 total.
Vincent Trocheck
CA/SCA60: 49.05 (14th among forwards) GA/xGA60: 5.31 (29th among forwards)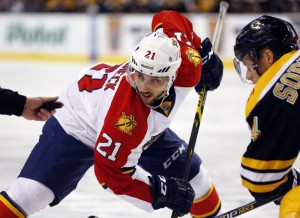 Smith's partner, Vincent Trocheck, also makes it on this list of première penalty killers. Both players are partners on the penalty kill, so their success goes together. Trocheck is the Panthers' leader among forwards on the penalty kill, proving that his All-Star status comes from his work at both ends of the ice.
The Panthers' penalty killers all do well in terms of advanced stats. As a team, they allow the fewest Corsi attempts per 60 minutes. Trocheck and Smith are leading that charge as the top penalty killers on the team. There are some players ahead of Trocheck statistically, but in terms of players who are team leaders on the penalty kill, Trocheck ranks among the best.
Michael Frolik
CA/SCA60: 50.27 (16th among forwards) GA/xGA60: 5.54 (40th among forwards)
Michael Frolik is a prototypical 200-foot player who can contribute offensively to his team. He's averaged more than 40 points a year for the last three seasons, and he's on pace for a similar total this year. His contributions on the penalty kill also cannot be ignored. His possession statistics rank among the best in the league for forwards who lead their team in ice time on the penalty kill.
Frolik is also one of the best in the league in terms of creating chances shorthanded. He is sixth overall among forwards with 20.82 Corsi For per 60 minutes. Some players in the league are good at creating chances shorthanded, but are not élite and stopping shot attempts. Frolik excels at both for the Flames.
Mikael Backlund
CA/SCA60: 50.56 (18th among forwards) GA/xGA60: 5.42 (34th among forwards)
http://gty.im/626404122
Mikael Backlund isn't just the Flames' best defensive player, but he's arguably been one of their most consistent players all season. He and Frolik have spent almost every second together on the penalty kill, making their statistics almost identical.
These two players have helped the Flames allow the sixth-fewest shot attempts in the league per 60 minutes while shorthanded. One of the main detractors behind the Flames' penalty kill has been their goaltending. The players have done their part, but the team save percentage while shorthanded is 22nd in the NHL. This has led to a strong Flames penalty kill ranking just 20th overall in the NHL. It doesn't help that the Flames are the most penalized team in the league, meaning Frolik and Backlund get lots of hard minutes every game against other teams' top players.
Lars Eller
Lars Eller is having the most monster season anyone on pace for 10 goals and 20 points has ever had.

— Dimitri Filipovic (@DimFilipovic) January 17, 2017
CA/SCA60: 46.16 (9th among forwards) GA/xGA60: 4.13 (2nd among forwards)
The Montreal Canadiens' cast-off has helped the Washington Capitals to the third-best penalty kill in the league. One of the most impressive reasons behind this is that the Capitals have had sub-par goaltending while shorthanded.
Eller is average in terms of generating shorthanded shot attempts, but he is one of the best in the league at limiting chances. Jay Beagle and Daniel Winnik have more ice time shorthanded, but Eller's ability to limit shot attempts puts him in the upper echelon of the league. Some players on this list fare well in term of shot attempts against, but still allow too many goals against. Eller is among the best in the league in terms of limiting chances and goals.
Wayne Simmonds
CA/SCA60: 41.09 (1st among forwards) GA/xGA60: 4.68 (14th among forwards)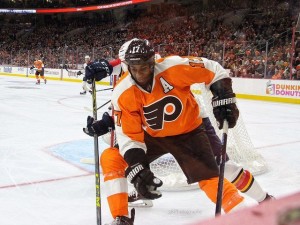 Wayne Simmonds is in the midst of another strong season for the Philadelphia Flyers. When most people think of Simmonds, they think of a guy who drives the net and scores a lot of goals near the crease. However, he's also one of the best forwards in the league while shorthanded.
He ranks first among forwards in terms of limiting both shot attempts and scoring chances while shorthanded. Individually, he ranks fourth in Corsi against, and third in scoring chances against. He is also 13th overall in terms of Corsi percentage while shorthanded, showing that he gets some good offensive opportunities with a man down.
His partner, Sean Couturier, also ranks highly among the best forwards on the penalty kill. He generates more chances shorthanded, ranking first overall in terms of Corsi percentage. However, his Corsi and scoring chances against fall short of Simmonds' impressive totals.
It would be interesting to see Flyers head coach David Hakstol give Simmonds and Couturier more shorthanded opportunities. The only thing holding the duo back from being among the best in the league is that forwards Chris VandeVelde and Pierre-Edouard Bellemare log far more minutes on the penalty kill. Facing weaker power play units drags Simmonds and Couturier down on this list.
Honourable Mentions: Daniel Winnik, Tom Wilson, Jay Beagle, Jean-Gabriel Pageau, Sean Couturier, Connor Brown, Jordan Staal, Michael Grabner, Patrice Bergeron, Brad Marchand, Travis Zajac, Adam Henrique
Best Shorthanded Defencemen
Brooks Orpik
CA/SCA60: 40.51 (4th among defencemen) GA/xGA60: 4.32 (10th among defencemen)
Brooks Orpik hasn't always been a fan favourite in the nation's capital, mainly due to his mammoth contract. However, on a team that has a plethora of offensive talents, Orpik is a rock on defence.
His ability to limit shot attempts and scoring chances is easily the best in the league among defencemen who lead their teams in ice time on the penalty kill. He ranks third among all defencemen by allowing just 13.2 scoring chances per 60 minutes on the penalty kill.
Brandon Carlo
CA/SCA60: 51.77 (31st among defencemen) GA/xGA60: 3.99 (6th among defencemen)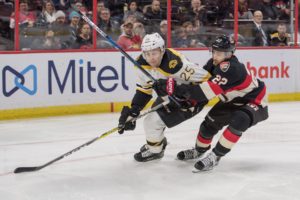 What Brandon Carlo has managed to do this season as a rookie is nothing short of amazing. Thanks to a thin Bruins blue line, Carlo got an opportunity to step up, and he hasn't disappointed. He plays on a shorthanded penalty killing unit with Zdeno Chara, and the two have led their team to an impressive second-overall penalty kill.
Carlo isn't necessarily among the elite in terms of limiting shots and scoring chances, but he's in the upper echelon. He ranks a bit higher (20th overall among defencemen) in terms of limiting scoring chances while shorthanded.
The young defenceman deserves credit for the sheer amount of minutes he has successfully logged while shorthanded. He's eighth overall in ice time on the penalty kill, and manages to do a great job as a rookie. It surely helps to have Chara back there as a rock, although Carlo's possession and goals against metrics rank ahead of the towering Slovak. He even has a shorthanded goal to boot.
TJ Brodie
CA/SCA60: 43.57 (6th among defencemen) GA/xGA60: 4.65 (21st among defencemen)
TJ Brodie does it all for the Flames. He logs big minutes, plays on the power play, and is also one of their key cogs on the penalty kill. He is among the elite when it comes to shot suppression, both in terms of shot attempts and scoring chances. Brodie and his normal partner, Dennis Wideman, are ahead of Flames defencemen Mark Giordano and Deryk Engelland in terms of shot suppression.
As mentioned before, the Flames' poor penalty kill is largely a result of poor goaltending. Although Brodie, Wideman, Frolik, and Backlund are great at limiting chances, the Flames' poor goaltending on the penalty kill drags them down the standings. Brian Elliott and Chad Johnson are fourth and ninth-worst respectively in terms of high-danger save percentage while shorthanded.
Jake Muzzin
CA/SCA60: 46.14 (11th among defencemen) GA/xGA60: 4.62 (18th among defencemen)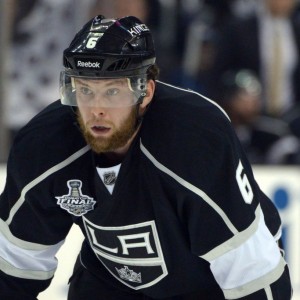 The puck-possession Kings always fare well in terms of advanced stats. The same thing applies to their penalty kill. Jake Muzzin and his partner Alec Martinez are leading the way on the penalty kill for the Kings, with both players showing a strong ability to limit scoring chances. Although Muzzin has had a bit of a down year offensively, he's still managing to contribute to a solid Kings defence.
Muzzin and Martinez are leading the way over the Kings' other two main penalty killers, Drew Doughty and Derek Forbort. Muzzin just slightly edges out Martinez in most important categories, so he gets the nod here as one of the best penalty killers on defence.
The Kings suffer the same problem as the Calgary Flames. Despite allowing the second-fewest shot attempts only to Florida, their 21st-ranked shorthanded save percentage brings their penalty kill down to 13th overall in the league.
Honourable Mentions: Brent Burns, Erik Karlsson, Zdeno Chara, Kevan Miller, Jaccob Slavin, Brett Pesce, Ron Hainsey, Alex Pietrangelo, Jay Bouwmeester, Alec Martinez, Drew Doughty, Brayden Coburn, P.K. Subban, Dennis Wideman, Brandon Manning, Jason Demers, Matt Niskanen
Best Shorthanded Goaltenders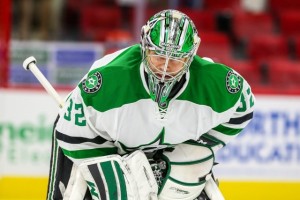 Even if your favourite team employs players who thrive on the penalty kill, it still holds true that your goaltender should be your best penalty killer. However, the mark of a really strong penalty kill is one that can still succeed, even with average goaltending.
Take the Washington Capitals for example. They have the league's third-best penalty kill at 86%. They also have the third-lowest shot attempts against per 60 minutes while shorthanded, at 83.5. However, their team save percentage of .869 while shorthanded is 20th overall.
The Carolina Hurricanes, on the other hand, are rolling on all cylinders. They have the league's best penalty kill at 88%, while allowing the fourth-fewest shot attempts. The Hurricanes also have the second-best save percentage while shorthanded, at .910. The Dallas Stars, Chicago Blackhawks, and Arizona Coyotes have the three worst team save percentages while shorthanded. Their penalty kills rank 29th, 28th, and 26th respectively.
Frederik Andersen
.910 save percentage while shorthanded
Frederik Andersen has been exactly what the doctor ordered in Toronto this season. His strong play has carried over to shorthanded situations, where he is the backbone of the league's fourth-best penalty kill. The Maple Leafs still allow the 10th-most shot attempts while shorthanded, so Andersen has easily been Toronto's best penalty killer.
Roberto Luongo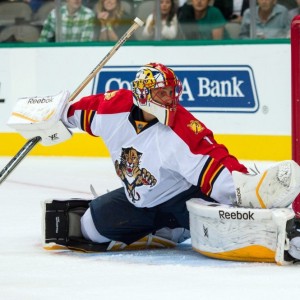 .909 save percentage while shorthanded
The ageless Roberto Luongo continues to play strongly in the Panthers' crease, with the league's second-best shorthanded save percentage. It's surprising that the Panthers' fifth-best penalty kill isn't ranked higher, considering that they allow the fewest shot attempts and have the second-best goaltender in shorthanded situations. Not to throw James Reimer under the bus, but he has allowed one more shorthanded goal than Luongo despite playing in 13 fewer games.
Tuukka Rask
.905 save percentage
The Bruins' second-best penalty kill can thank Tuukka Rask for being their best penalty killer. The Bruins do a fair job at suppressing shots, with a ninth-0verall Corsi against rating. Couple that with Rask's strong play and it's no surprise that the Bruins' penalty kill remains a pillar of strength.
Honourable Mentions (other starting goalies to crack .900 save percentage while shorthanded): Martin Jones, John Gibson, Cam Talbot
Determining which players are the best penalty killers is an imperfect science. If you want to make a case about why these players aren't among the best penalty killers, or why you have different players in mind, leave a comment or lambast me on Twitter @BeggsTHW.
Statistics in this article courtesy of Corsica and Puckalytics.
KPU Journalism Graduate. Trevor has been writing for The Hockey Writers since October 2014. He has contributed articles related to the Ottawa Senators, Vancouver Canucks, and other issues/stories regarding the game of hockey. Trevor currently lives in White Rock, B.C.