With the weakest division in hockey, the Pacific has its share of underachieving players.
While finding underachieving players on the bottom-dwelling Canucks and Coyotes rosters is an easy task, it's a bit harder to find underachievers from the trio of California teams. Still, for fans of each Pacific Division team, I'm sure you have one player in mind who you think needs to get it together.
Let's see if I can read your mind. Here is one underachieving player for each Pacific Division team.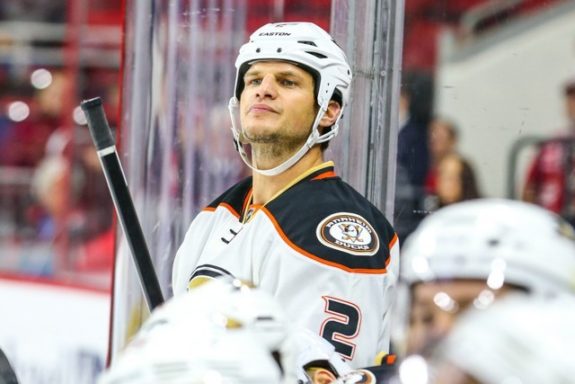 Anaheim Ducks: Kevin Bieksa
Despite the Ducks' success so far this season, it hasn't been a smooth ride for Kevin Bieksa. The former Vancouver Canuck has struggled in Anaheim, becoming a lightning rod for criticism. According to Puckalytics, Bieksa's score-adjusted Corsi sits at 44.3%, which is worst among all defencemen on the team.
Head coach Randy Carlyle seemed to love Bieksa at the beginning of the season. The old-school coach was playing Bieksa no less than 18 minutes per night in all of Anaheim's first 20 games. In many of those games, he played more than 20 minutes per night despite clearly being a bottom-pairing defender.
Carlyle is finally starting to realize what everyone else sees: Bieksa just isn't a quality NHL player anymore. After playing often early on, Bieksa is now seeing his ice time drop. He hasn't played above 18 minutes in the last five games and played a season-low 14:54 versus the Boston Bruins last Thursday.
Even though Canucks general manager Jim Benning has been criticized for many of his trades, fleecing Anaheim by receiving a second-round pick for Bieksa was one of his best moves.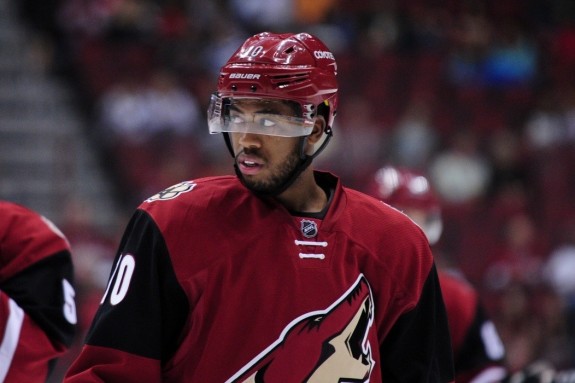 Arizona Coyotes: Anthony Duclair
Many are wondering what has happened to Duclair this season. Whether it's just the sophomore jinx or a bigger issue, the talented young winger seems to have lost his scoring touch. After finishing last season with 20 goals and 44 points, Duclair is struggling mightily in his sophomore year after finishing 10th in Calder voting last season.
Duclair has a measly one goal and five points in 29 games this season. It's a big drop-off in production for someone who was supposed to be a top-six winger for the Coyotes this season. Part of the reason behind Duclair's offensive drop-off is because of his shooting percentage crashing back down to earth. He had a ridiculously high 19% shooting rate last season, but that number is now at 2.9% this year, according to Hockey Reference.
The struggles of Duclair mean that his name has surfaced in trade rumours recently. The 21-year-old has already been traded once, so don't be surprised if the Coyotes try to move him again amidst his slump.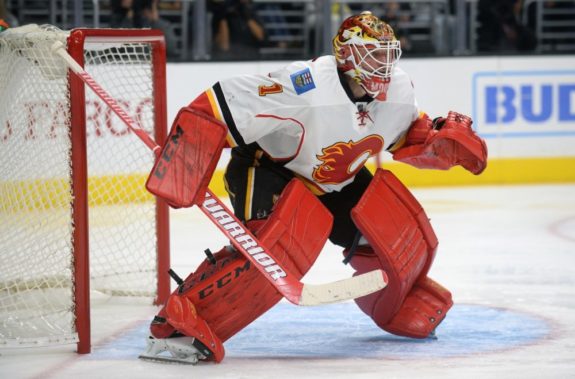 Calgary Flames: Brian Elliott
Not to rub salt in the wounds of Brian Elliott, but he might be the biggest underachiever in the entire Pacific Division. Elliott was expected to provide some veteran stability in Calgary's crease, but Elliott's performance thus far has been anything but stable. Wonky? Erratic? Disheartening perhaps?
Elliott has only four wins in 14 starts for the Flames this season, and he is having the worst statistical year of his career. He finally got back in the win column on Monday night against the Coyotes, but both goals he allowed were completely preventable.
Even with the coaching change in Calgary, this team is still giving up an above-average amount of scoring chances, according to Corsica. However, that hasn't stopped Chad Johnson from performing well in Cow Town. Elliott's even-strength save percentage is second-worst among goalies who have played more than 500 minutes. It's a contrast from last year, when he had the second-best even-strength save percentage in the entire league.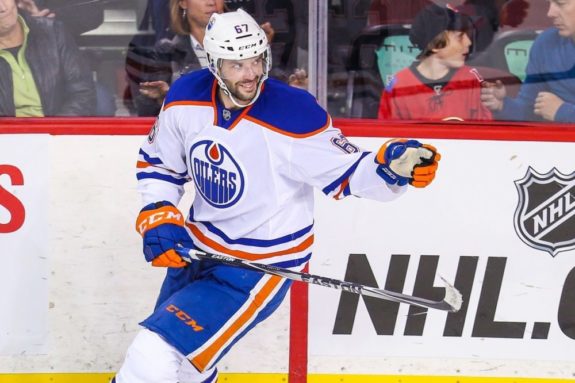 Edmonton Oilers: Benoit Pouliot
It's hard to nitpick at which Oilers are having a down season with the franchise is closing in on snapping its decade-long playoff drought. Connor McDavid is leading the way in Edmonton, overshadowing some of the underachievers on this squad.
One player who hasn't lived up to expectations this season is Benoit Pouliot. The supposed top-six winger only has seven points through the first 29 games of the season, including a pointless month of November. His poor play has been a burden on his regular linemate, Ryan Nugent-Hopkins, who is also a candidate for biggest underachiever on the Oilers.
THW's Shane Sander did a more detailed analysis of why Pouliot is having such a down year offensively. Pouliot has already been passed on the depth chart by players such as Patrick Maroon and Tyler Pitlick. He has watched his ice time dwindle, and is in danger of falling further down the depth chart with such poor performances.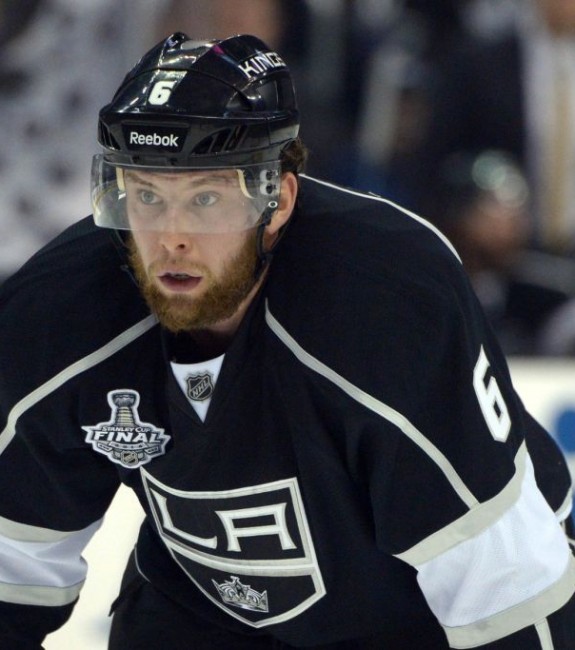 Los Angeles Kings: Jake Muzzin
Out of all seven Pacific Division teams, it was arguably most difficult to find an underachieving player on the L.A. Kings. Despite losing Jonathan Quick in the early moments of the season, the Kings' staunch defence has made Peter Budaj look like an everyday NHL goaltender.
However, defenceman Jake Muzzin is performing below expectations in his fifth full NHL season. After putting up back-to-back 40+ point seasons, the rugged defender has only seven points through the first 31 games of the season. He also has only a single power-play point after registering a combined 27 in the last two seasons.
Despite having a strong shot-attempt differential, Muzzin has been on the ice for a team-worst 27 goals against at even-strength, according to Corsica. His 94.6 PDO shows that he is a prime bounce-back candidate later in the season, but Muzzin's struggles are surprising considering how dominant he has been over the last couple of seasons.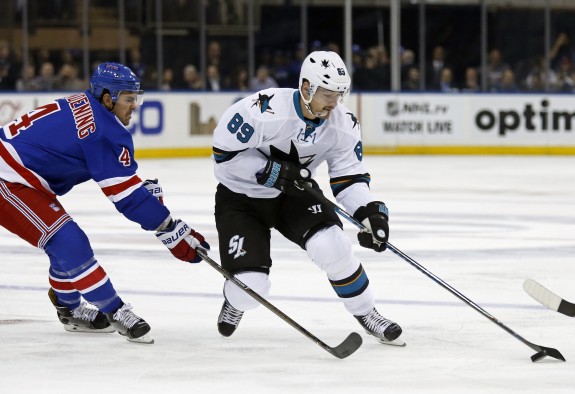 San Jose Sharks: Mikkel Boedker
It's more often than not that we see free agent signings fail in their new destination rather than thrive, and Mikkel Boedker is one of those examples. The start to his San Jose Sharks career has started off poorly, with the Danish winger only registering two goals and six points so far this season. After scoring at a second-line rate by averaging 51 points per season over the last three seasons, Boedker is on track for less than 20 points.
That's a huge underachievement for a player who just signed a four-year, $16 million contract. That deal seemed like good value at the time, but Boedker's underachievement has allowed some to raise some eyebrows over the signing.
The Sharks still sit near the top of the Pacific Division, which has masked some of the concerns around Boedker's performance. However, if Boedker continues to falter, maybe there's a chance that San Jose tries to trade him to a team that believes it can get the most out of him.
Vancouver Canucks: Loui Eriksson
Before the calendar flipped to July earlier this year, it seemed like a foregone conclusion that Loui Eriksson would end up wearing a Canucks jersey. With his success with the Sedins on the international stage, signing Eriksson seemed like a good way to get the most out of the Sedins as they reach the twilight of their careers.
Fast-forward to the present, and Eriksson didn't even last for a quarter of the season on the Canucks' top line. He faltered early, and didn't score a goal until 14 games into the season. Even with the injury to Jannik Hansen, Eriksson still found himself glued to the third line, playing mostly with Markus Granlund.
Related: Canucks Need More From Eriksson
Through 33 games, Eriksson has a disappointing six goals and 14 points. After putting up 30 goals and 63 points in Boston last year, his drop-off in production is dramatic. He did have a stretch of 10 games where he scored six goals, but has now gone another nine games without scoring.
Another troubling aspect about Eriksson is that he isn't passing the eye test. Although he is known to score many goals on rebounds, and from close up in front of the net, Eriksson seems to be playing perimeter hockey. He doesn't have the same nose for the net that he has shown in earlier NHL seasons. If he doesn't turn around his offensive woes, the Canucks will be hampered with an expensive and untradeable contract in the near future.
KPU Journalism Graduate. Trevor has been writing for The Hockey Writers since October 2014. He has contributed articles related to the Ottawa Senators, Vancouver Canucks, and other issues/stories regarding the game of hockey. Trevor currently lives in White Rock, B.C.