It's not the concept, it's the execution.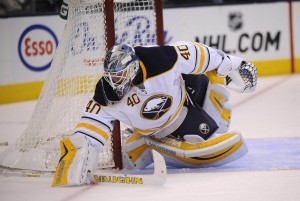 It's the most basic drill in practice: The Shootout. You vs. the Goalie. One on One. Mano a Mano. But at the end of 60 minutes of regulation and five minutes of sudden death overtime, the Buffalo Sabres fell flat for the second consecutive game and fifth time in six shootouts this season allowing yet another crucial point to slip away in an Eastern Conference playoff race that is looking bleaker by the moment.
To the keen eye, the Buffalo Sabres have actually been a much better team of late. They squeezed out a 7-9-5 start to the season and 19 points while skating without Jack Eichel, Ryan O'Reilly and Tyler Ennis, among others. They followed by winning five of of their next eight games, picking up 11 points along the way, before back-to-back  shootout losses to the Carolina Hurricanes and Florida Panthers, respectively, in each of their past two contests.
As a whole, the team has actually done a nice job of picking up at least one point in all but 11 of their 31 games this season, but it's the secondary point they are surrendering to Eastern Conference rivals which is preventing the team from rising up the rank and file. They are merely treading water. The Buffalo Sabres are now 1-5 in shootouts and lead the National Hockey League with eight shootout/overtime losses in 2016-17.
So 15 NHL teams with sv% of .700 or higher in shootouts. There are 27 at .500 or higher. LA is at .462, #Sabres at .286 (DAL no SOs)

— Mike Harrington (@ByMHarrington) December 21, 2016
"Right now, it's frustrating. I'm not going to lie," Sam Reinhart said after falling to the Florida Panthers on Tuesday night. "The thing I do like is no matter where we are in our game, we can produce enough offense now where we can put ourselves back in that game."
Achilles' Heel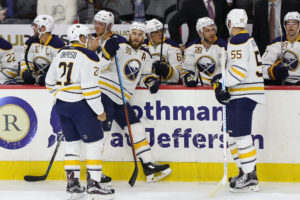 It is no secret Robin Lehner is struggling in one-on-ones. He has failed to stop any of the shooters he's faced — yes, you read that correctly — the Sabres' starting goalie is 0-for-6 in shootouts this season, failing to halt Lee Stempniak and Sebastian Aho against Carolina before looking lost against the Panthers' Vincent Trocheck and Aleksander Barkov last night. "Backup" goaltender Anders Nilsson has fared only slightly better stopping four-of-eight attempts he's seen in the shootout.
"We gave a point away," Robin Lehner told The Buffalo News' John Vogl after making 36 saves and posting a .923 save percentage in regulation and overtime against Florida. "I keep working on them. Good shooters. What can I say?"
By the numbers, Lehner is now just 7-14 in shootouts in his career, halting 36 of 66 would-be goal-scorers. As Vogl pointed out, the .545 save percentage puts him 86th out of 91 goaltenders who have faced at least 15 shootout attempts since the big Swede entered the league in 2010-11.
This is the number one goaltender general manager Tim Murray envisioned when he dealt the team's first round pick (21st overall) to the Ottawa Senators last June? The team is literally giving points away in shootouts as Lehner falls to 12-18-10 in 43 games in what has otherwise been a forgettable, injury-plagued two years in Buffalo blue and gold.
In fairness, the team isn't exactly lighting it up offensively in shootouts either, but if it isn't an issue head coach Dan Bylsma and goaltending coach Andrew Allen haven't addressed already, it's a problem. As a team, the goaltending tandem has only stopped four of 14 shootout attempts against. With each tie score at the end of regulation, it's becoming more and more ominous. Teams know the Sabres are vulnerable in the shootout and may be more inclined to play accordingly.
"We keep practicing them a different way, focus a different way, mindset a different way," Bylsma said. "It's what we've got to keep doing."
Time For a Change?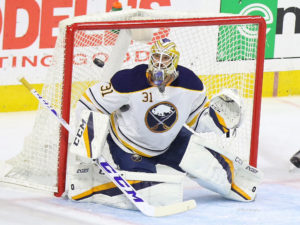 At what point does it become a problem Murray needs to address?
This is a young team with a young nucleus that is becoming used to learning things the hard way. That has to change. After years of tanking during the rebuild, it's time to bring a winning culture to the franchise — both for the sake of its players as well as its fans.
It's okay to admit Lehner, perhaps, isn't the answer. And with the Vegas Golden Knights' expansion draft looming, teams will only be able to protect one goaltender. Word is Marc-Andre Fleury, Jimmy Howard and Ben Bishop could be had. The New York Rangers, New York Islanders and Dallas Stars have been juggling two goaltenders looking for a recipe to success while Scott Darling has also looked pretty sharp for the Chicago Blackhawks in the wake of Corey Crawford's appendectomy. Does he deserve a shot as a number one?
Perhaps this is what Murray had in mind all along. The bottom line is Lehner and Nilsson are each in the final year of their contracts. Lehner, who is making $2.25 million this season will be a restricted free agent next season, while Nilsson who is earning a more manageable $1 million, is unrestricted and will be free to sign with anyone.
With talent the likes of Eichel, O'Reilly, Rasmus Ristolainen and Sam Reinhart on board, it's a shame to see their efforts continually go to waste.
Once is a mistake, two is a trend but it's obvious goaltending is still a problem in Buffalo. Is Anders Lindback available?