When Craig Anderson's wife was diagnosed with cancer in late October of this year, the Senators organization, along with the entire NHL, was heartbroken.
Amid all the chaos that is professional hockey, it is easy to forget that the players aren't just hockey machines. These athletes are humans who have families, and sometimes real problems that they cannot control. So when Nicholle Anderson was diagnosed, it was announced that husband Craig would be away intermittently for indefinite amounts of time. Our best wishes were with the Anderson family and for Nicholle to have a quick recovery.
Just wanted to say thank you from the bottom of my heart for all the outpouring love and support.💜

— Nicholle Anderson (@xonichollexo) November 2, 2016
However, life must go on, and the Ottawa Senators still needed goalies to stop pucks. With Anderson away with his family, the Senators were starting backup Andrew Hammond in net against the Calgary Flames on Oct. 28, and had called up Chris Driedger to sit on the bench. He didn't sit long.
Another Goalie Down
Hammond became the second goaltender out for the Sens, this time due to a lower body injury. Driedger would come in to start the second period against the Flames, but the rookie looked shaky in his first NHL action of the season.  He allowed four goals on 15 shots in a losing effort.
Ottawa was now in a sticky situation, with the questions of Anderson's availability, how long Hammond would be out and of how well prospects Driedger or Matt O'Connor could play.
Two days later, an emotional Anderson was available to start against the Edmonton Oilers. Nicholle told him that, while they awaited her official diagnosis, he could be of better help to his team than his family. He repaid her selflessness with an amazing and emotional 37-save shutout, then played again two nights later, helping beat the Carolina Hurricanes 2-1 in overtime.
The next day, Nov. 2, the Senators announced that they had acquired Mike Condon from the Pittsburgh Penguins in exchange for a 2017 fifth round draft pick. Anderson was leaving the team again to be with his wife, so they traded for Condon to hold the fort.
His first game was against the Vancouver Canucks, a day after he became a Senator. Ottawa general manager Pierre Dorion, who probably held his breath the whole game, could exhale as Condon posted a 27-save shutout.
Since he's joined the team, Condon has played in 13 games, starting 11 of those and posting a 7-3-2 record, with a 2.31 goals-against average, a .921 save percentage and two shutouts. Meanwhile, Anderson has a 12-6-1 record, 2.46 GAA, a .924 save percentage and three shutouts. This tandem has provided solid goaltending for the Senators.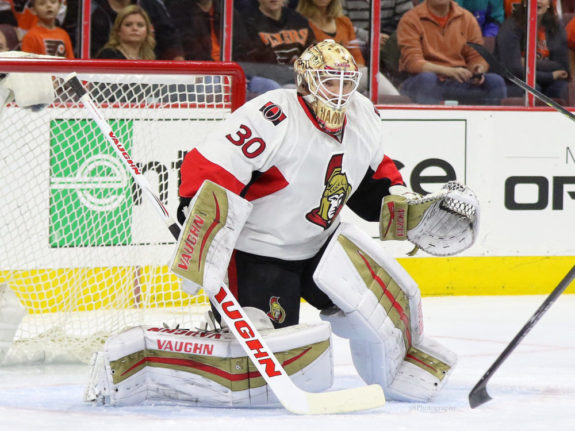 While Anderson gets the nod if he is available, Condon is proving to be an invaluable part of the team. He is under a very good contract for what he's producing at one year, $575,000. Considering Hammond has not fared nearly as well during his limited action, it makes Condon's play much more valuable. Hammond has played in four games and started three, but has only played one game from start to finish, a loss at Detroit on Oct 17. His other two starts were cut short by injury. Hammond holds a 0-1-0 record, and has a 3.50 GAA and a .855 Sv%.
How Did Condon Become a Senators Netminder?
Mike Condon's first year and a half in the NHL have been quite the rollercoaster ride. He earned the backup role in Montreal prior to the 2015-16 season over Dustin Tokarski. However, Condon ended up playing more than expected.
After Carey Price went down early in the season due to injury, Condon ended up starting 51 games for the Canadiens in his rookie year. He posted a 21-25-6 record, a 2.71 GAA and a .903 save percentage, along with one shutout. Though his numbers were below average for a starting goaltender, Condon wasn't to blame. His numbers were deflated by the string of Montreal injuries and poor defensive play last year.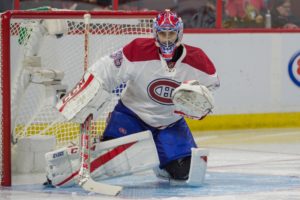 Fast forward to the 2016-17 preseason, and Condon loses his backup role in Montreal to Al Montoya. He was placed on waivers and claimed by the Pittsburgh Penguins. The Pens needed a backup for Marc-Andre Fleury while Matt Murray recovered from his hand injury. Condon only played one period of relief duty in Pittsburgh before Murray returned to the lineup.
This was a blessing in disguise for Condon, seeing as Ottawa desperately needed a goalie at the same time Murray returned for the Penguins.
An Uncertain Future
The Ottawa Senators are currently second in the Atlantic Division with a 19-11-3 record. Anderson will continue to take leaves of absence to be with his family, and Condon will continue to be the starter during those absences.
If he plays this well all season, the Senators may look into dealing Hammond. It could open up AHL minutes that developing prospects Driedger and O'Connor need.
Mike Condon may play his way into the future of the Senators, considering his age (26) and Anderson's (35). Time will tell, but for now, Senators fans can sleep well knowing they have two goalies playing well.