The Los Angeles Kings lost to the Columbus Blue Jackets 3-2 in a shootout on Tuesday. It was the second straight loss for Los Angeles and the 10th consecutive win for Columbus. The victory pushed the Blue Jackets to a 21-5-4 record while the Kings dropped to 16-13-3.
During the game, an article written by The Hockey Writers' very own Mark Scheig was shared with me. "The Many Ways the Blue Jackets Can Beat Your Team"  highlights the different ways Columbus has been winning this season, more specifically their current franchise-best winning streak.
As I read through the points made, I found myself thinking, "The Kings could use some of that," at various times throughout the article. Once I finished reading and watched the Blue Jackets finish off the shootout victory, it became clear Los Angeles could learn plenty from the team that just handed them a loss.
Now, let's do just that — use the points made in Scheig's piece to make the Kings a better team.
Depth Scoring
Let's start with the Blue Jackets.
Schieg opens his article referencing Columbus' 5-1 win over the Tampa Bay Lightning. But the point being made is the Blue Jackets unloaded an offensive flurry without the help of their offensive juggernauts. From Schieg's piece:
 William Karlsson opened the scoring. Then it was Alexander Wennberg, Josh Anderson, Scott Hartnell and finally Sam Gagner. Except for Wennberg, that's four goals from their bottom-six. Anderson finished with a career-high three points. The Blue Jackets' depth enables them to win games.
The key here is this offensive production wasn't a one time thing where the bottom-six was clicking on all cylinders that night. The Blue Jackets have some of the most even production in the league. On their roster, there are four players with 10 or more goals, 13 players with 10 or more points and among those players, six have eclipsed the 20-point mark with Cam Atkinson leading the team with 33 of his own.
That win over the Lightning was not a fluke, which makes it a recipe for success.
Looking at the Kings, it's the complete opposite. The lone consistent goal scorer for Los Angeles this season has been Jeff Carter. He leads the team with 16 goals and there is a steep drop off after him. No other player has more than eight goals, including players like Tyler Toffoli (eight), Anze Kopitar (three) and Tanner Pearson (seven) who are all supposed to be top-six caliber players.
If the Kings can't get consistent scoring from their offensive leaders how can they expect other players like Dustin Brown (four), Dwight King (five) and Trevor Lewis (five) to have any kind of impact on the score sheet.
Carter currently leads the Kings with 26 points, which would rank third among Blue Jackets skaters. Toffoli and Alec Martinez who are second and third in points would rank seventh and eighth in Columbus.
If the Kings hope to succeed this season and eventually make the playoffs, they will need to find some kind of a supporting cast for Carter.
Play in the Crease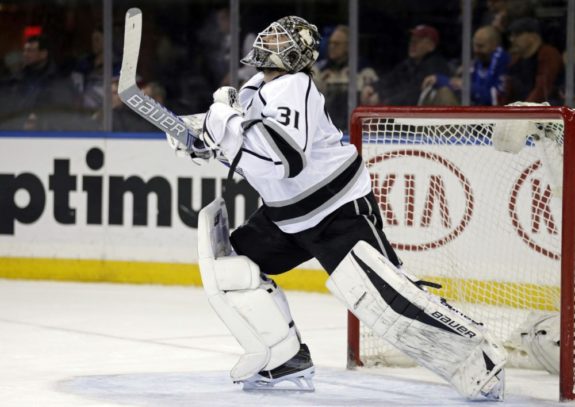 I know this topic is like beating a dead horse at this point, but it has to be pointed out beacause it's a main reason the two teams are trending in different directions. Sergei Bobrovsky has been playing at a Vezina-worthy level and been carrying pretty much the entire work load this season for Columbus.
All while injuries and inconsistent play has forced three different goalies to start for Los Angeles this season.
Scheig notes Bobrovsky's play three different times in his article. To save you the trouble of reading all three they all sound like this:
Sergei Bobrovsky was outstanding, stopping 32 shots earning first-star honors.
Bobrovsky leads the league with 19 wins, has the fifth best goals against average at 1.94, the sixth best save percentage at .932 and has three shutouts on the season which has helped him grab a 19-5-2 record.
Again, this may be unfair because the Kings lost Jonathan Quick just 20 minutes into the 2016-17 season, but Peter Budaj is now the guy in Los Angeles and they have to play with the cards they're dealt.
Budaj has posted a 14-8-3 record with a 2.11 goals-against average, a .916 save percentage and three shutouts. All are respectable numbers, but the difference between Budaj and Bobrovsky is that Bobrovsky can steal a game for Columbus while Budaj has yet to do so this season and may have even let a game or two slip away.
Pick Your Poison
This phrase applies to both teams, but in two very different ways. From Scheig:
The Blue Jackets have many ways they can beat you. One night, their top-six will overwhelm you. The next night, their bottom-six will score timely goals. Then the next night, Bobrovsky will stand on his head and steal a game.
There's the positive side of the phrase. Pick your poison, or how the Blue Jackets beat you on any given night. Will it be their offensive leaders? Will it be their offensive depth? Will Bobrovsky steal two points? Will it be a complete game and your team be run out of the building? You never know, but you do know one of those aspects will come through and at least keep Columbus in the game.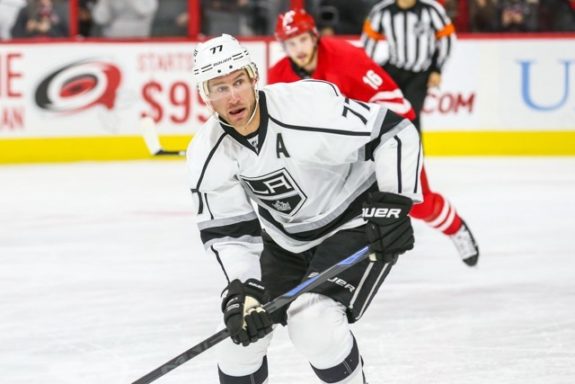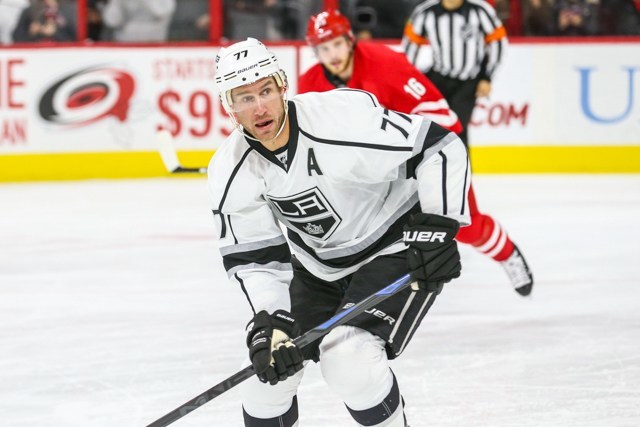 On the other side of the coin, pick your poison, or how the Kings drop their next game. Will Budaj turn away 29 of 30 shots but get no goal support like he did in a 1-0 loss to the Bruins? Will Budaj give up a soft goal with just seven seconds remaining like he did in a 2-1 loss to the Senators back in November? Or will Los Angeles rely solely on Carter for all the offensive production and drop a game via the shootout like they did against Columbus last night?
From individual aspects to overall game play, the Blue Jackets and Kings seem to be on two opposite sides of the spectrum and Los Angeles could improve if they took a note from Columbus' book.