On paper, it looks like the Montreal Canadiens power play should be really good. Kirk Muller, who coached the Habs' power play in previous years to top five results, is in charge of it again. The team can throw out Shea Weber and Andrei Markov at the points with a combination of Max Pacioretty and Alex Galchenyuk with Alexander Radulov or Brendan Gallagher. The Montreal power play currently sits at 11th in the league with a 20.2% success rate but it struggles mightily at times.
From Perfection To Lack Of Execution
There are times when the Montreal power play is executed perfectly. Whether it's the slap shot from Weber at the point, a Galchenyuk one timer from the circle or excellent positioning in front of the net, Montreal has plenty of weapons to choose from. But for whatever reason, when the power play isn't clicking, it's hard to watch. Much of Montreal's strategy relies too heavily on Weber's shot and while it is excellent, teams catch on fast much like they did when P.K. Subban's shot was the focus of the power play and they found ways to defend against it.
One of the biggest issues is zone entries. The Habs have a tendency to dump and chase the puck on the power play and teams have the speed to recover those pucks and send them the full length of the ice and they have to start all over again. Sometimes when the puck is carried in, the team either loses it at the blue line or they can't get set up. Errant passes are also a problem at times, as there are many instances of miscommunication where the puck doesn't go to the intended receiver.
Room For Improvement
Although Montreal has improved in the goal scoring department, not capitalizing on the power play can be costly. In the 2015 playoffs against the Tampa Bay Lightning, the Habs struggled all series long to score at even strength but their inability to capitalize on the power play sunk them and they were eliminated. Since head coach Michel Therrien took over again in 2013, Montreal's power play hasn't been good and while this year has been noticeably better, there is a lot of room for improvement.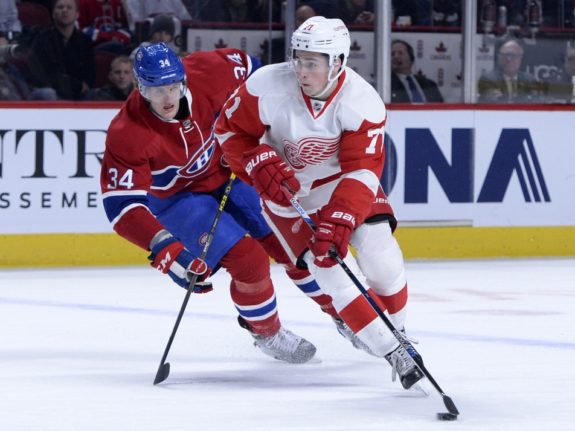 The return of Muller and having more talent in the lineup has helped, but after the first unit, there is a bit of a drop off in quality. Some personnel changes could help. Perhaps the size of Michael McCarron in front of the net will be more effective. While Gallagher and Andrew Shaw are feisty and competitive in front of the net, they aren't big and goalies can see around them. On the other hand, McCarron is 6'6″ and around 230 pounds so goalies and opposing defencemen have to work even harder to look and/or move around him.
Another potential future power play weapon is Artturi Lehkonen. Lehkonen has an excellent shot and is just beginning to scratch the surface of his NHL potential. He has shown to be solid at both ends of the rink and was a scorer last year in the Swedish league. On a team that likes to pass too much sometimes, a shooter like Lehkonen would give the Montreal power play a different look.
Canadiens hope Jeff Petry and speed will revive power play – Montreal Gazette https://t.co/YIFSsuMePf

— Canadiens Tweets (@CanadiensTweets) December 15, 2016
Looking For Consistency
The power play is the one area the Habs can't rely on Carey Price to bail them out, although he does help with breakout passes. While it isn't a pressing issue at the moment, it's something that needs to be improved upon, especially late in the season and in the playoffs where goals will be even harder to come by. The Habs have the weapons to put out a lethal power play, now it's time to execute.
I have a Bachelor's Degree in Journalism from Ryerson University. I am a freelance journalist and a Montreal Canadiens writer for The Hockey Writers. I previously wrote for Simcoe.com and Last Word on Sports as well as interned at TSN.