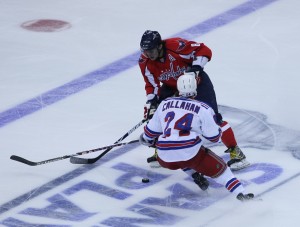 After the New York Rangers bought out former captain Chris Drury in the summer of 2011, many began to wonder who would step up the plate and deliver those hard-nosed and gritty performances game after game.
On September 12, 2011, Ryan Callahan was named the 26th captain in Rangers' history. As if being a player wasn't pressuring enough, Callahan now needed to deal with the burden of being the main leader of the team, being the voice in the locker room as well as on the ice.
I think it's safe to say that the Rangers brass made the right decision. For the past several years, Callahan has been nothing short of terrific for the team. Night after night, he sacrifices his body and his soul for the jersey he puts on every game. He drops down relentlessly to block shots, he's not afraid to throw the body, and he can also chip in a few goals if you need him too, although scoring isn't really his forte.
This type of play does come with a price though. You risk the chance of injury, and Callahan has certainly had his fair share of those throughout his Rangers career. In 2011 right before the Stanley Cup Playoffs were set to begin, he went down to block a shot from Boston Bruins' defenseman Zdeno Chara. He broke his leg in the process and was out for the postseason. Here is that shot:
It's tough to watch, but it was also a tough pill to swallow for the Rangers. Without their captain, the team saw a short first-round exit as they were knocked out in five games by the Washington Capitals.
Trade Talk 
Recently, Callahan has been the subject of major trade rumors. Two days ago, Darren Dreger of TSN reported that the Rangers gave an "unnamed team" permission to speak with Callahan's agent. Many people bought into this thinking that Callahan was for sure going to be gone, but yesterday news broke that Rangers management offered Ryan a 5 year, $30 million deal (which is $6 mill per year). Callahan has been asking for seven years and a little more money than that, so we will have to wait and see what Ryan's camp does with this offer.
There are teams throughout the league that would love to have Callahan on their team. Players like this do not grow on trees and it is very hard to find a player with the heart, passion, and drive that he plays with.
Let's say the deal falls through, and Callahan does leave the Rangers, it would have to be a surmountable return so that the Rangers could fill the hole that their captain would leave.
To me, this trade doesn't make much sense. Why trade away your captain who has been the main icon and identity of your team? It just isn't a smart move, and there is really no player who plays like Callahan, so you would be losing a key guy who could be the piece to a Cup run.
These are certainly some key talking points as the Rangers near the home stretch of their season. It needs to be in their best interest that they at least think about keeping Callahan if they want to remain in good position come postseason time.