Since the St. Louis Blues were considered Stanley Cup favorites in 2001, the franchise has watched the Carolinas and the Pittsburghs acquire talent mid-season to assist with their championship runs.
Now, it may be the Blues' turn again.
Yes, it's February. That means its time for the hockey analysts and fans alike to groupthink the best — and the worst — rumors imaginable. Some are strewn together with tiny tidbits of misinterpreted coach interviews and small sample-sizes of a certain player's game while others have logical reasoning and trusted sources to support the theory.
The Blues have been involved in both of these rumors for the better part of a year with their goaltending as Ryan Miller has been the supposed next starting goalie to be donning the blue and yellow uniform. It seems, though, that the team's 2012-13 leading scorer is now making the headlines.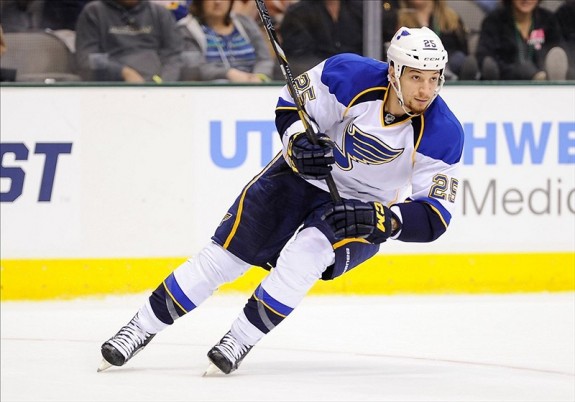 Chris Stewart, who posted 18 goals and 36 points last season, was the subject of TSN Hockey Insider Darren Dreger's tweet on Friday:
Western Conf teams suggest the Rangers are gathering intel on Chris Stewart. Callahan for Stewart would be a sweet deal for the Blues.

— Darren Dreger (@DarrenDreger) January 31, 2014
When looking at, yes, a sample size, you can see validity in Dreger's claim. From Dec. 12 -23, Stewart exploded offensively with eight goals and 11 points in seven games. Since then, the right winger has contributed just two goals and two assists in 18 games. His ice time has dipped from 17:22 (Dec. 29) to 5:32 (Jan. 25). He's moved from a scoring role to a checking role multiple times this season.
Conversely, the acquisition of Ryan Callahan makes some fans and media cringe at his asking price. An unrestricted free agent at the end of the season, the Rangers captain has reportedly asked for seven years at $42 million on his next contract. Yikes.
There are plenty of layers to this possible deal. Let's dive in, shall we?
Callahan as a rental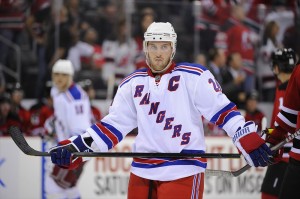 If some variation of this rumor were to actually occur, the Blues would likely consider bringing on Callahan as the rental of a lifetime. The rugged right winger has posted nine goals and 21 points in 39 games for the Rangers this season. Although he isn't known for his flashy play or goal-scoring prowess, he is known for something the Blues covet: work ethic.
Is that worth $6 million per year? Somebody will be willing to pay Callahan his asking price over the summer, there is no doubt about that (see Toronto Maple Leafs winger David Clarkson). Although there are teams that are willing to overpay for a big name, the Blues usually do not fit that mold.
Losing Stewart in the trade and Callahan in free agency would look troublesome if the team doesn't reach their lofty postseason goal. However, freeing up a hole in the offense opens some room for youngster Dmitrij Jaskin to prove his worth next season. With his tremendous upside in mind, Jaskin could provide the Blues with identical numbers in the near future.
This theory is not foreign to GM Doug Armstrong. Just this past summer, he moved David Perron to Edmonton for Magnus Paajarvi and a draft pick, but the publicly accepted reason was to free up playing time for Alexander Steen and Jaden Schwartz. We've seen how that worked out.
Callahan in the long term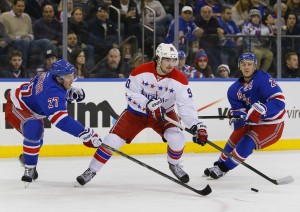 Turning 29 in March, Callahan plays a hard-nosed game while, for the most part, avoiding long-term injuries. The Callahan machine seems to be well oiled, meaning a seven-year contract for the proven leader isn't a crazy notion.
The problem is money. His current team has been public that he is on the trading block, according to Dreger, among others:
Developing story, NYR grant permission to at least 1 team who has already talked with Callahan's agent. More on Sportscentre. #TSN

— Darren Dreger (@DarrenDreger) January 31, 2014
It's no secret that the salary cap will rise next season. For one, it has every season since the 2004-05 lockout, with the slight exception of this season since a new CBA was negotiated. The league has all but said that 2014-15 will be upwards of $70 million.
Currently, the Blues are just under the league's $64.3 million cap. After management decides what to do with impending free agents Patrik Berglund, Carlo Colaiacovo, Brenden Morrow, Derek Roy, Jaden Schwartz and Vladimir Sobotka, as well as goalies Brian Elliott and Jaroslav Halak, Callahan could be offered the amount that the Blues have remaining before hitting the cap.
The hope would likely be, though, that his asking price would come down. A contributing factor to that possibility would be that the Sochi-bound forward would be welcomed by fellow U.S. Olympians David Backes, T.J. Oshie and Kevin Shattenkirk. The prospect of an All-American line for multiple years could be appealing to the native of Rochester, N.Y.
Unloading Stewart's contract
Either of these scenarios could drop Stewart's $4.2 million price tag next season (if the Blues agree to not retain any of the money owed). If the Blues go with Option 1 of using Callahan purely as a rental, the team could revamp its offense in 2014-15 if desired. Roy and Morrow are likely to depart, meaning that the combined salaries of the three players ($9.65 million) would come off the books.
Accompanied with a higher salary cap, this circumstance could allow the Blues to develop an entirely new line to open next season. Jaskin and AHL Chicago teammate Ty Rattie are making strides in the AHL, while a slew of free-agents could fit the Blues' system. These names include UFAs Ales Hemsky, Matt Moulson, Paul Stastny and Thomas Vanek.
—
We always have to remember, though, that these discussions need to be taken as what they are: rumors. Stewart's increase in ice-time (averaged —- in the past two games) may not be a showcase of his talents as others say, but a likelihood that head coach Ken Hitchcock is wanting to see what his player will do after riding the bench as of late.
There will be an answer to these queries soon enough with the NHL's March 5 trade deadline fast approaching. For the Blues, that is just seven games to assess their talent and decide the final roster for the long playoff run.