The Blues are rolling in the NHL, but the prospects have been coming around across North America. One player has already received a call-up to the big club while others are storming their respective leagues.
Since our update in October, the young Blues have prospered to close out the year. Working with Ross Bonander and Eric Burton of The Hockey Writers, I have compiled recent updates on the future of the Bluenote.
Chicago Wolves
Dmitrij Jaskin
Bonander:
Jaskin joined the Blues on Dec. 23 (Ross Bonander/THW)

The Russian-born Czech, drafted No. 41 overall in 2011, was something of an unknown a year ago. But that was before he got his first taste of the North American game: He played just 51 games for Moncton in the QMJHL in 2012-13 but still ranked fifth overall in scoring with an explosive 99 points.

While still finding his way around the pro game, Jaskin is fitting in nicely with the Wolves and is developing quickly. He plays like a Canadian power forward in the making, and at 6 foot, 3 inches and 198 pounds, he has the size to make it happen. Averaging almost a point per game, Jaskin has great net presence and a quick release, doing most of his scoring down low. He plays a two-way game, although at times he can seem a little lost in his own zone.

There's a bit of stealth surrounding Jaskin on the ice, as he does little to draw attention to himself. If intentional, it's working, as he's able to lose the opposing defense and find the open areas. All things considered, the sky is the limit with the young Czech, especially when you realize he's just 20 years old.
With Blues leading scorer Alexander Steen missing time due to injury, Jaskin was called up to the Blues to play in their Dec. 23 shootout loss to the Calgary Flames. Playing in just his third NHL contest, Jaskin contributed two shots on goal and played in 11:12 of ice time. He played top-line minutes while skating on the first line with T.J. Oshie and David Backes. If Steen remains injured after the Christmas break, chances are that Jaskin will receive a prime opportunity yet again.
Jani Hakanpaa
Bonander:
Hakanpaa signed a contract with St. Louis in May 2012 (Ross Bonander / THW)

The big Finnish defenseman certainly has his size going for him — 6 feet, 6 inches, 220 pounds—but that isn't what makes him an increasingly effective defenseman for the Wolves and perhaps for St. Louis one day. What tells me he has a fighting chance is the fact that he plays the kind of game you want out of a guy his size on the blue line. In short, Hakanpaa plays mean. Not dirty, but mean. And he does it while largely staying out of the penalty box. A reasonable, contrary comparison might be made with Texas Stars defenseman Jamie Oleksiak, who is bigger (6 feet, 7 inches, 255 lbs), is a superior skater, and who can produce on offense – but whose game is absent of all bite. As two-time Stanley Cup winning 'Broad Street Bullies' coach Fred Shero once said, any player who expects to be great in the NHL has to play mean, they have to take care of the opposition, and this is the direction in which his development appears to be going.

Hakanpaa's offensive contribution is almost nil — he has two goals this season, earning one by being the last Wolves player to touch the puck before the opposition scored on itself—but solid, stay-at-home blueliners who know how to clear the slot without landing in the box will always find work in the NHL.
Ty Rattie
Bonander:
Rattie scored two goals for the Wolves in a 5-2 victory on Dec. 18 (Ross Bonander/THW)

The slightly undersized 20-year-old forward got off to a deceptively slow start this season — deceptive because his efforts weren't reflected in his statistics. Now about a third of the way through his first pro season, Rattie is starting to show signs of his 'old self' — meaning the scoring juggernaut from those epic Portland Winterhawks squads of the past few years.

While there's room for improvement in his defensive game, and his skating remains so-so, few young players hitting the blue line can smell a goalie's blood like Rattie. His offensive instincts are adjusting to the size and speed of the pro game with an enviable and admirable consistency. He shows tremendous vision and battles well around the net despite his smallish (6 feet, 179 pounds) frame.

However, unless St. Louis has catastrophic injuries to deal with, I would expect Rattie to remain in Chicago for the season. His time is better spent in the AHL where, instead of passing time in the press box or grinding out a few fourth-line minutes in St. Louis, he can develop a more complete three-zone game while continuing to hone his enormous offensive talents.
University of North Dakota
Jordan Schmaltz
Burton:
Schmaltz is playing in his sophomore season (Eric Classen, UND Sports)

Schmaltz is having a very good season with UND. The sophomore defenseman is a part of an offensive-minded defense corps that is ranked first, in the National Collegiate Hockey Conference, for goals by defenseman with 47.

In 17 games, Schmaltz has scored 10 points (2G, 10A) and is tied for fifth on the team in scoring. Schmaltz and defenseman Dillon Simpson (Edmonton Oilers) make up the No. 1 defensive pairing for UND. Together, the duo has collaborated on five UND goals.

Schmaltz is a good quarterback on the power-play as nine of his 10 points have come on the power-play.

After being held off of the score sheet in five straight games, Schmaltz has points in four straight games (0G, 4A). The sophomore defenseman is a very disciplined player who has only taken five minor penalties for a total of 10 minutes.
Cape Breton Screaming Eagles
William Carrier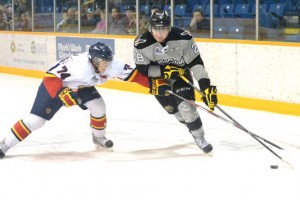 In October's review, Ken Miles of The Q News stated that the Blues had to be pleased with their 57th selection in the 2013 draft. The Quebec native has posted 38 points in 35 games for the Screaming Eagles, ranking second on the team and 28th in the league. His 28 assists are also tied for first on the Cape Breton roster.
Carrier stands at a menacing 6 feet, 2 inches, but he will need to pack on a few pounds in order to see his game properly translate to the NHL. His work ethic and craftiness make him a valuable asset to the Blues' prospect pool and he is well on his way to being a solid draft choice by the Blues management.
Luckily for Carrier, there is no need to rush his development. With the Blues currently dishing out a talented group of forwards, Carrier has plenty of time to become the player that his coaches know he can be.
Luckily for the Blues, Carrier's eye for the net and resiliency to return from a lengthy injury put him right on track to become an everyday NHL player.
—-
If you would like to contribute to the Blues prospect update, please email Jeff Ponder at jponder94@gmail.com or tweet him @jponder94.