The 2013-14 schedule has seen the Blues play just 10 games in their first month of play, including a full week off from Oct. 18-25. The team has taken off in the standings, posting a 7-1-2 record, which places them in third place in the Central Division.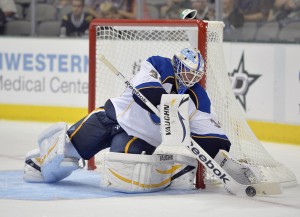 The young Blues are getting the work done, too.
Players such as Jake Allen, Ty Rattie, Dmitrij Jaskin and Jani Hakanpaa are skating with the Blues' AHL affiliate, the Chicago Wolves. But others players, including Jordan Schmaltz, are playing in developmental leagues across North America.
Working with a slew of writers and fans, I have compiled a list of what Blues' prospects have done to open their respective seasons.
Chicago Wolves
With a new affiliation comes new faces, and for fans of the Chicago Wolves, the new players are familiar as rival Peoria Rivermen or, in some cases, are completely new. Being able to watch these players with fresh eyes and unknown expectations can be beneficial in evaluating how the prospects are developing. Below is a look at one familiar face to Wolves fans, and three new faces to the Wolves organization.
Jake Allen
After spending the last three years rooting against Allen and the Peoria Rivermen, it was refreshing to have someone who seemed to frustrate the Wolves every game finally in net for the home team. The season started great for the young goaltender, with him stopping 41 of 42 shots in the season-opening game at San Antonio and following that up with an impressive 30-save performance in a 3-1 win over the same San Antonio team a week later in Chicago. But even with his great play, Allen isn't able to cover for the frustratingly stingy offense that hasn't been able to give him offensive support this season.

In the Oct. 19 game against Rockford, Allen had no support in front of him during a tough first period that saw the Wolves only record three shots on goal. The struggle continued into the second period until late when the Wolves offense started to click and began a comeback, but would still fall to the Rockford Icehogs. Allen can only play as well as the rest of the team around him and when the offense is struggling as much as it has this season, even a stellar performance could still earn him a loss.
Ty Rattie
Rattie is in his first pro season (Ross Bonander / THW)

Speaking of struggling offense, Rattie has been trying unsuccessfully to break the offense open. With 19 shots attempted through nine games, he is second on the team in shots on goal this season. Rattie has been getting clean looks at the net during his shifts but doesn't have the point production to show for his efforts. Rattie is one of the new faces to both the Blues and Wolves organization, and with every forward struggling to find the back of the net, Rattie's offensive chances blur into the rest of the team's struggles to light the lamp.
Dmitrij Jaskin
Jaskin is one of the newer faces to both organizations and due to an upper body injury he hasn't really been able to be seen by the home crowd. He played two games on the road to start the season and then was sidelined due to an injury during the Wolves home opener. A review of his play is incomplete until he returns and gets some more games under his belt, which according to Wolves head coach John Anderson is a "minimum of a week, maximum of two" from being back in the lineup.
Jani Hakanpaa
On the blue line, the large Finn has played much better than expected in his young career. Having a large body able to block shots and calmly relieve the offensive pressure from opponents has been a relief from the offensive woes that the Wolves have struggled with early this season. Hakanpaa has been a solid player through eight games; he has been contributing from the blue line while continuing to develop his game. He plays a very solid defensive game, and while he isn't a flashy player right now, he has the skills to develop into a solid defenseman.
The Wolves head out of town for the annual "Circus Trip," where the Ringling Brothers take over the arena for a few weeks. The time on the road should help with team building, and hopefully the roster returns to home ice with a newfound offense.
Cape Breton Screaming Eagles
Carrier leads a rejuvenated Screaming Eagles roster (Source: Cape Breton Post)

St. Louis Blues 2013 second-round draft pick William Carrier has had a stand out campaign to this point in the Quebec Major Junior Hockey League season. The Lasalle, Quebec native has already contributed 21 points to the Cape Breton Screaming Eagles offense, finding the back of the net six times and adding 15 helpers through  the team's first 16 games. At this rate, Carrier is on pace for an 89-point season, which would top his 70-point performance in 2011-2012.
More important than his scoring prowess, however, is Carrier's emergence as a team leader. The Screaming Eagles have adopted the motto "Young, Fast, Fearless" in 2013-14, an attestation to their youthful squad. The team currently has five 17-year-old players and two 16-year olds on the roster and look to Carrier's experience on and off the ice in helping the team to success this season.

Carrier's size, ability and effort through the first 16 games should set Blues management at ease about their 57th overall selection. It is true that St. Louis likely took a risk in selecting him, as he battled a lengthy injury heading into the NHL Draft in 2013.

Early on, however, it seems Carrier has overcome these obstacles and is back to the form that piqued the Blues' interest.  At 6' 1" and 194 pounds, Carrier continues to play a physical brand of hockey, roughing it up in the corners and battling for pucks, using his size to his advantage, and utilizing his hockey sense and booming shot to lead the Eagles to an improved crusade in 2013-14. If Carrier can maintain his current level of play, Blues fans should expect to see Carrier contribute as a third-or-fourth line winger in seasons to come as he emerges as one of the team's top prospects.
University of North Dakota
Jordan Schmaltz
Schmaltz is in his sophomore year (Eric Classen, UND Sports)

After sitting out for the first game due to an academic issue, Schmaltz has been a calming force on the North Dakota blue line. What has stood out to me is that Schmaltz has been doing it quietly, meaning he hasn't gotten a lot of press or fanfare. His game is simple – get the puck out of the zone, clear out the front of the net and contribute offensively. Schmaltz is not a real physical player, but he does have that element to his game, if needed.

The sophomore defenseman will quarterback the power play as he scored two of his three goals last season on the power play. He's also known for his crisp tape-to-tape passes and he has a pretty decent shot from the point.

Schmaltz isn't going to make a lot of glaring mistakes. The sophomore defenseman has also been paired with senior captain Dillon Simpson on the top defensive pairing in the three games that he's played. On the season, Schmaltz and Simpson are a combined plus-3. All of the other UND defenseman on the roster are a combined minus-10.

After having a semi-tough freshman season with UND, Schmaltz has stormed out of the gate and played a solid, disciplined game. He's also shown a lot of poise on the backend and has yet to take a penalty through three games. You can see why Blues picked him in the first round of the 2012 draft. I think if he keeps improving, like he has, he's going to be a flight risk to sign with the Blues after his sophomore season is over.
———-
The NHL regular season schedule was released on Friday. Check out our partners at TiqIQ for the best deals on St. Louis Blues tickets for all 2013-14 games.
Comment below if you have any questions about any Blues prospects and I will do my best to find a reliable source to answer your question!
I am a former NHL media member and reporter for the St. Louis Blues, working for various media outlets. Currently, I am an NHL News Writer and Editor for The Hockey Writers. I live in St. Louis and work as a freelance copywriter in numerous industries.