As the daily fantasy hockey world turns, it is essential to realize what you need to ponder in order to win. That is ultimately the bottom line, isn't it? People have to also understand that daily leagues are tougher to win because literally you set it and forget it. There is no worry of giving up. Simply, one joins or does not join.
[Put Your Fantasy Talents to Use: Beat Up on Your Competition and Win some Cash]
As Toli Metter pointed out the best of the waiver wire, we will do a little something different every Thursday. The goal is to point out as many different aspects to help guide your fantasy teams to victory. No one wants to lose unless you are the 1984 Pittsburgh Penguins right? Exactly. Let's quickly get to work with some maladies, I mean injuries.
Draftstreet E.R. And CSI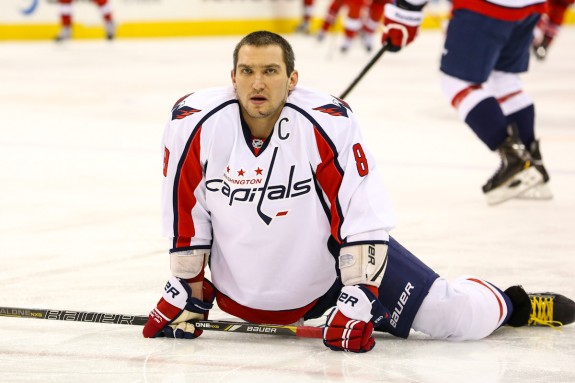 Alex Ovechkin — RW/LW — Washington Capitals
WASHINGTON

Player
Date
Status
Description
 
Alex Ovechkin
2013-10-30
questionable for Friday's game against Philadelphia
upper body
 
This is not something you want to see if you rely on Ovechkin. Please keep in mind, a healthy season does not happen often but he did play all 48 games in 2013. The presumption is that this injury may be a shoulder ailment. What happened when we did some digging? Let's see.
http://t.co/hoK1G0LWVO – Capitals' Alex Ovechkin misses practice with upper-body injury http://t.co/MOSdxYrCEo … #nhl

— NHL Fantasy (@nhl_fantasy) October 30, 2013
It doesn't appear like this is that serious but hey just keep an eye on this one. The problem is information will be at a premium till later today. Just hang tight but understand that questionable is not doubtful….yet. 
Semyon Varlamov — G — Colorado Avalanche
Another breaking story is out of Denver with Semyon Varlamov. This will take awhile for it to sort out. Please do not rush to judgment yet. However, this definitely affects the goalie's playing status. There will be the arraignment, proceedings, etc. Here was the original break from last night. 

BREAKING: Colorado Avalanche goalie Semyon Varlamov turns himself in to Denver Police for domestic violence charges. Story forthcoming — Ryan Parker (@ryanparkerdp) October 31, 2013
Also there was this update.
Varlamov arrested on 2nd degree kidnapping and 3rd degree assault of someone he knew. pic.twitter.com/D5D5KNSILh

— Ryan Parker (@ryanparkerdp) October 31, 2013
Again what does this do? Honestly, this makes Jean Sebastien Giguere's value go up at least a good bit. Also, plan for alternatives accordingly. This will affect Varlamov regardless of the outcome so the daily fantasy player has to be ready to make those necessary adjustments. Draftstreet will have a few adjusted goalie values in the near future, something tells me.
==========================================
As always, you can follow me on Twitter @ChrisWasselTHW. See you next week and good luck with those Draftstreet leagues.
Simply a hockey writer who is a jack of all trades. No question is too big or too small and in fantasy hockey there is no such thing as a stupid question. Now a proud, accredited member of the FSWA. I am also a New Jersey Devils lead writer, prospects writer, humorist, and so much more. You can find me on Twitter at @ChrisWasselDFS