As the fantasy hockey season progresses, fantasy managers will undoubtedly be looking to bolster their rosters throughout the duration of the '13-'14 NHL season. While a solid draft is usually the key to consistently competing in your league, there are quite a few managers that might not have had the luxury of a fortunate draft day and could be heavily reliant on the waiver-wire/free agent pool in order to make the playoffs for their respective league.
[Put Your Fantasy Talents to Use: Beat Up on Your Competition and Win some Cash]
Unless one has the utmost confidence in their drafted product or doesn't check their fantasy team regularly, adding players from free agency will likely be a necessary process for any fantasy manager. Despite the fact that it might be easier to add players based on their position-eligibility, there are more than a few dual-position forwards that could be quite intriguing to managers – especially those playing in deeper leagues that value sparsely owned forwards.
Sparsely Owned Dual-Position Forwards
Marcus Johansson (Washington Capitals – C/W)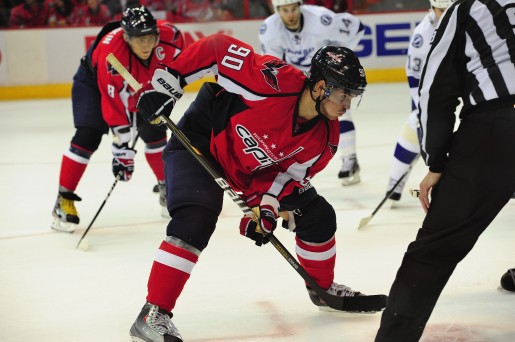 At 23% owned in Yahoo! formats, it is completely befuddling as to why Johansson isn't owned by more fantasy managers. Playing alongside Alexander Ovechkin and Nicklas Backstrom, Johansson is in line for great opportunities if he manages to stay healthy for the duration of the regular season.
So far this season, Johansson has registered ten points (all assists), three power-play points, and has averaged nearly 18 minutes of ice-time thus far. Fantasy managers shouldn't expect Johansson to score goals, but the forward will absolutely set up his line-mates without hesitation and could bring a decent amount of power-play points to the table as he is also receiving time on Washington's top power-play unit. Seeing as how Johansson is owned in less than a quarter of all Yahoo! leagues, fantasy managers should absolutely scour the forward's availability as he will be a staple in the Capitals' lineup for the rest of the season.
Artem Anisimov (Columbus Blue Jackets – C/W)
Artem Anisimov might have started off the '13-'14 NHL season on a slow note, but the first line center has certainly made up as of late. Over his last six games, Anisimov has scored six points (3 Goals, 3 Assists) and could be a solid fantasy option going forward as his average ice-time hovers around the 18-minute mark.
Seeing as how Anisimov is setting up Marian Gaborik for plays on the Blue Jackets' top line, it wouldn't be surprising for the dual-position forward to have an uptick in points and ownership percentage as the season goes along. At 6% owned in Yahoo! leagues, Anisimov should be available for addition in most formats, and fantasy managers should at the very least put him on a watch list.
Ryan Johansen (Columbus Blue Jackets – C/W)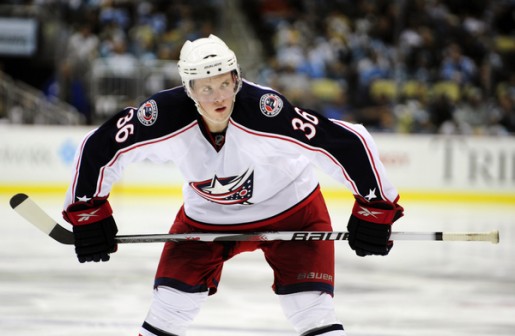 Johansen might not be getting the minutes that fellow centerman Artem Anisimov is getting, but that doesn't mean that the dual-position forward should be overlooked. What is even more perplexing about the Johansen-Anisimov comparison is that Johansen is actually owned in more Yahoo! leagues (8%) than Anisimov.
While Anisimov might receive nearly a minute more of ice-time than Johansen, the latter centerman has shown signs of being a worthy pick-up in most fantasy formats. Much like Anisimov, Johansen has also posted six points (3 Goals, 3 Assists) in his last six games, and if he keeps receiving the same 17 minutes of ice-time that he has been receiving so far this season, then fantasy managers shouldn't shy away from adding the forward into their fantasy lineups.
Tommy Wingels (San Jose Sharks – C/W)
Tommy Wingels got his first taste of extended NHL regular season and postseason action with the San Jose Sharks last season, and the forward has certainly shown signs of improvement this year when given added responsibility. Wingels skated on the Sharks' fourth line last year in the playoffs and averaged over ten minutes a game during San Jose's first round exit against the St. Louis Blues.
Wingels' hard work must have paid off as the dual-position forward is averaging almost 15 minutes of ice-time per game on San Jose's third line. The forward has also contributed eight points (3 Goals, 5 Assists) thus far, with five of those points coming in the last seven games. While it isn't out of the realm of possibility that Wingels sees a drop-off in terms of production pace as the season progresses, fantasy managers should also recognize the fact that Wingels can also contribute in the hits and shots on goal departments – making him quite an appealing option, especially for deeper leagues, at 7% owned in Yahoo! formats.
* Try DraftStreet's Freeroll with $500 in Prizes, no entry fee
In his third year with The Hockey Writers, Toli covers all things related to the New York Islanders. Focusing on the Islanders, the NHL Draft & draft-eligible prospect goalies, and hockey history, Toli can be contacted on Facebook by searching/messaging Toli Metter and on twitter by searching @ToliMetterTHW.