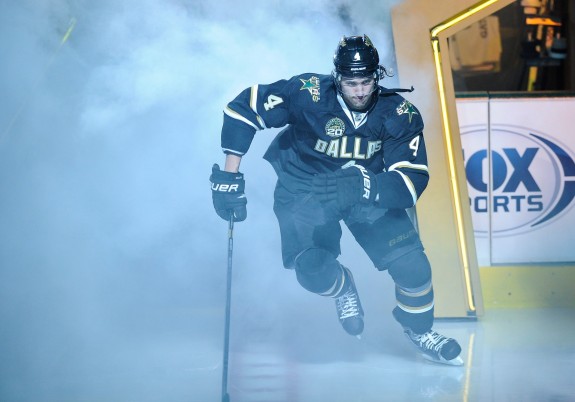 To say that Brenden Dillon came out of nowhere during the 2013 season would be a massive understatement.
Sure, the Dallas Stars' front office had him on their radar, as they were the ones that signed the undrafted free agent defenceman as a 20 year-old in early 2011 during his overage year with the WHL's Seattle Thunderbirds, a season that saw him finish with 59 points and 139 penalty minutes in 72 games.
Some Stars fans and media began to take notice the next year, when Dillon made his professional debut with the AHL's Texas Stars to much acclaim, logging plenty of minutes for a rookie and scoring 29 points in 76 games as he swiftly ascended the ranks of Dallas' prospect pool. He even made his NHL debut that season and did so with a bang, registering five shots on net in the Stars' final game.
Dillon's imposing NHL debut showed a glimpse of things to come, but even those that followed him most closely probably didn't expect the outcome of his rookie campaign.
After starting the year again in the AHL because of the lockout, the 6'3″, 225 pound defencemen made the Stars' roster straight out of January's training camp and never looked back, appearing in all 48 games games for Dallas.
Despite being a rookie, Dillon made an immediate impact. Playing primarily alongside veteran Stephane Robidas, the duo formed Dallas' most frequent top pairing and were routinely handed the task of shutting down the opposing teams' top lines. Logging an average of 21:22 minutes per game, fourth on the Stars, Dillon finished a +1 for the season on a team that often struggled overall on the defensive side of the puck.
A defensive defenceman by trade, Dillon was a force to be reckoned with in his own zone, finishing fifth in the NHL in hits with 133 and standing up for his teammates in a handful of fights. He even chipped in offensively with three goals and five assists, including this memorable one in front of his hometown Vancouver Canucks:
Although Dillon was not a finalist for the Calder Trophy as the NHL's top rookie, that buzz made its rounds in more than a few hockey circles, and deservedly so. An undrafted rookie defenceman playing on his team's top defensive pairing is certainly an uncommon occurrence.
But now, 12 games into his second NHL season, Dillon is carrying on right where he left off, proving that his rookie campaign was no fluke, with no sophomore slump in sight.
Once again the duo of Robidas and Dillon is looking good, building upon chemistry that was forged last season. The two both have a Corsi Relative rating of 7.3, by far and away the best on the blueline, and have done so against the toughest competition faced. Their +6 ratings on a team with a total -5 goal differential only accentuate their impressive advanced stats.
CBC's Elliotte Friedman has noticed their strong play too, and gave them a nice shout out in his weekly "30 Thoughts" column.
While often overly aggressive and sometimes erratic last season, signs of succumbing to the nerves of playing in your first NHL season, Dillon now looks much more calm and collected on the ice, playing with the poise of a much older defenceman.
What's more, the British Columbia native is already well on his way to beating his offensive pace from last season, with three goals and three assists. The rest of Dallas' defensive group in comparison? A combined eight points.
Not content to just protect his own zone, being an impact player at both ends of the ice is something that Dillon is working hard to become.
"I'm a two-way defenseman," he said in this interview with NHL.com's Kathryn Tappen. "You have to find your role to make the team the most successful. Being physical and using my bigger body and my stick has helped me get into the NHL. Now I'm trying to use offense to build myself into a two-way player."
At only 22 years of age, Dillon's career is only getting started, with many more seasons still to come. If the young defenceman can continue to perform and grow at this pace then the sky's the limit as to where his career will take him.
Derek Neumeier primarily covers the Dallas Stars, but also other various topics related to the sport of hockey. A Journalism graduate of Mount Royal University, Derek also writes for Defending Big D, and has done previous work with the Edmonton Oilers as a communications intern and Hockey Canada as a freelance writer. You can follow him on Twitter at @Derek_N_NHL