Chances are not many people had a Germany defenseman scoring the first goal of the 2014 World Junior Championship. However, that's exactly what happened. The feat was shortly lived as Canada would score several minutes later and eventually take hold of the game before the end of the first period, on its way to a 7-2 win.
First Goal Scorer of the World Junior Championship
The unlikely culprit was Dorian Saeftel of Adler Mannheim's U18 development team. Although this is the 18 year old's first taste of U20 action, he's had great success at other levels of the game, including capturing a championship in each of his last three seasons. Saeftel's Mannheimer ERC U16 team won the 2010-2011 Schüler-BL Champion and his u18 team Jungadler Mannheim  won back-to-back DNL Championships in 2012 and 2013.
"I'm pretty happy about scoring the first goal, but more importantly we lost," said Saeftel. "Proud of the goal, but it was more luck than anything with the way the puck bounced."
Saeftel is born and raised in Mannheim where he is proud to hone his hockey skills. As a prospect in the Adler Mannheim system, he is in good hands, as Adler is one of the most successful and prestigious club's in Germany's DEL. Founded in 1938,  the club has captured six German championships and two German cups as well had a stretch in which they qualified for the playoffs 26 straight times.
"I was a fan of Adler Mannheim since I was born and started playing hockey in Mannheim when I was three years old," said Saeftel. "I'm hoping to get a chance to play on the DEL team after World Juniors."
A few more interesting facts about the World Juniors' first scorer: his favorite food is fried chicken and he also enjoys playing golf, basketball and baseball.
After a Slow Start Canada Takes Control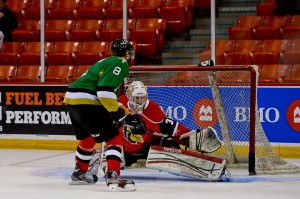 The Germans were able to catch some early breaks and hold steady with Canada through most of the first period, including scoring a power-play goal off of an Adam Pelech turnover. Afterwards, the game would be all Canada. They scored two more goals to go into the first intermission up 4-2 and never looked back.
It was clearly evident that Canada is in an entirely different class than Germany. They controlled the game, dominating puck possession and playing a physical game, which featured big hits from the likes of Curtis Lazar and Frederik Gauthier.
The star of the game was Detriot Red Wings' first-round pick Anthony Mantha. He played a clean game and showed off some of his great stick-handling ability and smooth hands on the way to a hat trick. Tampa Bay Lightning first rounder Jonathan Drouin also had a strong game on the stat sheet with three assists, while Canadian wünderkind Connor McDavid had two assists in his World Juniors debut.
"Sometimes we come out to a slow start, but we have a good team." said Canadian defenseman Aaron Ekblad. "Obviously, maybe we have to prepare a little bit better to get off to a faster pace, but it's a process and head coach Brent Sutter is putting it in our heads that we need to get better everyday."
With clear room for improvement, the biggest question coming out of Canada's first game is how will they preform against elite competition. The mistakes they made against Germany would be amplified against the likes of Sweden, USA or Russia.
Next up for Team Canada is a matchup against the Czech Republic on Saturday, while Germany square off against Slovakia tomorrow.
Stayed tuned here and follow me on Twitter to stay up to date. I'll be on the ground in Malmö for the duration of the tournament providing all of the latest news and analysis.
As an American based in Amsterdam, Joe provides a unique hockey insight, bringing a global perspective to the game. Joe has several years of experience covering the game on both a domestic and international level, including being credentialed for multiple World and World Junior Championships.