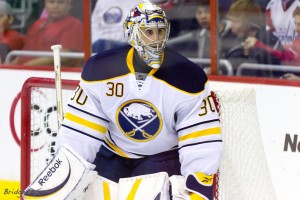 The Buffalo Sabres are having an absolutely abysmal year in what was supposed to be a big step forward for the organization. Even former Vezina Trophy winner Ryan Miller has been fairly mediocre, now holding a 14-15-3 record after injuries and bad play from the mates around him kept his production lower than it probably should be.
There's at least a beacon of good news for the Sabres — or at the very least an interesting story — thanks to Saturday's 4-3 shootout win over the New York Islanders. That gave Ryan Miller his 14th win of the season but more importantly his 235th career win, beating old fan favorite  'The Dominator' Dominik Hasek's 234 wins for the franchise record as a Buffalo Sabres goaltender.
Perhaps this is the spark that the Sabres need to finally get to the contention status that they were supposed to hit under Terry Pegula's watch and wallet before the season began. With the 4-3 record breaking win over the Islanders, Buffalo now have a four game point streak going; that includes wins over tough teams like New Jersey and Montreal, no slouches right now. The Sabres have a favorable schedule as well, with four home games in a row. That home-stand starts against the defending Stanley Cup champions, but you can't doubt that the Sabres are starting to feel good about their hockey with the momentum built up from the past four games.
There might still be a need for something big to shake up the Sabres and push them back into the winning mode that they've flashed so frustratingly at times this season. Ryan Miller trade rumors are unlikely to stop going at this point either, since he's one of the few commodities on the team that have known value.
Other trade possibilities include Thomas Vanek and Derek Roy, though neither would likely provide as much of a return as Miller. Roy's cap hit would be less of a priority to get off the books for the money bogged Sabres, at only four million dollars per year. (Miller's cap hit is over six million dollars, while Vanek's is well over seven million.)
Even if Miller doesn't end the season as a Buffalo Sabre, he's assured of being in the club's record books for a very long time thanks to his heroics the past few years feeding him the franchise wins record. That's something nice to see in an otherwise awful season for the Sabres.