Living in the Pittsburgh market, I am exposed to Penguins media and story lines. On June 23, the first day of this year's draft, the team made a trade that sent Oskar Sundqvist and their first round pick (31st overall) to the Blues for Ryan Reaves and their second round pick (51st overall). The trade was somewhat controversial considering the Penguins were sending a first round pick and a prospect for an enforcer when they didn't need one to win consecutive Stanley Cups. The trade controversy has died down since the season started but I'm not certain that it should have gone away.
Penguins' Reasoning for the Trade
Coming off their second straight Stanley Cup, Penguins GM Jim Rutherford told Sportsnet's Chris Johnston that "it was a priority to add some muscle in the form of Ryan Reaves." The acquisition was in response to how hard teams played against Pittsburgh's stars in the playoffs. Rutherford wanted to add said toughness so much that he dealt the Penguins' top center prospect and a first round pick for it.
This move was questioned by many considering as they relied on speed rather than big bodies to win their Cups. This clip is an example of the type of hit Rutherford would like prevented with Reaves' presence:
Season Performances of Players Involved
As mentioned above, Reaves has never been known as an offensive producer. In 35 games with the Penguins, he has one goal and two assists, all at 5-on-5, and is a minus-six in 6:43 of average ice time. All of these are in line with his career averages of 7:54 of ice time and just under four goals and seven assists per season. Last season was his best offensively when he scored seven goals and had six assists in 80 games. He also had a career high 58 shots.
Known as a physical player, Reaves has 101 hits and 75 penalty minutes, including one game misconduct, this season. From a possession standpoint, the Penguins have a 49.15 percent Corsi at 5-on-5 with him on the ice. All of these have occurred while primarily playing on the fourth line with Tom Kuhnhackl on the opposite wing and Greg McKegg or Carter Rowney at center.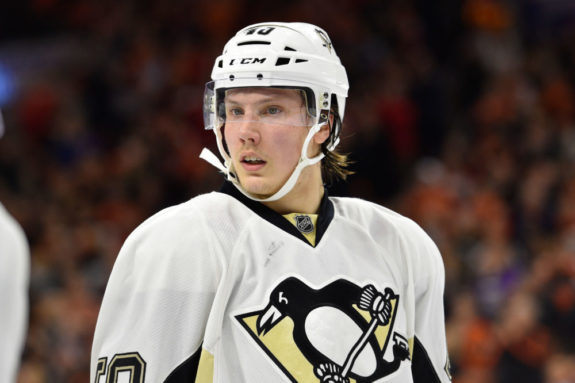 Since joining the Blues, center Oskar Sundqvist has played 27 games, posting three points and no goals. He is a minus-two while playing 11:35 per game and centering a line with Magnus Paajarvi and Dmitrij Jaskin on his wings. Sundqvist has struggled at faceoffs, with just a 43.4 percent success rate but has a plus-13 turnover ratio. The team also has a 48 percent Corsi at 5-on-5 with him on the ice while the Blues have a team Corsi of 51.68 percent. Sundqvist certainly has the upside to impact a team long-term after posting 46 points including 20 goals in 63 games with Pittsburgh's AHL affiliate last season.
Evaluating the draft picks exchanged in this deal can be difficult considering a difference in 20 selections typically doesn't matter. However, knowing who the picks have become makes this a bit easier. St. Louis used Pittsburgh's 31st pick to select Russian forward Klim Kostin. At six-foot and 212 pounds, he has the frame of an NHL power forward and was viewed as a high upside player by scouts.
Considering he was expected to be taken in the top half of the first round, Kostin certainly has the potential to be a regular in the NHL. After being drafted, he has played for the Blues' AHL affiliate, appearing in 26 games with two goals and nine assists.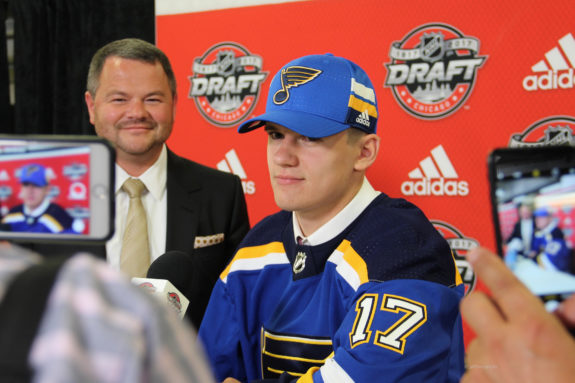 With the 51st selection, the Penguins chose defenseman Zachary Lauzon, currently playing for the Rouyn-Noranda Huskies of the QMJHL. In 11 games, he has no goals and two assists, but is viewed more of a defensive defenseman rather than one with offensive upside. He also likely doesn't have the ceiling that Kostin does and it would appear that the Blues got the better prospect.
What Value is Reaves Bringing?
It is common knowledge that the role of enforcers is to protect the star players on the ice. Reaves sees himself in this manner based on an interview he gave the Pittsburgh Post-Gazette and referenced by Adam Gretz of NBC Sports:
"It's more just making sure everybody on the ice knows I'm coming every night. You go run one of my guys, you've got 230 pounds coming right back at you. Sometimes that makes guys think twice. When you're 190 pounds soaking wet and you're going after somebody on my team, and you've got somebody that's 230 coming after you, sometimes it's a deterrent, sometimes it's not. But I think that's kind of how I've established myself over the last year."
It is difficult to measure Reaves' value to the Penguins because he doesn't bring an offensive skillset that is easy to compare to other players. There also isn't a way to quantify the impact he has on intimidating members of the opposition. Instead, what I looked at is Reaves' impact by fighting opponents after questionable hits and the results of his penalties.
Reaves has five fighting majors in four games this season, with the Penguins winning three of the games. A common reason for fighting is to change the momentum of the game as one of the teams typically gets a boost after a fight. I looked at Reaves' fights and the five minutes that followed the fights to see if the Penguins received a boost in scoring. I found that Pittsburgh didn't score any goals in these situations but did allow a goal against the Capitals following Reaves' fight with Liam O'Brien on November 11.
Penalty-wise, Reaves has collected 75 penalty minutes this season. He has taken at least one penalty in 13 of his 35 games or 37 percent. He is averaging 19.15 penalty minutes per 60 of ice time, a rate still well off his career high of 24.56 set during his rookie season. If he maintains this average, he will accumulate 176 penalty minutes over a full season, well above his previous high of 126. Of his nine penalties that resulted in power plays for the opposition, the Penguins have allowed just one goal.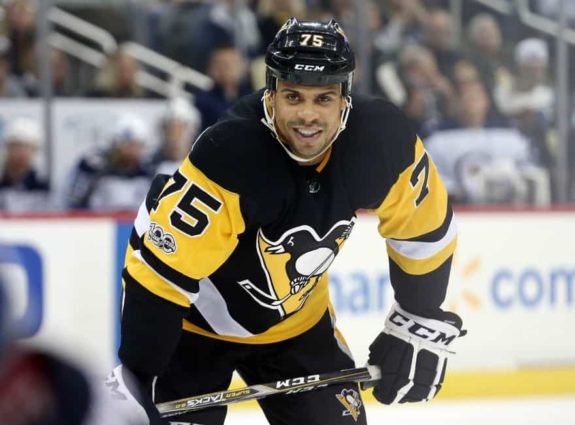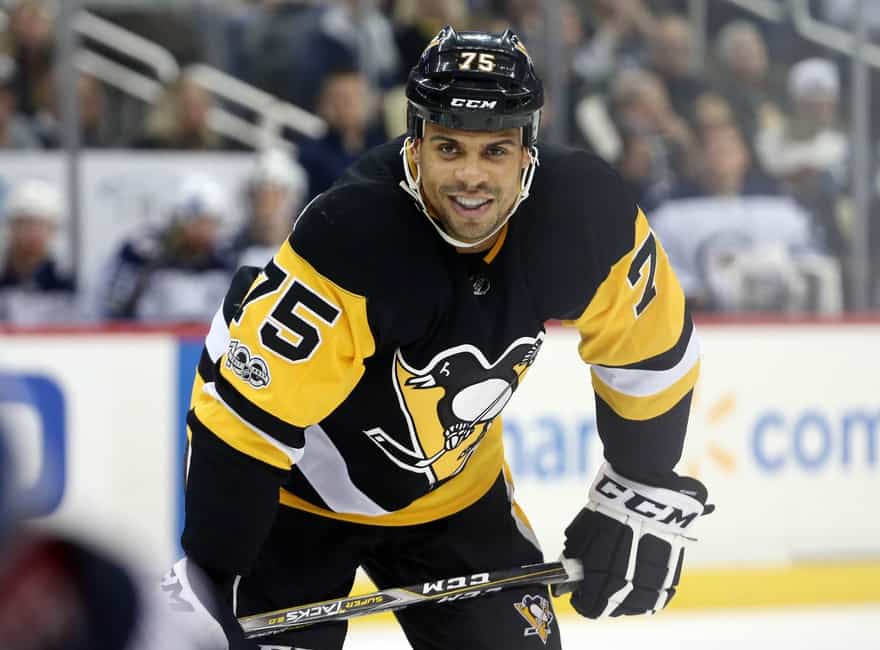 So even when he does take a needless penalty, he isn't costing his team too much. However, despite not being the cause for many allowed power play goals, his penalties do mean that the best forwards aren't on the ice. Crosby, Malkin, and Kessel each have less than 11 minutes of shorthanded ice time this season, preventing the Penguins from generating offense, which is what the game is all about.
Is Reaves a Bodyguard for Penguins' Stars?
I was initially unsure how to measure the effectiveness of Reaves as a protector for Pittsburgh's stars and there isn't a straightforward method. What I used is the number of penalties drawn and hits received by Crosby, Malkin, Kessel, and Kris Letang per 60 minutes of ice time. Using hits taken is pretty straightforward in that opposing players will be less likely to lay a questionable hit on one of these players due to the presence of Reaves.
Using drawn penalties isn't quite as clear but my thought is that, once again, if players are intimidated by Reaves, they won't aggressively hit or slash these stars. If a reduction has taken place from last season to this one, then perhaps Reaves' presence is effective. However, using this statistic is relying on referees objectively calling penalties and has to deal with a rise in penalties across the league. Of the four stars, Crosby and Letang are drawing fewer penalties while Malkin and Kessel are drawing more penalties compared to last season.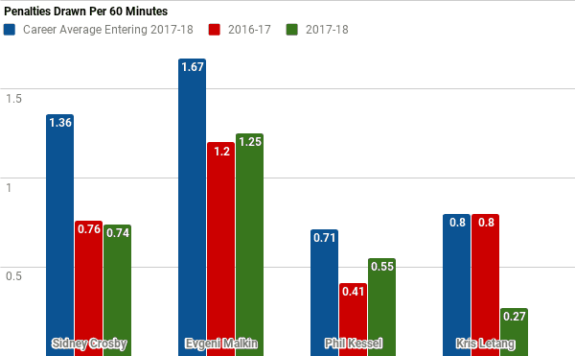 When it comes to receiving hits, all four players are experiencing a reduction from last season to the current season. Crosby is receiving 1.77 fewer hits per 60 minutes this season, Malkin is down 1.44, Kessel down 0.16, and Letang down 2.12. So based on those season differences, there is reason to believe that Reaves has been effective in providing an intimidation factor.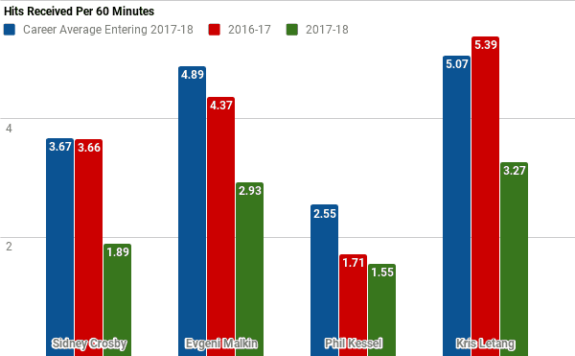 So…was the Trade Worth It for Pittsburgh?
It's hard to give a definitive answer to this question. If Jim Rutherford truly felt that the team needed a big body in the lineup, then yes, it is worth it. However, the price they paid for Reaves: an NHL-ready prospect with a two years of team control and a first round pick is a lot. In both Reaves and the pick they received, they got the less valuable asset and Reaves is an unrestricted free agent at season's end.
The acquisition of Reaves also didn't address the team's biggest need: a third line center. After losing Nick Bonino and Matt Cullen in the offseason, the Penguins had very little center depth. Losing Sundqvist meant giving up a player who could potentially fill this role and even if he didn't, trading him for another center could have been more useful.
Reaves also only averages 6:45 of ice time per game, doesn't kill penalties and isn't skilled enough to be on the power play, so his upside is limited. Considering the Penguins are scoring half a goal less per game this season than last, having someone who can produce more consistently would be more valuable.
That is not to say that Reaves hasn't been effective because the evidence suggests that he has. What it does say is that roster spots are valuable and using one on a player who has one skill is questionable. It is especially questionable when that skill is not producing offense, which, as I wrote above, is what the game is all about. Let me know whether you think the Penguins made the correct move by trading for Reaves.
*All stats came from Hockey-Reference, Natural Stat Trick, and HockeyDB
My name is Kyle, and I'm the managing editor of The Hockey Writers. I joined THW in Oct. 2017 and am always striving to bring you the best hockey coverage possible. You can email me directly at kyle@thehockeywriters.com.