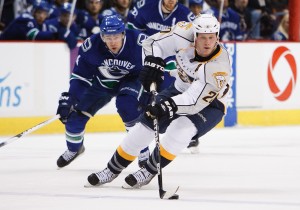 When I first joined The Hockey Writers earlier this year, number six on my Top 10 Things to Look Forward to in the Nashville Predators 2011-2012 Season was "That one post that turns out to be the worst bit of journalism in history that sets Nashville fans ablaze for weeks." I don't presume to speak for the rest of Preds Nation, but Bruce Garrioch at the Ottawa Sun ran an unsourced snow job earlier this month on Ryan Suter (emphasis mine):
The Rangers, Oilers, Canucks, Blues, Jets, Coyotes, Lightning, Jackets and Isles are also in the market for help defensively. That's a third of the league for those keeping score at home, so there's urgency. But the market is thin.

Perhaps those teams should be calling Nashville GM David Poile to check on the availability of Ryan Suter. The belief is he won't be signing an extension with the Predators anytime soon and will become available.

Poile also has to find a way to keep Shea Weber, who is set to become a restricted free agent next summer.

According to a league executive, it's going to be difficult for the Predators to keep both defencemen after goalie Pekka Rinne was signed to a seven-year, $49-million contract.

"My guess is both of those players could argue they are as valuable to the team as Rinne," said the executive. "You'd have to think that (contract) is going to cost them one of those guys."
Got that? A nameless "league executive" — not Preds GM David Poile, not Suter's agent Neil Sheehy, not Suter himself — speculates that it would be difficult for the Preds to lock up all the "Big Three." Therefore, Garrioch must be right. Right?
Wrong.
Garrioch and his faceless raconteur rest on the obsolete conventional wisdom — founded in truth and fact — that the Preds won't spend anywhere close to the salary cap because the financial backing has never been there for a high-powered payroll. Add to this shares of Predators Holdings, LLC tied up in bankruptcy court and the strategic budget decisions of the past that have led the Preds to spend no higher than the midpoint between the cap and the floor, lest they jeopardize their ability to fully leverage the benefits of the NHL's revenue sharing program, and it's pretty easy to paint a picture that shows the Preds as an organization on its deathbed, with a revenue sharing respirator and a dysfunctional Del Biaggio defibrillator.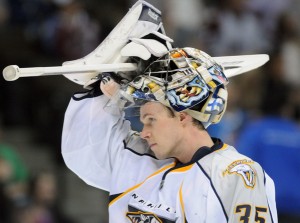 I have no doubt that many of our friends north of the border — and, frankly, in the U.S. — would love to view the Nashville Predators through this lens. Ken Campbell at The Hockey News piled on (emphasis mine):
Which brings us to what all of this means for the Predators' efforts to sign Suter and Weber. Poile has gone on the record as saying he hopes and expects to sign all three to long-term deals, but you would have thought they would have had to take a hometown discount to achieve that goal. With Rinne signing for $7 million a year, that notion goes directly to the scrap heap. Suter will almost certainly want at least $7 million and Weber is currently making $7.5 million as a pending restricted free agent, so you do the math.

Will the Predators ultimately become a team that spends to the upper limit of the salary cap? Regardless of what Poile says, that one is right up there with the Tooth Fairy and the Easter Bunny. If signing these three players were simply about the cap, the thinking in this corner is all three of them would have been signed to long-term deals long before now. It's about budget in Nashville, not the salary cap.
Thank God for real journalists.
David Boclair at the Nashville City Paper recently sat down with Predators Holdings, LLC chairman Tom Cigarran to find out if Pekka Rinne's blockbuster deal imperiled the team's personnel retention aspirations in any way (again, emphasis mine):
Tom Cigarran, head of the franchise ownership group, stressed, though, that it wasn't a race between Rinne and defensemen Ryan Suter and Shea Weber, who also are in the final years of their contracts, to get a deal done at the expense of the others.

"The money is there to sign these guys and we have every intention of doing it," Cigarran said. "I hope [Rinne's contract] makes a statement how committed we are to winning and not to just being a respectable franchise. … Those are people we want to keep in this organization for the long term and we are committed to doing everything we can to make that happen.

"It just turned out that Pekka was the first one we were in a position to negotiate with."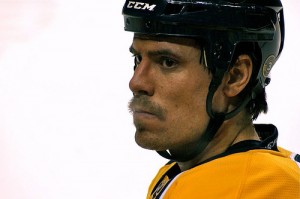 What evidence to we have that "the money is there?" Well, for starters, Canadian investment mogul W. Brett Wilson just closed on a deal to obtain a 5% stake in the Predators. If we estimate (albeit somewhat charitably) that the team's worth is $150 million (Forbes releases its estimates each December — keep your eyes open for new figures in the coming weeks), then Wilson's annual investment commitment rings in at about $7.5 million — and that's a nice, round figure, comparable to what some think a one year pay day for Ryan Suter or captain Shea Weber would be. Additionally, Bryan Mullen, formerly of The Tennessean — a hometown rag frankly not known for a devotion to the city's pro hockey team — now with the Predators organization, sat down yesterday with Preds CEO Jeff Cogen to find out about the team's financial health and the evolving paradigm of hockey stability in the Music City. You should read the whole interview, but here's a selection of choice quotes (emphasis added):
On the Wilson acquisition: "When the local ownership group bought the team in 2007, what they bought was a great hockey department. David Poile and Barry Trotz work magic. And this is not to cast aspersions on previous regimes, but I think (the owners) would say they bought an underperforming business unit. What we tried to do is breathe some life into that business unit. We have more work to do. They bought an undercapitalized asset. There wasn't capital infrastructure to put back in the building. There wasn't capital to invest into the asset. And they bought a balance sheet that was in disarray. The owners are cleaning up the balance sheet, and this is one more step towards cleaning up the balance sheet. Obviously with the (Wilson) investment comes some cash inflow, which will go to further clean up that balance sheet."
On the Rinne deal: "It's relevant to our fans, to national media, to local media, our players, our coaches, and the Zamboni driver. That is our ownership is committed to two things. No. 1, at 50,000 feet, bringing that cup down Broadway. And No. 2, we're not going to draft players, raise them, grow them and lose them. We're going to invest in the asset, we're going to build the asset, and we're going to compete year in and year out for the cup."
On the growing number of team sponsorships: "I think Chris Parker and Chris Junghans have done an admirable job of enticing Middle Tennessee brands, and to some degree, North American brands, to be a part of this. I go back to a philosophy that I have, and that's nothing happens until the building is filled. When you fill the building, you create a buzz for the players, you create a buzz for the fans, you create an environment people want to be a part of. This is people buying extra tickets, it's Nissan extending their commitment. It's Bridgestone saying, 'When does the naming rights deal run out? Let's start talking.' While I compliment Chris and Chris, and they deserve to be complimented, this is really the combination of everything we're talked about. It's the Pollstar nomination. We're driving events and driving fans, and sponsors want to be a part of that. We went from four Predators sellouts (in 2009-10) to 16 sellouts (in 2010-11). Sponsors want to be a part of that critical mass. The other thing I think we're doing is we're not passive in our partnerships. We don't put the sign up and hope people see it. We have logos on Pepsi cans. We're on Daily's television monitors in their stores. Next month you can register at Bridgestone to go to the Winter Classic. There are McDonald's family packs. And O'Charley's watch parties. I could go on and on. It's a combination of filling the building, doing more shows, going to the second round of the Stanley Cup Playoffs. Everyone contributes to this. We stand back, look at the numbers, look at the people, look at the standings, and generally speaking, things are moving in the right direction."
Given all this, and to his credit, Ken Campbell seems to have changed his tune (emphasis added):
Neil Sheehy, who represents pending unrestricted free agent Suter, arrived in Nashville Tuesday afternoon and will meet with Suter Wednesday before sitting down for substantive negotiations with Poile, either later Wednesday or Thursday.

And while there is no reason to expect an agreement is imminent, it would be unwise to rule out the possibility of Suter being signed to a long-term deal by the end of the week. [Note: that's this week — so, by today or tomorrow.]

"I can't tell you I'm expecting there will be a deal tomorrow or the next day," Sheehy said, "but anything is possible. I don't foresee it, but if something drops into your lap that's too good to be true, you want to do the deal."

And even though there is still work to do, does that sound to you like an agent who isn't at least cautiously optimistic a deal can be worked out? Some observers believe the template for a deal was put in place when goaltender Pekka Rinne signed his seven-year, $49-million deal recently. Should the Predators manage to get Suter under contract long-term for about the same amount and pending restricted free agent Shea Weber accepts his qualifying offer for the same $7.5 million he's making this season, that would have the Predators paying in excess of $20 million for three players next season.

That certainly doesn't fit the team's profile, but there have been rumblings Poile has gone to the new ownership group and told them that the Preds' window for contending for a championship is now and if they have any hope of doing that, they may have to approach the upper limit of the salary cap.

The Predators have never had more stability or been in better shape financially…. It's also hard to fathom discussions would not be amicable and fruitful. If the two sides were large chasms apart in terms of their expectations, you'd have to think they'd both be content to simply allow things to play themselves out a little longer.

So you can likely look for Suter to get done, if not in the next couple of days, at some point in the not-too-distant future. Then the interesting time begins for the Predators. If they decide to keep Weber, they're still probably an offensively gifted player away from seriously contending. That will cost money. If they don't have it, then perhaps the best route would be to make the best deal they can right now for Weber and try to achieve contender status with Rinne, Suter and what they could get in exchange for Weber.

"I have been very candid with David and he has been very candid with me," Sheehy said. "All the discussions I've had with Ryan, he likes it here and Nashville likes him. He doesn't have a burning desire to go somewhere else."
Every time Ken Campbell eats crow, an angel gets its wings.
So there you have it. Preds Nation should still wait with bated breath in anticipation for the next piece of the Big Three puzzle to materialize. But all signs, tidbits of responsible journalists going to and quoting sources relevant to the discussion — not the idle speculation of the NHL's pundit class — point to that materialization. If, for some reason, Weber and Suter don't wind up re-signing in Nashville, bet on this: it won't be because Nashville is a lifeless organization in a nontraditional market that can't put the scratch together to get the deals done.
Nashville is rising, and the future looks bright.
Update:
Joshua Cooper at The Tennessean reports from 501 Broadway today:
"I don't want to get into the substance of the negotiation. The Predators are making every effort to sign Ryan and Ryan wants to be here, but there's issues you address," [Suter agent Neil] Sheehy said. "I think it's always best when you can address them with each other. You take a little bit of time to reflect on it and then you come back to further discussions."

Sheehy stressed that there is "no timeframe" for a resolution on a contract extension for Suter. Sheehy also said the dialogue between the two camps has been "healthy." It sounds like the interest is there from the Predators to keep Suter from hitting the UFA market.

"We're just talking, trying to figure everything out and that we're on the same page," Suter said. "I want to be here, that's the big thing and they want me here, and it's going to get done."
Ed. note: This piece has been updated. A prior version led readers to believe W. Brett Wilson had committed $7.5 million to the Preds on an ongoing, annual basis. But Wilson's entire 5% stake in the team is valued at ~$7.5 million. The error has been corrected.
In his day job, George is a political consultant in Washington, DC. He grew up in the south, but has lived all over the country. He bleeds gold and blue for the Nashville Predators.