With two minutes left in a crucial Pacific Davison match up in Los Angeles last night San Jose Sharks forward Ryane Clowe reached his stick over the boards from the bench and poke checked the puck away from Jarret Stoll. What was clearly a too many men penalty, or delay of game or something was somehow missed by all four striped men on the ice.
The game was tied at five at that point and with both teams scoring at will on their power plays; the extra man that the Kings should have been awarded may have changed the outcome of the game. Of course to say for sure that the Kings would have won would probably require a DeLorean and a Flux Capacitor, both of which are hard to come by.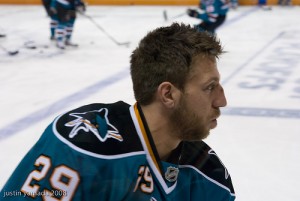 There is a lot of outrage coming out of Kings nation over this oversight.
Did the officials botch this? Of course they did. Should we be upset? No. This is nothing more than the cosmos slapping the Kings upside the head with a dose of karma.
It was only this past February when the Staples Center clock operator managed to stop time giving the Kings an extra second that allowed them to break at 2-2 tie against Columbus at the end of the game. They got two points for that game when it should have gone to overtime. An overtime where they may have only ended up getting one point.
That extra point is looming a bit large right now.
Again, the Kings may have still beaten the Blue Jackets in that game-we're googling flux capacitors now-but as it stands the Kings benefited from a blown call.
There is an old saying in sports that bad calls end up evening out in the end. That was on display last night in Los Angeles and the Kings just paid off their bad clock debt.
Sports fans are always quick to blame an official's call, or in this case non-call, for their team losing a crucial game. Looking at last night, the Kings have nobody to blame but themselves. They simply gave the Sharks too many chances to hang around in the game.
The Kings penalty kill was not too stellar last night and allowed the Sharks to tie and eventually take the lead on the power play. The Sharks scored three of their five regulation goals with the extra man. That kind of sloppy play had nothing to do with Clowe's stick.
In the end the Kings may have been robbed of a crucial point, but they had financed that point in February and the payment was finally due. All is not lost however, if they win in San Jose on Saturday they still may see their Pacific Division dreams come true. Keep a close eye on the Sharks bench though.