Like any other team in the NHL, the Buffalo Sabres have an array of talent. Stars like Tage Thompson, Alex Tuch and Rasmus Dahlin are familiar with the spotlight due to their high-profile performances. But the team also has numerous players that are just as important but receive far less attention, and none fit the description better than Zemgus Girgensons.
The longest-tenured Sabre, the 2022-23 season was his ninth in the Buffalo blue and gold. He's an interesting player to attempt to evaluate because, if one looked at his stat line, it would be easy to call him dispensable. But that would be a bald-faced lie. The ultimate role player, Girgensons doesn't often appear in highlight reels but makes an impact every time he steps on the ice. This season he delivered more of exactly what fans of the team have come to expect from him- stability and presence.
The Sabres' Cornerstone
The timing couldn't have been worse for Girgensons when he was selected 14th overall in the 2012 NHL Draft. The 2010s were not a kind decade to the Sabres, and the Latvian arrived at a time when they were transforming into perhaps North America's most dysfunctional sports franchise. No one player felt the brunt of that more than him; he's played for six different head coaches and four different general managers since. He's persevered through it all, however, and has become a true stalwart.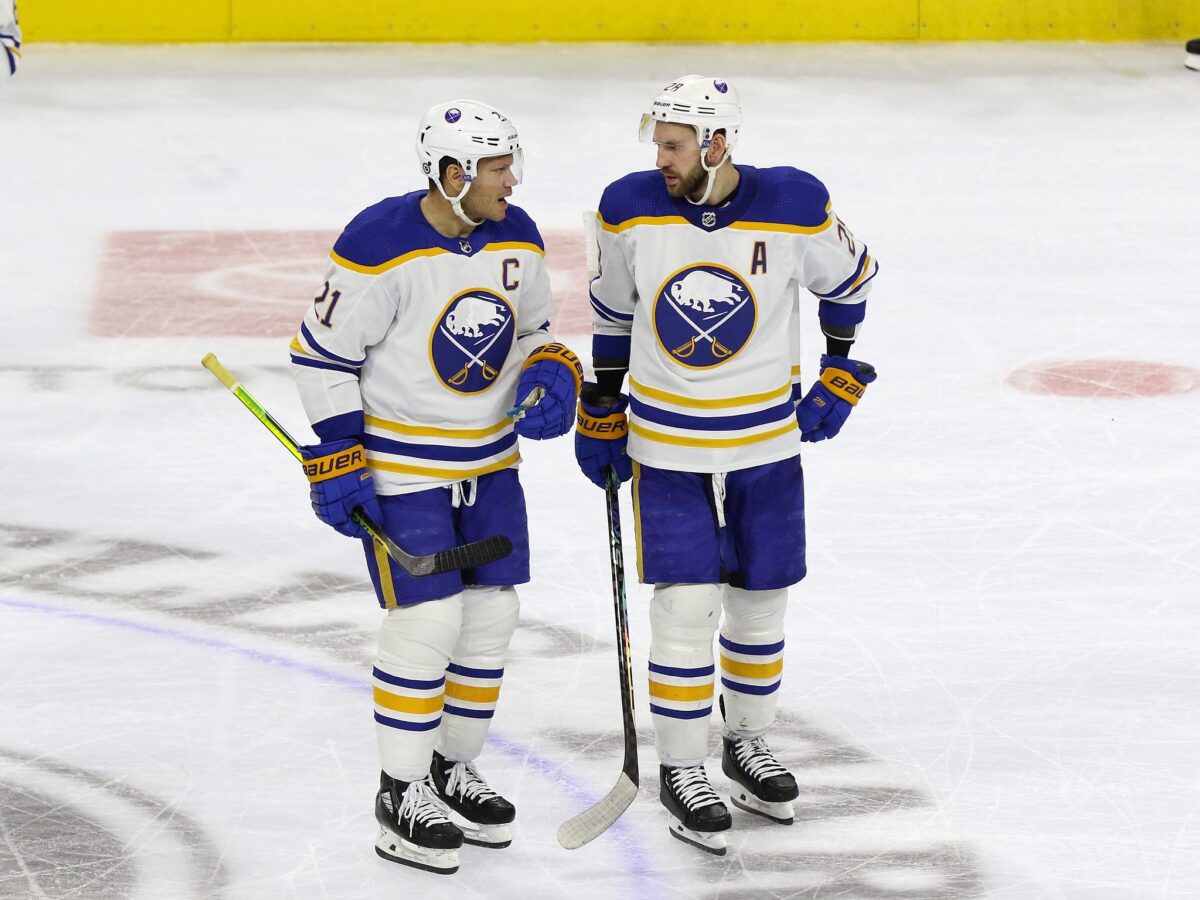 Though there was a time when he was one of the team's only viable offensive threats, he's never been a big scorer. The 18 points he put up this season matched his output from last year (albeit in 24 more games), but offense isn't his M.O. The textbook definition of a grinder, he instead provides grit, effort and intelligence. He's far from the most talented player on the ice, but few others hustle as hard as he does on a nightly basis. He often gives his team a spark and does so without taking penalties.
The Sabres struggled all of this season with physicality and even more so with getting sound defensive play from forwards. The Latvian Locomotive excels in his own zone and is one of their most reliable back-checkers. He rarely is caught out of position and isn't afraid to throw hits or block shots, all of which also make him outstanding on the penalty kill. His minus-5 rating on the season doesn't reflect that since he rarely gets an offensive boost to complement it, but he's nevertheless become an anchor of the team's bottom-six.
The only real criticism of Girgensons' play is his lack of scoring, but that wouldn't take the whole picture into account. His consistently low point totals are a result of his placement in the lineup, as teams generally aren't looking for scoring when the third or fourth line is on the ice. In fact, the centerman actually posses far better offensive abilities than he's given credit for, and on the infrequent occasions where he is placed in a scoring situation, he impresses.
Zemgus Means Loyalty
Beyond his play on the ice, what makes Girgensons so valuable is the dedication he's shown. Despite the innumerable struggles of the Sabres in his tenure, he's turned away numerous opportunities to jump ship and has re-signed four separate times. It's an increasingly rare trait in modern sports, and the team acknowledged this before the 2021-22 season when they named him co-alternate captain alongside Kyle Okposo, a well-deserved honor. He shared the position with Rasmus Dahlin this season after Okposo was promoted to captain.
Related: Buffalo Sabres News & Rumors: Levi, Thompson & Samuelsson
---
Latest News & Highlights
---
With an average age of 25.6, the Sabres were the youngest team in the NHL this season. Though only 29 himself, Girgensons is one of their most experienced players and has embraced his role as a leader. His wisdom has had a noticeable effect on his younger teammates, who have gravitated to his work ethic and determination (from "A 'blood-and-guts' leader, Zemgus Girgensons using wisdom, will to help Sabres" –The Buffalo News, 11/5/2022). Girgensons has demonstrated thoroughly that he wants to be around for the better times down the road, and the respect he receives is evident.
Next Stop for The Locomotive?
Girgensons has been the definitive Sabre since he first put their jersey on, but this summer will bring intrigue. This season was the last of the three-year contract he signed in October 2020, and he's slated to become an unrestricted free agent (UFA) for the first time in his career. He's unsurprisingly stated that he wants to stick around, but it isn't a guarantee that he will.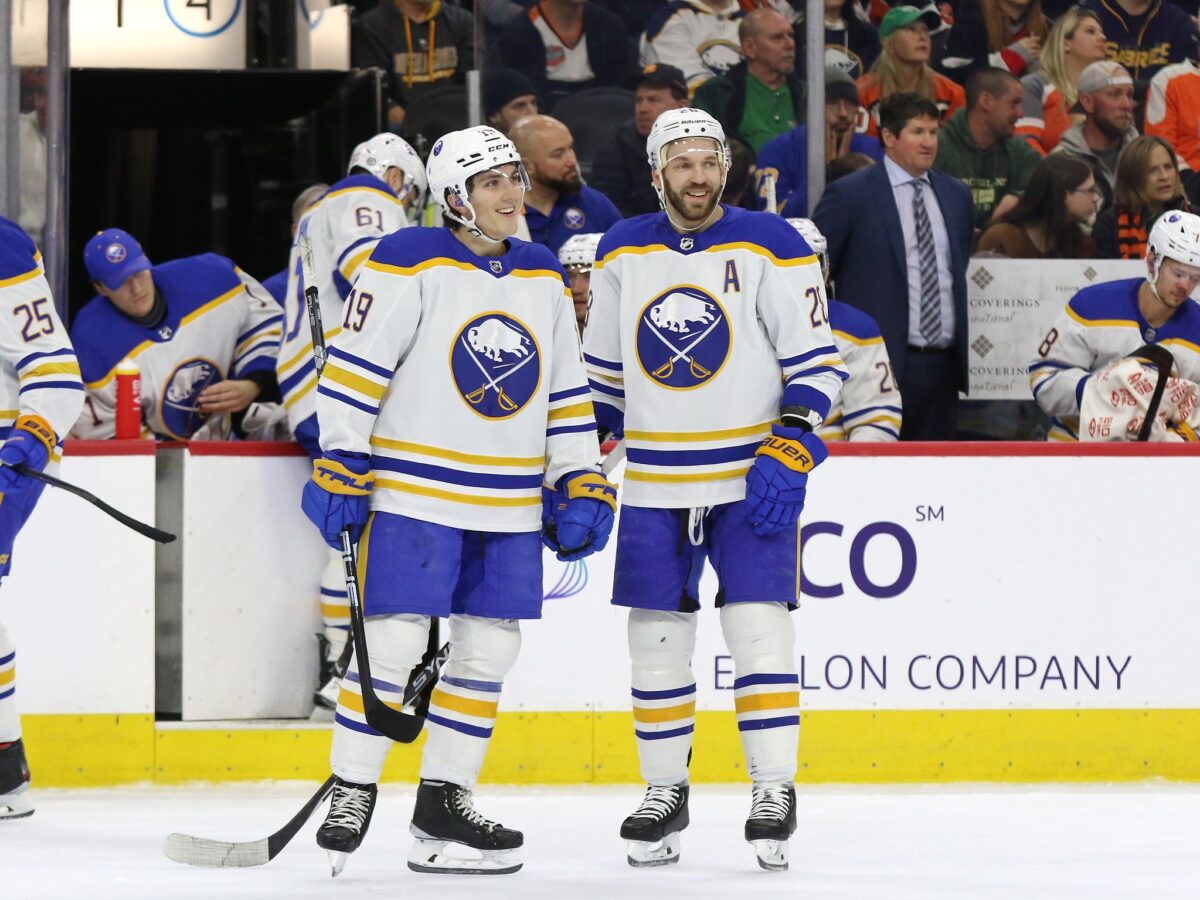 Sabres general manager Kevyn Adams will be facing a few tough decisions this offseason, and one of them will be the fate of a few of the team's bottom-six forwards. Many prospects in the team's minor league system, such as Jiri Kulich and Lukas Rousek, appear ready to make the jump. If Adams wants them to do so, he'll have to clear space, and Girgensons and Okposo (a UFA as well) would be an easy starting point.
However, while this is a possibility, it doesn't seem very likely. Buffalo badly lacks veteran presence, and cutting one or both of the two longest-serving members of the team would only worsen the issue. It would also be easier to re-sign both rather than seek replacements in free agency (from '6 questions for Sabres, Kevyn Adams this offseason: Who's in net? Victor Olofsson's future?' The Athletic, 4/18/2023). It's safe to assume both will be back next season to help the Sabres battle to get back to the postseason.
Final Grade For Girgensons
The epitome of an unsung hero, Girgensons receives nowhere near the amount of recognition he deserves for all he does. He gives 100% of himself every game and puts it all on the line, bringing character and determination as well. There's no questioning that the Sabres are better off for having him, and every fan should appreciate his contributions, even if they're not always visible. Grade: A+.
---
---